A Quality US Made AR-15 Pistol
Back in the day the only AR-15 worth buying was a name-brand, big company-built weapon. If no one had ever heard of it, it was assumed to be lower quality. Today however, three are countless companies out there producing quality rifles that fit anyone's fancy. Technology has made it easier for small companies to produce more precise parts and access to the global market allows them to obtain the materials they need for manufacturing. One of these smaller US made companies I have come to admire is HM Defense Technology from Mt. Orab Ohio. I have been impressed with their quality and ingenuity. 
I am asked quite often what the best AR-15 is to purchase. My answer is, there isn't a "best" one. Every gun lover will have a model they prefer and there is absolutely nothing wrong with it. When purchasing a gun made by a smaller company, its okay to be skeptical, but don't write them off just because you haven't heard of them. I have had high quality guns malfunction and low-end budget friendly guns shoot flawlessly. There are, however, plenty of low-quality guns that I would stay away from so you still want to do a little research before making a purchase.
Here are the quick specs of the Raider MC5 AR-15 pistol:
Multi-caliber (.223/5.56)
12.5" barrel
8.5" free floating 1913 picatinny rail that is CNC machines from 6061-T6 aircraft grade aluminum
Mil-spec forged upper and lower with type III class II hard coat black anodized finish
Mil-spec components including the trigger and fire control group
Shockwave 2.0 blade adjustable pistol stabilizer and enhanced grip
What's different about the Raider MC5?
According to the company, the HMB battle ready bolt "eliminates the passthrough cam pin hole and replaces it with a cam pin socket and tapered cam pin design." This eliminates the natural weak point of mil-spec bolts by significantly increasing the amount of metal at the cam pin location. The 12.5" Monobloc barrel contains a gas block that is integrally machined as part of the barrel. This eliminates the need for alignment of the gas block. The barrel is match grade, triple honed and button rifled.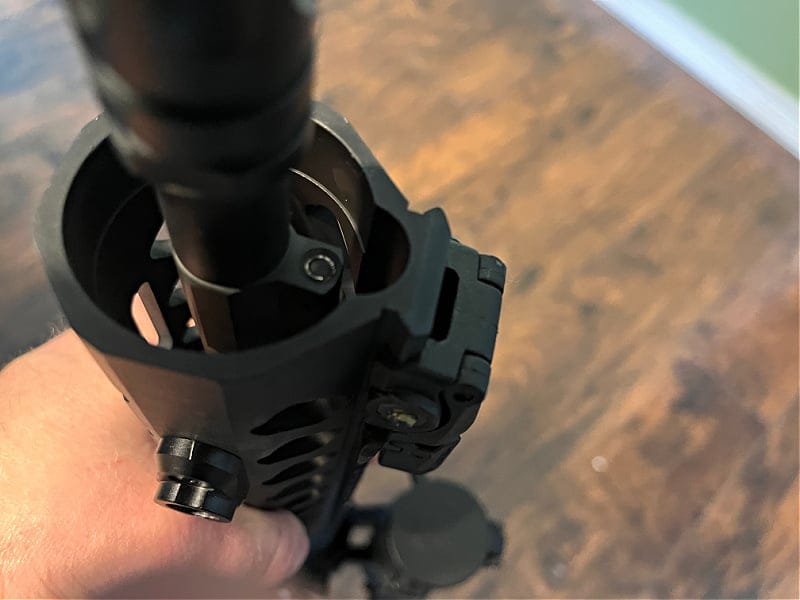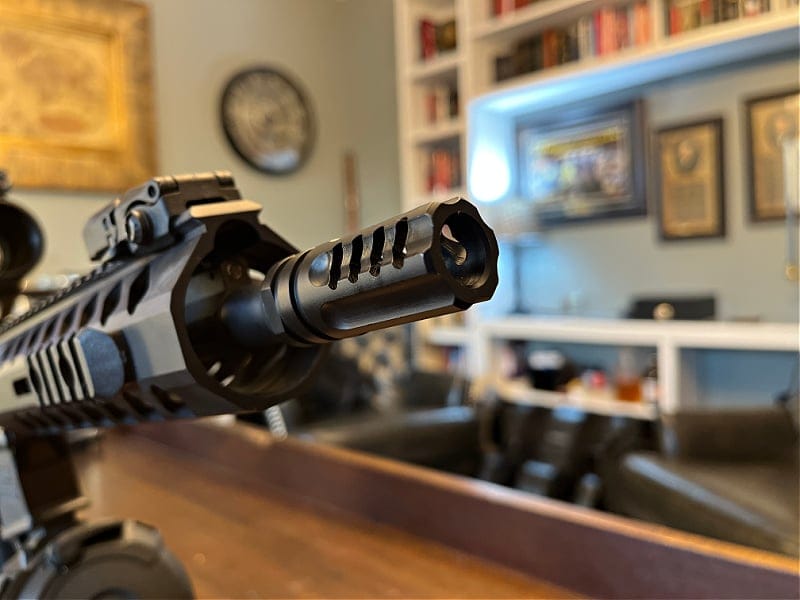 Out of the box the Raider MC5 had a good feel and balance. I did change out the pistol stabilizer brace for the SB Tactical and the standard charging handle for the Strike Industries extended latch charging handle. 
On the range
My first day on the range was a delight and the Raider was an impressive weapon to shoot. I ran several drills during one of our Special Response Teams tactical training days and was able to complete the drills with ease. The trigger pull was smooth and didn't have the springy feel like some do. With such a short barrel the rise can often cause more time in between follow-up shots. I had no issues however with the speed of follow-up shots as I made my way through the course. With the material the Raider is made of, it felt light to carry and was just the right length to be
comfortable with a two-point sling. For a pistol, the M LOK rail gave plenty of room to add your favorite accessories and was a comfortable size to get a good grip on.
The first day on the range, I started out with some speed drills and a variety of .223 ammo in a few different 30 round magazines. The Raider didn't have any issues with spitting out shells even during the break-in period. I then backed out to 100 yards too see how it did on paper. For the first target group, I used a gun mount and was able to put 20 rounds into a hole about the size of a golf ball. When free standing using the Vortex Strike fire red dot, the grouping opened up to about a softball size group.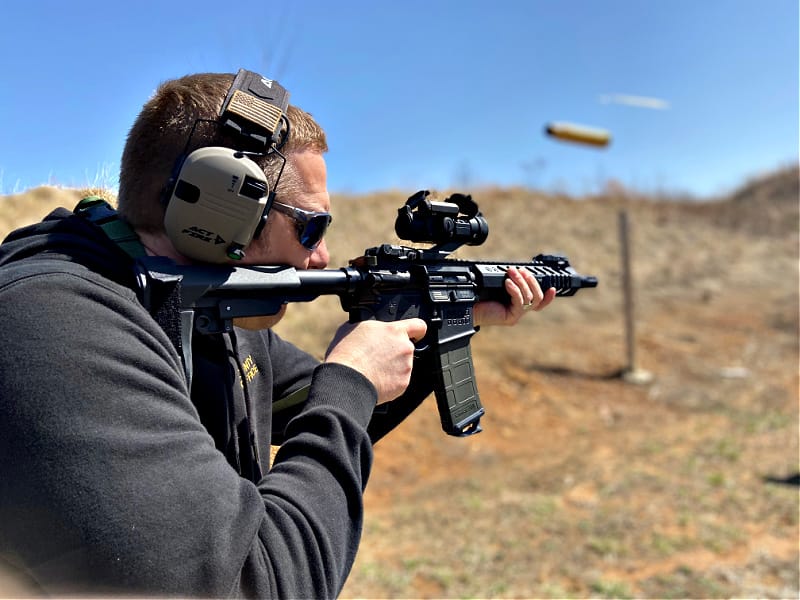 After a while, I forgot I was shooting an AR pistol because the MC5 handles about as well as any rifle I have. When chambering the first round, the Raider has a good smooth feel, and the bolt doesn't have much friction as it slides through the upper. After the first 500 rounds, I pulled out the bolt and sprayed it down with some CLP. While it was shooting great for the first 500 rounds, it shot even smoother once the thicker oil it was packed in wore off. I have always had good luck with CLP and the Raider felt like it cycled even smoother once the bolt was sprayed down.
Customer Service
When you buy a product, it needs to be good quality, but that is not all that is important to me. Even the best made gun in the world could have some type of issue that needs correction because it is a machine after all. The customer service is just as important to me as the item I am purchasing. I have started to do a little more research into company's customer service before I purchase new firearms and the responses can be very surprising.
HM Defense's customer service is one of the best I have seen
I first started with looking up the number. Companies that make it hard to find their number, often have more frustrating customer service through and through. I found the number to HM Defense very quickly however and the most surprising part was the phone call. No answering machine with 20 choices, no music with 30 minutes of hold time. It rang two times and a voice answered saying, "HM Defense how may I help you?"
I spoke with the person on the other end and learned that any issues with their firearms result in immediate shipping labels being sent out to the customer so the gun can be sent back to them and returned as soon as possible back to the customer with an explanation of what needed corrected or what was done to resolve any issues. I have not heard of many issues with HM Defense but if there were, I feel very confident they would take care of it right away.
There are a lot of good gun companies out there, often making the selection process intimidating. I have several other brands and have no issues with those either, but if you want something from a smaller company that is still working to invent, improve, and create great looking reliable guns with excellent customer service, I don't think you will be disappointed in the HM Defense Raider MC5 AR Pistol.