Ammo Test—Federal Micro HST .380 ACP
Federal Premium offers a number of 380 ACP self-defense loads ranging from light-for-caliber options from the new 85 grain Punch to the long-established 99 grain Hydrashock. The Federal Micro HST resides in the same territory as the Hydrashock on the heavier end of the spectrum. These heavier loads have the extra vital mass needed for deep penetration but often at the expense of expansion. To see how the HST stacks up, I decided to put it to the test.
The Load
The Micro HST is a line of ammo engineered around shorter-barreled handguns that ordinary folks like you and me use for concealed carry. The 380 Micro HST is a 99 grain jacketed hollow-point with an advertised muzzle velocity of 935 feet per second.
Aesthetically, some thought was put into this load. Given how finicky some 380 pistols are with some ammunition, the use of corrosion-resistant nickel cases and a rounded bullet profile seems to be a smart idea to ensure smooth feeding where a wider-mouthed conical design might not. On the other hand, a flat-nosed conical design might upset readily on target. To compensate, the HST's jacket is shivved almost to the case mouth. I ran two boxes of this ammunition through my Ruger LCP without issues and saved a third to test velocity and terminal performance.
The Test
I started by running a quick five-shot string over my Caldwell chronograph from a distance of ten feet. Out of my 2.75-inch barreled LCP, the HST Micro clocked with an average velocity of 959 feet per second—marginally higher than what Federal advertises and faster than quite a few loads I have seen in the 100-grain bullet range. Needless to say, I was optimistic when I shot three rounds into my denim-backed 10% Clear Ballistics gelatin blocks.
That extra velocity and mass translated into good penetration but the four layers of denim (to simulate heavy clothing) clogged the hollow-point cavities, preventing them from expanding. 
However, all three rounds tumbled the 6-14 inch marks, shedding fabric as they went. Two rounds landed base-first at the 16-16 1/2 inch marks respectively. The third round settled at the 18 1/4 inch mark, between two blocks. On retrieving that round, it was packed with denim. Reviewing the wound tracts, it appeared that the first two rounds tumbled twice, while the last round only once.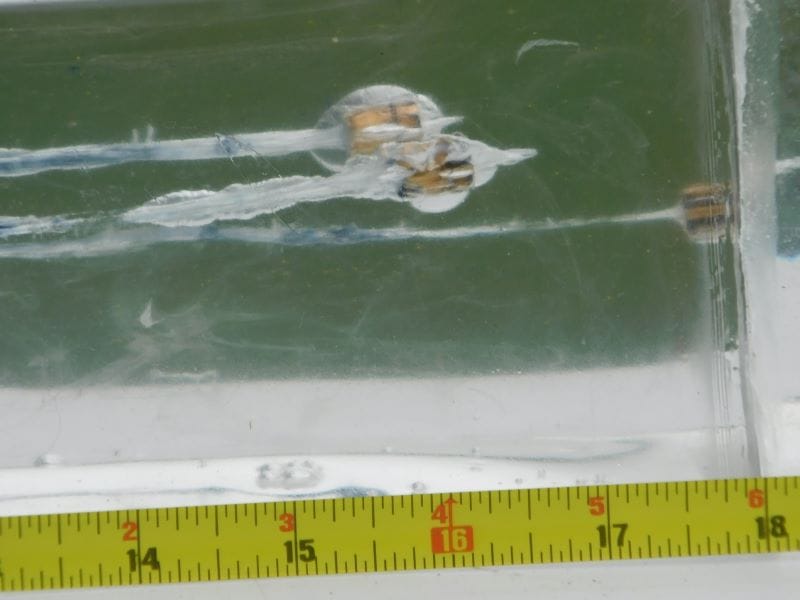 On a hunch, I removed my denim barrier, stepped back to ten feet, and took another shot into bare gelatin. With no resistance, the HST expanded just as advertised along the shives in the jacket, reaching a depth of eleven inches—just below the FBI's arbitrary 12-18 inch guideline for duty-handgun performance in gelatin. The expanded projectile miked at .588 inches.
Parting Shots
The 380 Micro HST is characteristic of other heavier 380 loads that have plenty of penetrating and tumbling ability, although often at the expense of penetration through anything of substance. Yet even though heavy cloth, this load does quite well. On the other hand, the HST might be the load of choice in warm weather when cotton t-shirts are appropriate attire.