ATI Mil-Sport 6mm ARC Rifle
American Tactical Imports recently released a new 6mm ARC rifle (Advanced Rifle Cartridge) called the Mil Sport. They lent me a sample to try out, and I was pleasantly surprised with the results.
6mm ARC Rifle Cartridge
This relatively new round came about in 2020 from Hornady Manufacturing. It is essentially a 6.5 Grendel necked down to 6mm or 0.243". It is a highly accurate, low recoil cartridge and the bullet maintains a velocity exceeding 1000 feet per second beyond 1000 yards.
To chamber an AR in 6mm ARC, all one needs to do is replace the barrel, bolt, and magazine. The bolt and magazine are compatible with 6.5 Grendel.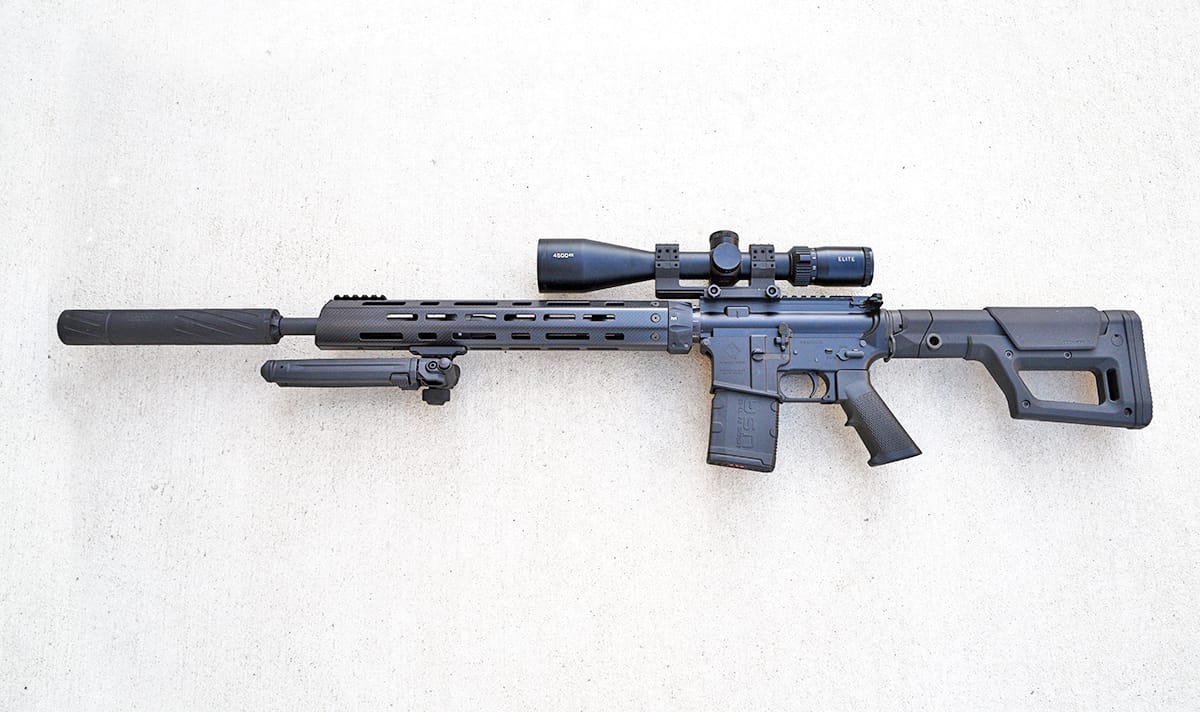 ATI Mil Sport
The rifle from ATI has all the trappings of a tactical AR when you take it out of the box. An MLOK compatible free-float handguard, 5-position buttstock, etc. The barrel is 18" and the rail is 15" in length. The thread pattern on the barrel is 5/8 x 24," and it is recommended to use a .30 caliber or higher suppressor on this one.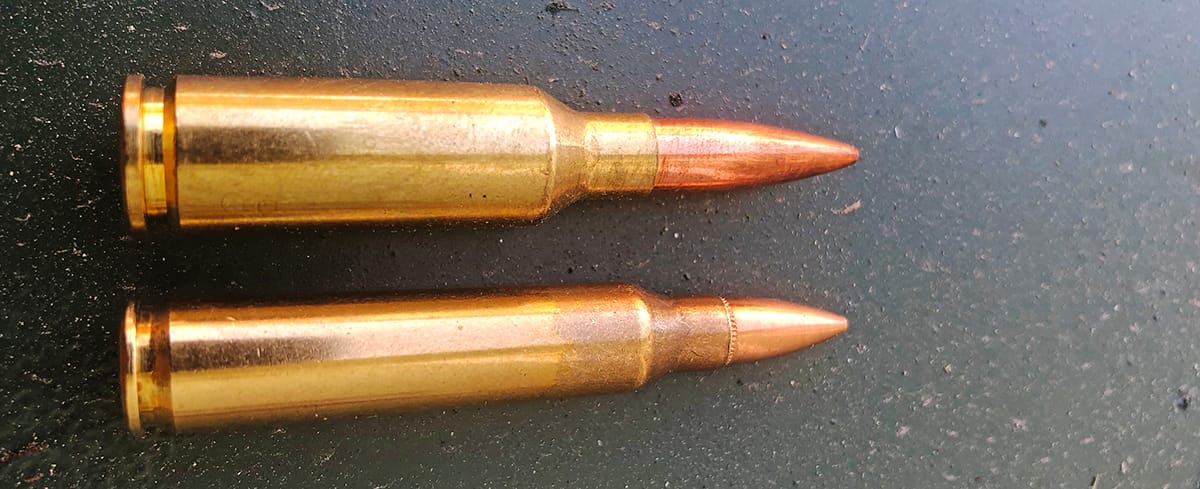 ATI builds an excellent rifle, and the Mil-Sport is no exception. I have watched this company grow and change over the years and am convinced that they put out a great product at a reasonable price.
I was seeing a lot of potential in this one.
Optimizing the Mil-Sport
Over the past two decades, the AR platform has become like the Chevy Small Block of rifles. You can literally build your rifle to suit your needs from the ground up or modify it to how you want it if you don't care for the factory options.

ATI builds a good basic rifle, but I wanted to make a few modifications for long-range shooting.
For a free float rail, I went with a carbon fiber one from Tacstar. You simply remove the existing rail, and this one clamps over the barrel nut. It's rugged, lightweight, and has MLOK slots and a forward sight rail. The concern was to eliminate mirage when shooting long distances in the Nevada desert. This hand guard keeps the rifle extremely cool while shooting.
As for a stock, I installed a Magpul PRS Lite. This is a simple precision rifle stock that mounts over a traditional receiver extension used on most ARs on the market today. You don't need to switch to a rifle-length buffer tube or use some proprietary tube. It is 8 ounces lighter than the PRS Gen 3 and has the right amount of adjustment needed in a precision stock.
Another Magpul product I went with on this build was one of their new MLOK bipods.
Installation and Configuration
Installation took about two to three minutes. It's all about getting the nuts in the proper position on the MLOK slot and then torquing it to about 35 inch-pounds.
Depending on your shooting position, the large locking knob beneath the folded legs allows you to pan and tilt. The legs fold down when you pull on them, and they will remain locked until you hit the release button at the top of each leg. They are adjustable to 7 different heights, between 6 to 10 inches.
Much sturdier than I anticipated, you essentially have the frame of an aluminum bipod covered in a shell of Magpul's seemingly indestructible polymer goodness.
Accessories
Probably the most essential accessory on a rifle like this is the choice of an optic. This is dependent upon your usage of the rifle. You can go ultimate long range, something more suitable for hunting, or a little bit of both.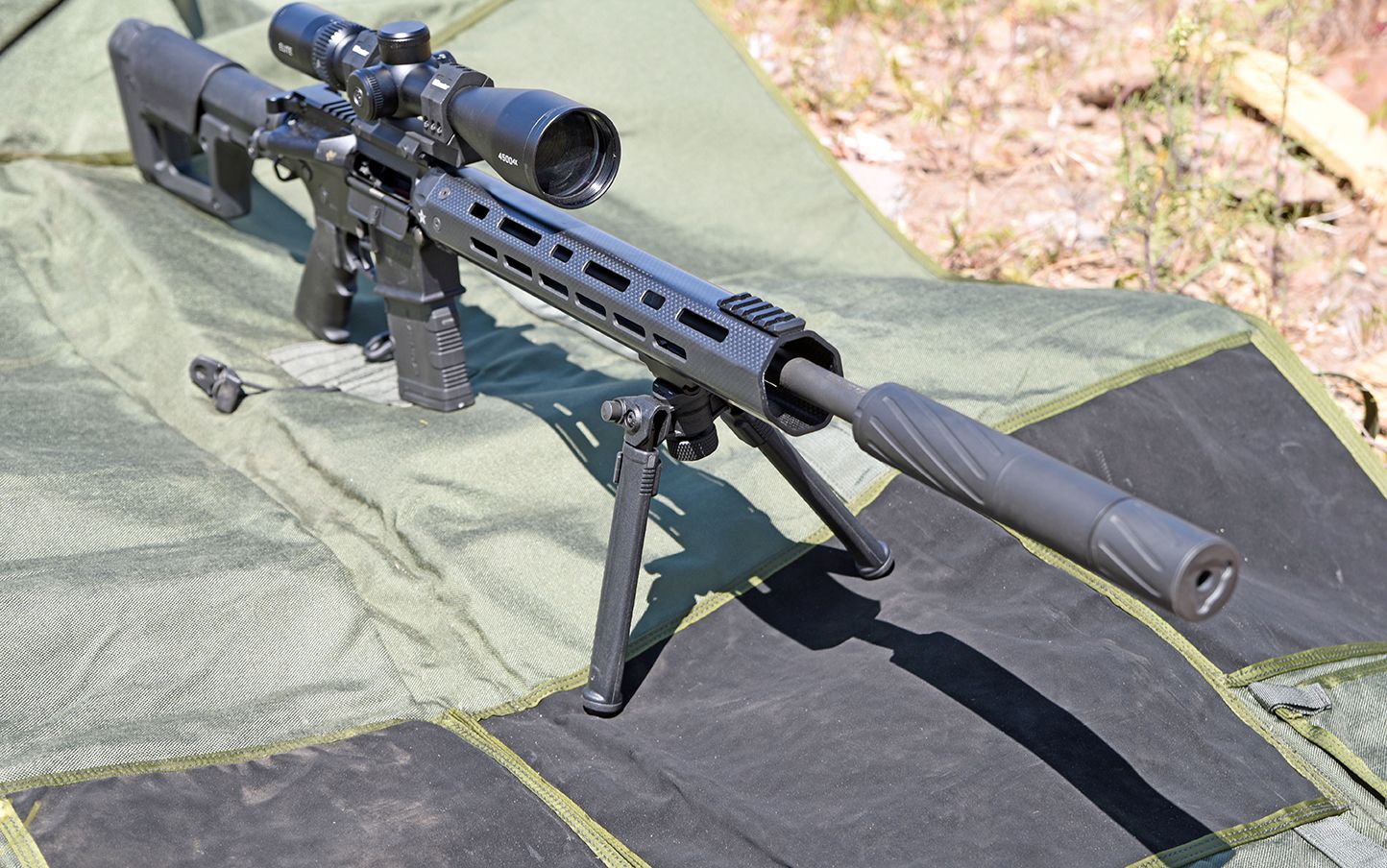 The Bushnell Elite 4500 4-16×50 Riflescope is an enhanced hunting riflescope with fully multicoated lenses. It is resistant to dirt, dust, fog, water, and most importantly, mirage. Rugged and lightweight, it is a perfect complement to the ATI Mil-Sport. The image quality is superb. It is hard anodized for corrosion resistance. The Fast-Focus eyepiece grants the shooter a super-fast reticle acquisition and clarity.
I mounted it in a 30mm cantilever mount from Wheeler that adds an additional 20 MOA for long-range shooting.
Lastly, I removed the A2-type flash hider and installed a Banish 30 suppressor from Silencercentral.com. This can is an entirely serviceable modular suppressor rated up to 300 Weatherby Magnum. Out of the box, it is 9" in length with eight keyed baffles but can be shortened by 2" with six baffles if you need to run it shorter.
Constructed of a titanium alloy, it weighs 13 ounces full length and 10 ounces in the short configuration.
The incredible thing about this can is that it is entirely user serviceable, and the individual baffles can be cleaned in an ultrasonic cleaner, by hand, or in a tumbler. The keyed and indexed baffles make reassembly a snap.
At the range with the 6mm ARC Rifle Round
Hornady was good enough to send some ammo. This was one of the major hurdles we had in getting this review completed, as all the stores are out of anything in new calibers, such as the 6mm ARC.
Let's take a look at the round for a minute.
6mm ARC Rifle Cartridge Review
When I first saw a 6mm ARC rifle cartridge, it reminded me of a 6mm BR or a 7mm BR. These were old-time Bench Rest rounds developed 50-60 years ago. They were made from 308 NATO or 30-06 cases, cut down and necked down for a 6mm or 7mm projectile. They're relatively the same size, and those rounds were powerhouses in their day. I had always thought that 7mm BR would make an excellent caliber for an AR. However, the much larger case diameter could have been a problem.
Those rounds were amazingly accurate in a bolt-action rifle or in the case of the 7mm BR, a single-shot Remington XP-100 pistol. What killed them was that they were wildcats that went mainstream to a degree but never caught on outside of dedicated precision shooters.
The 6mm ARC rifle cartridge has the full support of Hornady and is being used by a clandestine US military unit for its long-range power and accuracy. Plus, its ballistics look very promising for hunting. Despite that, I've seen a few pundits who should know better do nothing but complain about it. They make comparisons to rounds like the 243 Winchester and say it uses the same bullet. If you see these arguments brought up, the person is either trolling or is utterly clueless about the round's mission and purpose.
Due to the length, 6mm ARC rifle rounds will not fit in a standard AR. Some manufacturers offer those chamberings in their AR10s, but that rifle is bigger and heavier, as is the ammo load out. There was a military reason behind this design.
Range Results
My first time out was at 200 yards, and my five-shot group measured just under an inch long and less than half an inch wide. I repeated this feat a few more times, but I wanted to see what it could do at long range.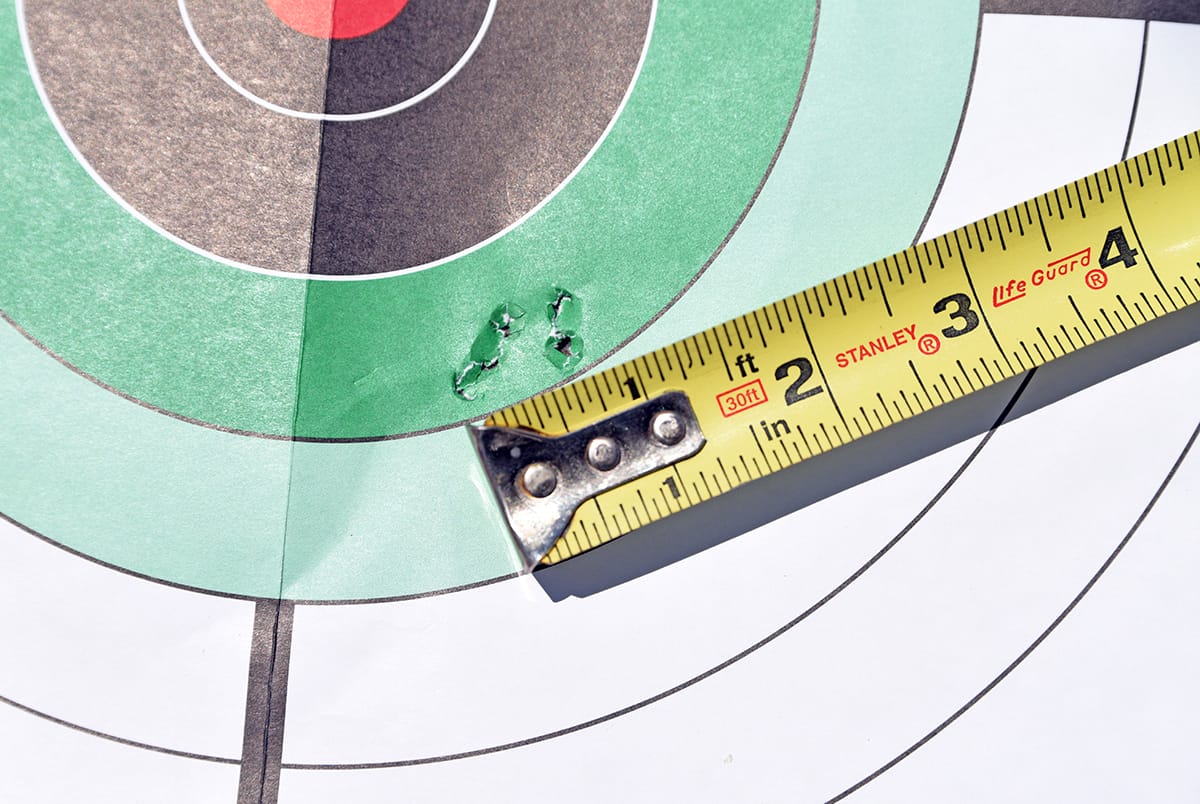 One of my local ranges has a steel barrel at 1000 yards. Over the years, I've rung the barrel with 338 Lapua, 50 BMG, 7.62 NATO, and 6.5 Creedmoor. This may have been the smallest cartridge I have ever put to that task.
The first 9 out of ten cartridges hit that barrel with authority. One of them either missed completely, or the acoustics of firing suppressed supersonic rounds threw me off, but I did not hear the impact. Still, 9 out of 10 at that range was not too bad.
Final thoughts
There are very few AR rounds that I love. 5.56 NATO, 450 Bushmaster, 300 Blackout, 458 SOCCOM, and even 22 LR are my favorites. I liked the 6mm ARC rifle cartridge so much that I'm considering looking into its parent cartridge, the 6.5 Grendel.
The Mil-Sport from ATI offers this exciting new cartridge in an accurate, affordable rifle. It's an AR, which means you can tinker with it until your heart is content. The furniture, trigger, bolt catch, magazine release, optics, and everything else on the rifle can be replaced with one to your liking. ATI makes some outstanding rifles, and this is one of them. It's a great way to get into this new round for under $1000.
Make: American Tactical Inc
Model: Mil-Sport Carbine
Type: Semi-Auto
Caliber: 6mm ARC
Finish: Black phosphate
Sight: No Sights
Barrel Length: 18"
Overall length:33"
Twist rate: 1:7.5"
Capacity: 10+1
Trigger pull: 4 pounds
MSRP: $899.99