Beretta APX A1 Carry: Burris FastFire 3 Standard
Many gun owners focused on self-defense end up putting a red dot sight on their carry guns. Of course, not all guns ship from the factory compatible with a red dot and even fewer arrive with one already on the gun. The Beretta APX A1 Carry, does, though. There's a model available from the respected gun maker that ships with a Burris FastFire 3 mounted on the pistol, meaning it's ready to go out of the box (once you zero your red dot, of course).
The Beretta APX A1 Carry is a compact handgun chambered in 9x19mm Parabellum. It's a striker-fired gun and was specifically designed for those who concealed carry. Forward and rearward serrations make it easier to manipulate the slide and a textured grip makes a firm hold easier, even if the shooter's hands are wet. There's even texture on the frame itself to facilitate better overall handling. This gun does not have an external manual safety but does have a number of internal safety mechanisms such as a striker block safety and internal trigger safety.
As for the Burris FastFire 3 included with the gun, it's a proven, well-made red dot sight that's fantastic for tactical applications. The model used on the Beretta APX A1 Carry has a 3 MOA dot which is preferred by many shooters because it doesn't obscure targets or otherwise distract. It has an automatic brightness sensor, meaning it will adjust itself to the light, but it also offers three manual settings in case the user prefers something different.
Features of the Beretta APX A1 Carry include:
Chambered in 9x19mm Parabellum.
3.0-inch barrel length, making it easier to conceal.
An overall height of 4.17 inches without the Burris FastFire3, so adding the red dot only adds a negligible amount of size.
An overall length of 5.63 inches, minimizing printing concerns while remaining large enough for comfortable shooting use.
Overall width of 0.9 inches, so it's slim enough to carry comfortably.
Aggressive, angled slide serrations make racking the slide easier.
An empty weight of 19.8 ounces without a red dot sight, meaning it's light enough that it won't drag your belt down.
Short, light trigger pull with a clean break and enhanced ergonomics to improve trigger control and accuracy.
Modular chassis, making it possible to swap out chassis with other guns from the same line.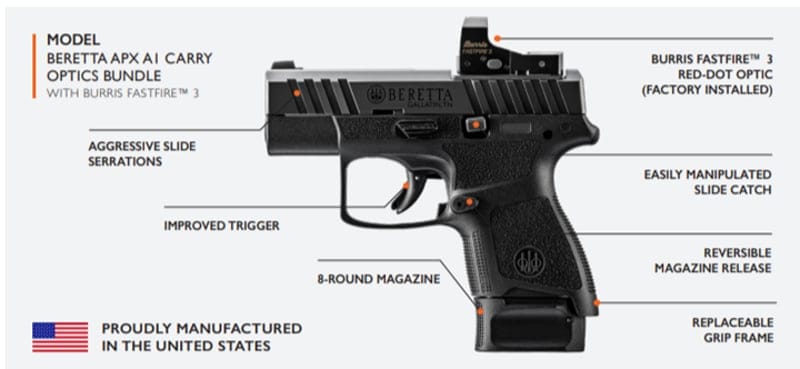 Features of the Burris FastFire3:
3 MOA red dot, so it won't obscure the target.
The battery can be accessed through the top of the sight.
Three manual brightness settings so the user can set it according to personal preferences.
Automatic time-out feature when not in use to extend battery life
The combination of the gun and red dot make a fantastic defensive pairing. What do you think? Tell us in the comments section.
MSRP for the Beretta APX A1 Carry with Burris FastFire3 red dot sight is set at $499.00.
Kat Ainsworth Stevens is a long-time outdoor writer, official OGC (Original Gun Cognoscenti), and author of
Handgun Hunting: a Comprehensive Guide to Choosing and Using the Right Firearms for Big and Small Game
.
Der Teufel Katze
has written for a number of industry publications (print and online) and edited some of the others, so chances are you've seen or read her work before,
somewhere
. A woman of eclectic background and habits, Kat has been carrying concealed for over two decades, used to be a farrier, and worked for a long time in emergency veterinary medicine. She prefers big bores, enjoys K9 Search & Rescue, and has a Master's Degree in Pitiless Snarkastic Delivery.