There are lots and lots of options for CCW handguns on the market. So many in fact, it almost takes the fun out of looking. I said almost because some of us like shopping for guns. It's like walking into a candy store, only you're not a kid and the candy is a little more expensive. So expensive in fact, you may be wondering what to buy with such a big price difference between guns.
For those who are new to this process, the difference in price may cause them to believe the cheaper guns are less reliable. Price does affect reliability, but only to a point. For example, a Kimber Micro 9 can easily run $800 – $1,000 while a Glock 43x is less than $500. This is not because Glock is less reliable than Kimber.
With the Kimber, you are paying for a little more metal, custom details, and a higher finish on that metal. A Glock has more polymer, and the finish is standard on nearly all their handguns, making the price lower. Kimbers are great reliable guns, but if I were to pick between the two in a torture test, I would go with Glock.
This means that more money may equal a nicer gun, but "nicer" will not always translate to better quality. This leaves room for confusion, but don't worry, we have sorted through the best handgun within a specific price range. This makes it a little easier to choose a weapon based on your budget.
Best CCW Guns in the $200 – $300 Price Range
In the gun world, this is considered the dirt-cheap price range. There are a few guns even cheaper than this, but I can't recommend any of them. My day job is in law enforcement, where I see a lot of the cheapest firearms made. These are often carried by criminals because they are so cheap. They are less than reliable.
We test-fire weapons to prove they were functioning when charging someone with illegal possession of a firearm and the cheapest ones out there often fail when we test-fire them. But the good news is there are several options with a price tag that will not hurt your eyes or your wallet. Here are the ones I would recommend:
Rock Island M200 .38 Revolver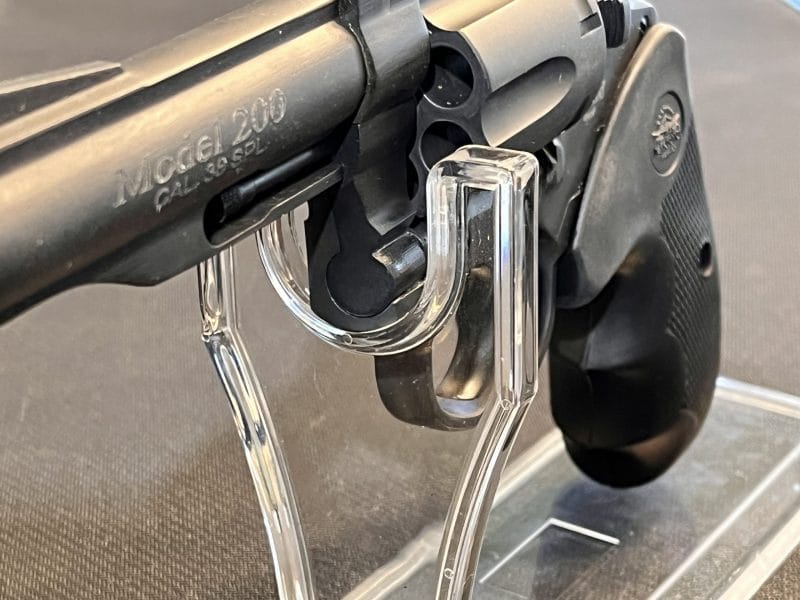 If you want the absolute cheapest gun that will hold up to some abuse and keep shooting, the Rock Island M200 is a good choice. It is a .38 special that holds six rounds in the cylinder and is single/double action. This means you can pull the hammer back before shooting or just pull the trigger while the hammer is down.
The M200 has a half-shroud 4-inch barrel and polymer combat-style grips. The packetized finish isn't anything special, but for the price, I can live with it. The M200 retails for around $250 but I found mine on sale for $219.99. I have fired a few hundred rounds through it and never had an issue yet. Stick some HP ammo in it and you will be all set for home or self-defense.
Ruger LCP .380
For a smaller micro-sized gun for CCW, the Ruger LCP is a great option. I'm not a fan of super tiny guns, but if small and compact is your only option, try the LCP. This little .380 is compact in every way and will fit inside the waist or even your front pocket with ease. It has a 2.75-inch barrel and holds 6+1 rounds. It can be found in the $250 price range at most retailers. The LCP Max is even better because it holds more ammo, but it does cost more money and won't fit in this price range.
Taurus G3C 9mm
The Taurus G3C is a great option if you want a semi-auto that is compact but not a micro-sized gun. The G3C is a 9mm polymer semi-auto handgun that comes with a 12-round magazine. It can be worn with an IWB or OWB holster and works great for home defense too. Because of its popularity, extra mags and holster options are easy to find. It's a little on the bulky side for a compact weapon, but for $265 that's easy to overlook.
Best CCW Guns in the $300-$400 Price Range
If your budget allows you to move into this price range, several more options exist. Quality gets just a little better and the finish and appearance also improve. Here are some of the best firearms you can find in the $300 – $400 price range.
Taurus GX4 9mm
The GX4 is the newest lineup of Taurus's compact guns. This model comes with an 11-round magazine and is only one inch thick. It has a flat-faced trigger which gives it a nice look for such a cheap gun. The stainless steel reinforced polymer frame makes it light but durable.
It has a loaded chamber indicator and comes in a few color options. When I purchased mine, it came with four magazines, two were 11-round mags and two had grip extensions which increased capacity to 13. With a price tag that's just over $300, this gun is worth the money.
Ruger Max 9
I have become a fan of the Ruger Max handguns. The Ruger Max .380 is the double-stack version of the famous Ruger LCP which is a great little gun. The Ruger Max 9 is the larger, 9mm version of the Ruger LCP Max. If you can spend about $50 more, this handgun has several advantages over the GX4 mentioned above.
First, it is slightly more compact making it easier to carry inside the waist. It has better sights (front night sight) and a removable optic plate for those who want a red dot. It also has a loaded chamber cut-out to see if it's loaded and has a 12+1 ammo capacity. The Max-9 can be found in the $350 price range.
IWI Masada S9
IWI (Israeli Weapons Industries) started producing the Masada pistol years ago. But most recently they came out with the 9mm Masada Slim which is a scaled-down version of the Masada duty pistol. It is one of my favorite compact guns and shoots like a champ. It comes with a removable optic plate that fits the Shield RMS footprint and has a magazine capacity of 13. It retails for about $375 – $400.
Best CCW Guns in the $400 – $500 Price Range
In this price range you will start to see a lot more options in the gun when it comes to quality firearms. I can't list every good gun that falls in this range, but I will list my favorite ones for the price. Because we are falling into some of the Glock price ranges, I am mostly going to list Glocks here. It's hard to beat a Glock when it comes to price/quality comparison, especially in this price range.
Glock 43/43x
The Glock 43 is a compact gun that is not in that micro-category, but just small enough to conceal without issue. The difference between the 43 and 43x is the 43x has a taller grip and holds a longer magazine. In fact, the 43x is the same frame as the G48, only it has a Glock 43 slide. The Glock 43 holds 6+1 rounds of ammo and the 43x holds 10+1 rounds. Either gun is a great choice, you only need to decide if you want the more extended grip or the shorter one. Both sell for around $450.00
Glock 48 9mm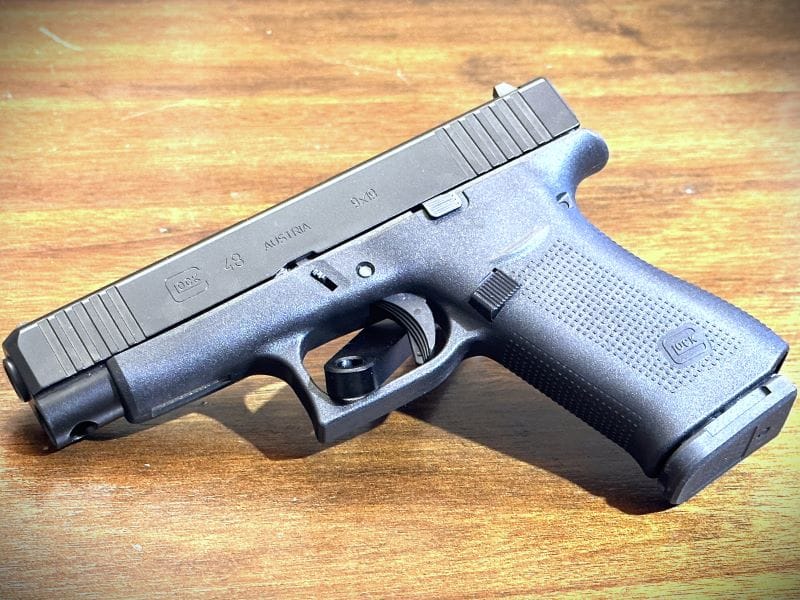 From the side view, the Glock 48 looks like a Glock 19. The difference, however, is significant. At the same thickness as Glock 43, the G48 is much thinner than a G19. This gun is a good option for those who want a longer barrel and something close to a full-sized gun, but thinner for CCW.
The magazines are single-stack and hold 10 rounds, but aftermarket magazines are available that hold 15 rounds. This is an excellent choice if you want something a little bigger. The price comes in at $499.99, which is the higher end of our range.
Sig P365 Nitron
This is our only non-Glock pistol in this price range. Sig has always made some good shooting handguns, but their reach into the CCW world didn't make a splash until they released the P365 line of pistols. They have that classic "Sig" look to them but are compact and slim. This is definitely not a gun I would call bulky.
The P365 holds 10 rounds in the standard magazines but extended mags are easy to find. Sig offers multiple options like a removable optic plate, a pre-installed red dot, lasers, and more. The Sig P365 again sits at the top of this price range with basic models starting at $499.
Too Many Options?
Most of the time, options are better. But sometimes options are annoying and make the decision process even harder. There isn't a "best" gun for any category. That's why you will find 10 different answers from 10 different experts. But I hope having a list that narrows those choices down will help. Simply find the one you like that is in your price range and go with it.
If you plan to spend more than $500, the options become even greater. Most of the full-sized big-name guns will run anywhere from $650 – $1,000. If you start getting into specific types of guns like high-end 1911s, the price will easily jump into the thousands. If you simply want a CCW gun, I would stick with something in these price ranges.
And if you plan to spend thousands on a gun, decide what style and type of gun you want and then research those specific guns. Whatever you choose, don't forget to buy some good self-defense ammo and a quality holster for carrying it around. Spend some time at the range and as always, enjoy carrying your new CCW handgun.
The post Best CCW Guns: Price Categories for Any Budget appeared first on The Mag Life.