Concealed Carry Comparison: Glock 43X vs 48
Glock 43X vs 48: what are the differences, why are there differences, and how does this affect someone's choice about which to carry? These are common enough questions, and not just among Glockophiles.
Enter The Mag Life Blog authors. Here, we've compiled three Glock 43X vs 48 articles from our authors who took these questions to task. Keep reading to find their explanations.
Glock 43X vs 48: a Slimline Showdown
Travis Pike
After the SIG P365 shook up the concealed carry world, the industry had to react. We are seeing that come together with the world of Micro Compacts, but Glock did something else. They went in a bit of a different direction with the simultaneous release of the Glock 43X and Glock 48 pistols. Let's put a little Glock 43X vs. Glock 48 contest together to compare and contrast to see which works where.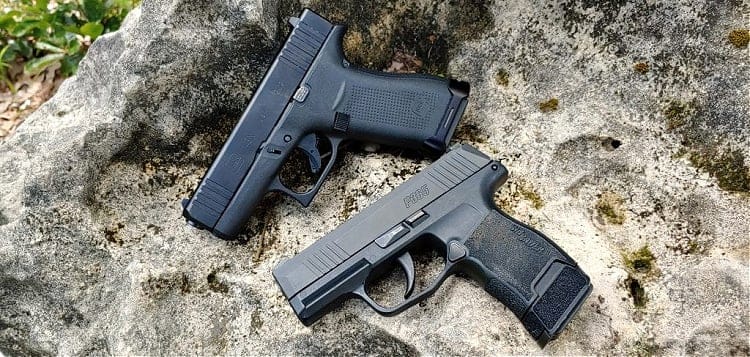 Both share a common connection to the Glock 43 but are distinctly different pistols. They both use a single stack design that holds ten rounds of 9mm as well as 15 rounds with the Shield magazines. With that being said, the pistols are predictably very similar but do provide a very different experience at the range and in the holster. Let's start by breaking down each gun in this Glock 43X vs. Glock 48 showdown.
Glock 43X vs. Glock 48 — Specs and Breakdown
Glock 43X Specs
Weight – 16.5 ounces
Weight Loaded – 23.1 ounces
Barrel Length – 3.41 inches
Overall Length – 6.27 inches
Grip Width – 1.02 inches
Height – 4.92 inches
Glock 48 Specs
Weight – 18.6 ounces
Weight Loaded – 25.2 ounces
Barrel Length – 4.17 inches
Overall Length – 7.05 inches
Grip Width – 1.02 inches
Height – 4.92 inches
As you can see, the biggest difference comes from the barrel and overall length—the Glock 48 sports a slightly longer barrel than the G43X. The 4.17-inch barrel is actually a hair longer than even the Glock 19's 4.016-inch barrel. I spoke with the guys at the Glock booth, and they told me that the Glock 48's slightly longer barrel makes it legal in Canada due to their overall length requirements for pistols.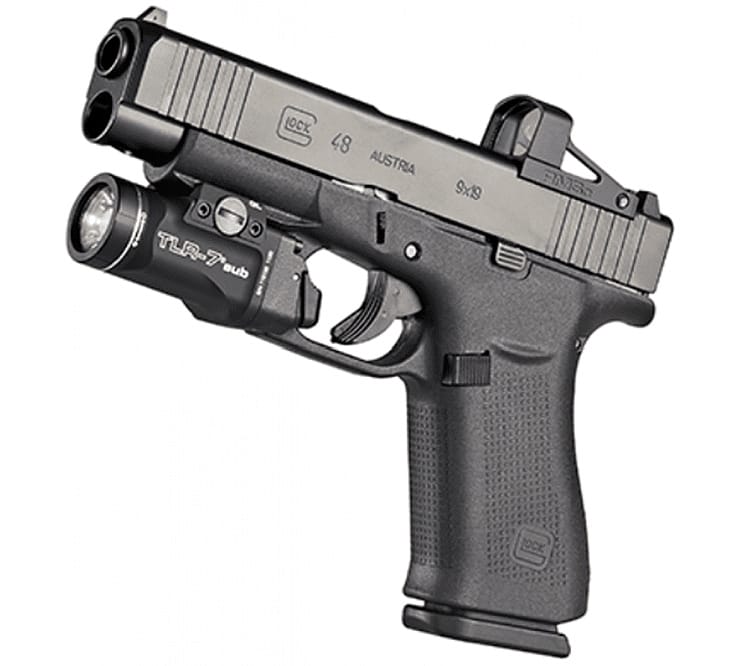 One thing worth mentioning in this Glock 43X vs. Glock 48 debate is the generation these guns occupy. They aren't really a particular generation. They are basically their own generation with lots of features being taken from the Gen 5 series. This includes the front and rear serrations, the Glock marksmen barrel, and the high visibility follower. Like the G43, the grips lack finger grooves too. Unfortunately, these single stacks don't get the Gen 5 ambidextrous slide release.
It should also be noted that while the guns are based on the G43, the magazines are not interchangeable. G43s can't use the longer G43X/G48 mags, and the G43X/G48 series cannot use extended aftermarket G43 mags.
The World of Single Stack Glocks
Also, when we talk Glock 43X vs. Glock 48, we have to mention the fact that multiple models exist of each firearm. We have the standard, then the sweet stainless steel slide variants, and finally the MOS variants.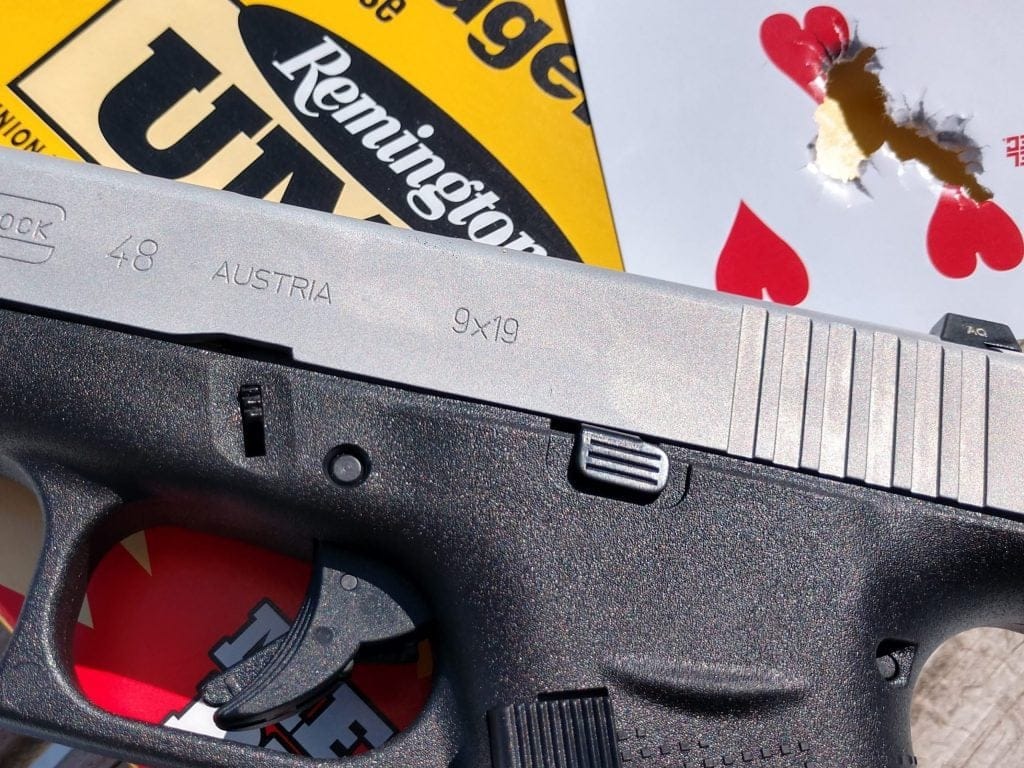 The M in MOS stands for modular, but with the Glock 43X vs. Glock 48 debate, understand that this doesn't use a plate system to fit a wide variety of optics. Instead, it uses the Shield RMSc footprint and fits only mini optics. This footprint lets you use the Shield optics, models from Riton, Swampfox, Sig, and my personal favorite, the Holosun 507K.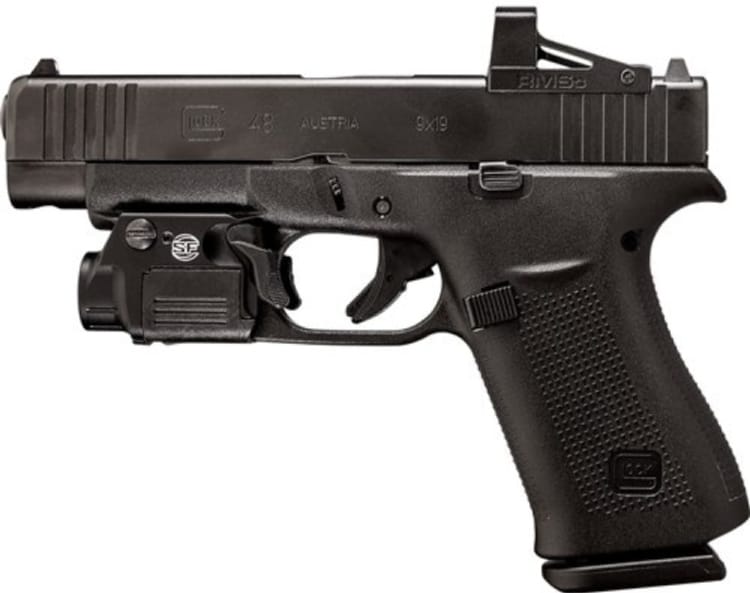 These MOS models also come with a mini Picatinny rail system. This allows you to rock and roll with the TLR 7 SUB or a Mantis X10, or a laser device, or a cup holder, or whatever else.
Glock 48 Pros
Let's start the Glock 43X vs. Glock 48 debate with the advantages of the Glock 48. The Glock 48 is essentially a single stack Glock 19. It's a do-it-all size but remarkably thinner. Heck, I remember Rob Pincus discussing the idea of a single stack Glock 19 years ago, so the ideas have been kicking around.
That longer barrel and extra weight benefit the Glock 48 a fair bit. With over three-quarters of an inch more barrel, the Glock 48 produces a slightly higher velocity per shot. That's great, but it's still only a slight advantage. The real advantage comes from control and sight radius.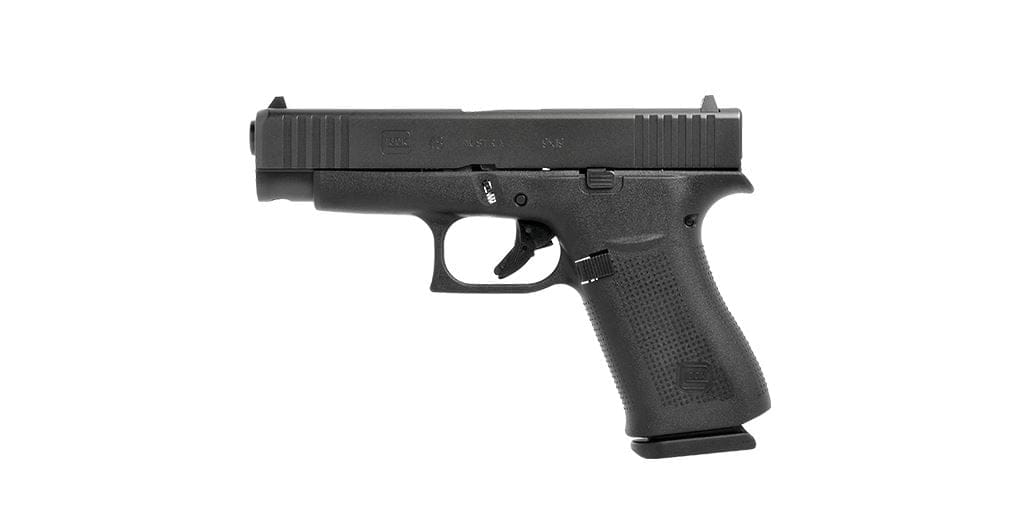 The longer barrel gives you more control and less muzzle rise. The longer slide delivers a longer sight radius. A longer sight radius makes it easier to be precise at longer ranges. Combine control and precision, and you'll see a respectable difference in performance. Add in a timed accuracy drill, and the majority of us will always be faster and more accurate with a Glock 48 than the Glock 43X.
The longer frame also makes it easier to appendix carry the Glock 48. The longer slide presses the grip inward and makes the gun less likely to print. That being said, plenty of holsters utilize a longer front end to make the G43X easy enough to carry concealed as well.
Glock 43X
When I started examining and considering this Glock 43X vs. Glock 48 argument, I approached it thinking the Glock 48 would be the winner. Why would I want a Glock 43 with a longer grip? Then I started shooting and carrying one. Oh, I get it. This is a gun built to be comfortable. Comfortable to shoot and comfortable to carry is the name of the game.
The Glock 43X's short slide makes the weapon much easier to conceal in an OWB holster. OWB does offer a very comfortable experience for carry purposes, and while it's not always efficient, it works well with the shorter barrel G43X. Also, at two ounces less the gun works better with low weight, minimalist belts.
When shooting, the shorter barrel and slide combo makes it easier to find the front sight and track it between shots. If one chose the MOS model and used a red dot, then the sight radius issue would disappear.
The weapon feels more balanced and less front-heavy, making it really well suited for new shooters who may dip the barrel. It's a rock-solid little platform that makes comfortable carry and shooting its priority. I can get why a newer carrier would choose the G43X in our Glock 43X vs. Glock 48 contest. Heck, even an experienced carrier may choose it as a comfy alternative to a larger weapon for deep concealed carry.
Inversed Downsides
As you can easily see, the strengths of one platform reveal the weaknesses of the other. It's not worth doing two separate portions in our Glock 43x vs. Glock 48 debate. The Glock 48 is more accurate than the Glock 43X. The Glock 43X can be faster at close range due to the ability to track the front sight. The Glock 48 is easier to control, and the Glock 43X is easier to carry in all positions but appendix.
Both guns rock in terms of reliability and general ergonomics. They are identical in these regards. The same goes for the crappy Glock sights and average Glock trigger.
The differences between the Glock 43X vs 48 are clear, but it's tough to say one is so much better than the other. It really depends on what you want your gun to do. If you want something that prioritizes concealment and comfort, then go with the G43X. If you want better control and accuracy, then go with the G48.
So what say you? Which would you choose in this Glock 43X vs 48 debate?
Tested: Glock 43X versus Glock 48
Kat Ainsworth
When Glock officially launched the 43X and 48 in early 2019, the guns were met with a mixture of excitement and skepticism. The 43 — which has been on the market since 2015 — had the single-stack 9mm market covered, it seemed, and for shooters who found that model too skinny for a comfortable grip, it seemed unlikely more single-stacks would remedy the issue.
However, I'm always game to run a new gun, so I found myself putting significant time into both the 43X and the 48. If you've been debating entering the world of Slimline Glocks, you've come to the right place. Read on to find out how the two guns perform at the range and for concealed carry along with some long-term use thoughts on them.
What is the Glock Slimline?
According to the manufacturer (as well as in the context of magazine construction),  a Glock Slimline is currently the single-stack 42 or 43, with the 43X and 48 being part of their "extended Slimline family."
However, the 43X and 48 aren't exactly the same as a standard single-stack. For example, the Glock 42 and 43 are single-stack models with a reduced capacity that tends to go with them. But…the 43X and 48 are Slimline models. Glock designed these guns for greater capacity while still maintaining a slimmer grip than their double-stacks offer. Both guns have an overall width of 1.10-inches which is narrower than the 1.26-inch grip width of the double-stack Glock 19. They're also a bit wider than the 1.06-inches of the single-stack Glock 43. Those seemingly small increments may not seem like much, but they make a difference. Don't believe it? Consider the capacity of these models.
The Glock 43, which was Glock's first foray into 9mms that weren't double-stacks, has a capacity of 6 +1. You get more with the compact Glock 19 — it has a capacity of 15 +1 — so how about the 43X and 48? Those guns each have a capacity of 10 +1 using the flush-fit magazines they ship with. Four rounds more than the single-stack 43 is a significant improvement. The guns weigh less than the original double-stack designs but hold more ammunition than the single-stack, all for only 0.04-inches more width when compared to the single-stack 43.
In a Slimline Glock the rounds are staggered a bit differently. They're neither double-stacked nor precisely single-stacked; instead, the rounds rest at a slight angle to fit more in the magazine without sacrificing the slimmer profile of the grip.
From Glock regarding the 43X and 48:
"The 10 rounds magazine slim 01 has a specific single stack design to reduce its dimensions to a minimum. The orange follower allows the shooter to clearly see if there are any rounds left in the magazine or not. The metal insert is covered by a polymer coating as for all GLOCK magazines."
So, are they single-stacks? Yes, but no.
Glock 43X Features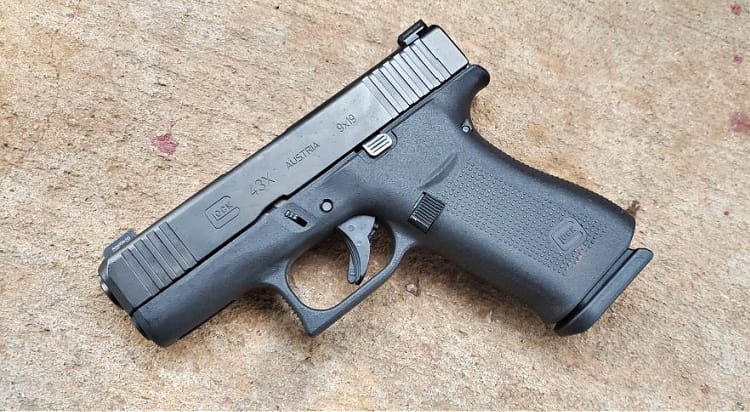 As expected the Glock 43X — the G43X from here on — is a polymer pistol with subcompact dimensions. It's chambered in 9x19mm, which is both a capable defensive round and the current favorite of those in law enforcement and has a 10 +1 capacity. It has an overall height of 5.04-inches when the flush-fit magazine is inserted and an overall length of 6.50-inches. The gun's barrel is 3.41-inches long. Overall weight is 18.70 ounces, empty; when the magazine is loaded it weighs 23.07 ounces. The slide is stainless steel and the frame is polymer.
This model ships with either factory white sights — a dot in front and a dovetailed white rear sight — or night sights, depending on what you request. Features like the Glock Marksman Barrel, reversible magazine catch, and Safe Action bladed trigger system come standard on all G43X models.
Glock 48 Features
If your first thought is that the Glock 48 (G48) is no different than the G43X, you're close to correct. Like the G43X, the G48 is chambered in 9x19mm, has a 10 +1 capacity with a flush-fit magazine, and a polymer frame. At 5.04-inches, overall height is also the same, and width matches as well at 1.10-inches. However, the G48 has an overall length of 7.28-inches and a barrel length of 4.17-inches. Empty, the G48 weighs in at 20.74 ounces; loaded, the gun weighs 25.12 ounces.
Features like the sights, reversible magazine catch, and trigger are the same as the G43X. And as with all things Glock you get the Safe Action bladed trigger. But as you can see, there are some slight differences in length. The G48 barrel is 0.76-inches longer than that of the G43X and the overall length is about the same at 0.78-inches longer than the G43X's length. This might seem to be an inconsequential difference, but it does impact grip which, in turn, can affect accuracy. It also affects concealment.
Which is Better, the G43X or the G48?
Having spent a great length of time running both models I'm comfortable stating they are each reliable, durable pistols. Through thousands of rounds fired through the guns — both defensive loads and target rounds — there have been no failures. There haven't even been failures related to magazines which makes me exceptionally happy. Accuracy is excellent as well. When I first got my hands on them I was skeptical because I've been a fan of the classic Glock double-stack for years and the single-stack 43 does not fit my hands well at all. However, the G43X and G48 fit my grip far better than the G43 and actually top the double-stack models for me for comfort and accuracy.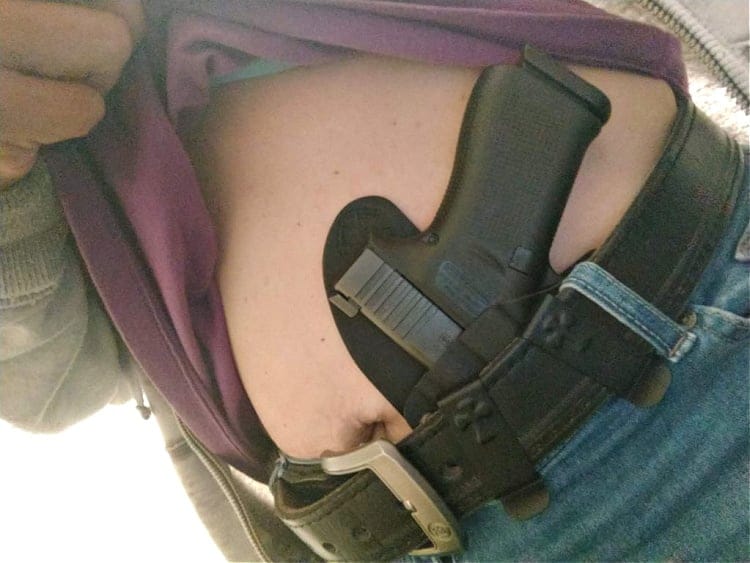 My hands are on the longer side so I always prefer some extra length on guns. That means the G48's extra 0.78-inch overall length is a good thing for my specific needs, making it my personal preference of the two Slimline models. This does not mean there's no place for the G43X. In fact, of the two the G43X is easier to conceal. It may only be three-quarters of an inch, but that fractionally shorter barrel makes all the difference when concealing, especially in skinny jeans and a tank top. This by no means is meant to suggest the G48 cannot be concealed. I've been using my G48 in regular rotation as a carry gun for more than two years. It can be concealed, it's just slightly touchier for printing at the muzzle than the G43X is for my build.
Both models are accurate but for me, it's the G48 that's precise. If you have smaller hands, the G43X may deliver greater precision. Accuracy is offered by each gun, though, so don't let my saying the G48 has produced precise hits rather than overall accuracy stop you from trying the smaller version.
Glock 43X vs 48 — Which Slimline Glock Should You Buy?
Assess your carry needs and go from there. If you have larger hands and are tall enough to conceal those extra three-quarters of an inch, maybe the somewhat larger G48 is right for you. Conversely, if your hands are smaller and you're petite, the G43X might be best. Bluntly, they're both nice pistols and it's worth owning one of each. After all, you can never have too many guns, especially when they're reliable, well-made carry guns.
What's your favorite Glock? If it isn't the G43X or G48, which model is it, and why? Fill us in on the details in the comments below.
Glock 43X Specifications
Caliber: 9x19mm
Capacity: 10 +1
Barrel length: 3.41-inches
Trigger distance: 2.64-inches
Slide length: 6.06-inches
Slide width: 0.87-inches
Overall width: 1.10-inches
Overall length: 6.50-inches
Overall height: 5.04-inches, including flush-fit magazine
Weight: 18.70 ounces, empty
Glock 48 Specifications
Caliber: 9x19mm
Capacity: 10 +1
Barrel length: 4.17-inches
Trigger distance: 2.64-inches
Slide length: 6.85-inches
Slide width: 0.87-inches
Overall width: 1.10-inches
Overall length: 7.28-inches
Overall height: 5.04-inches, including flush-fit magazine
Weight: 20.74 ounces, empty
Glock 48 or 43X?
Which Slimline to go with and why.
Fifty Shades of FDE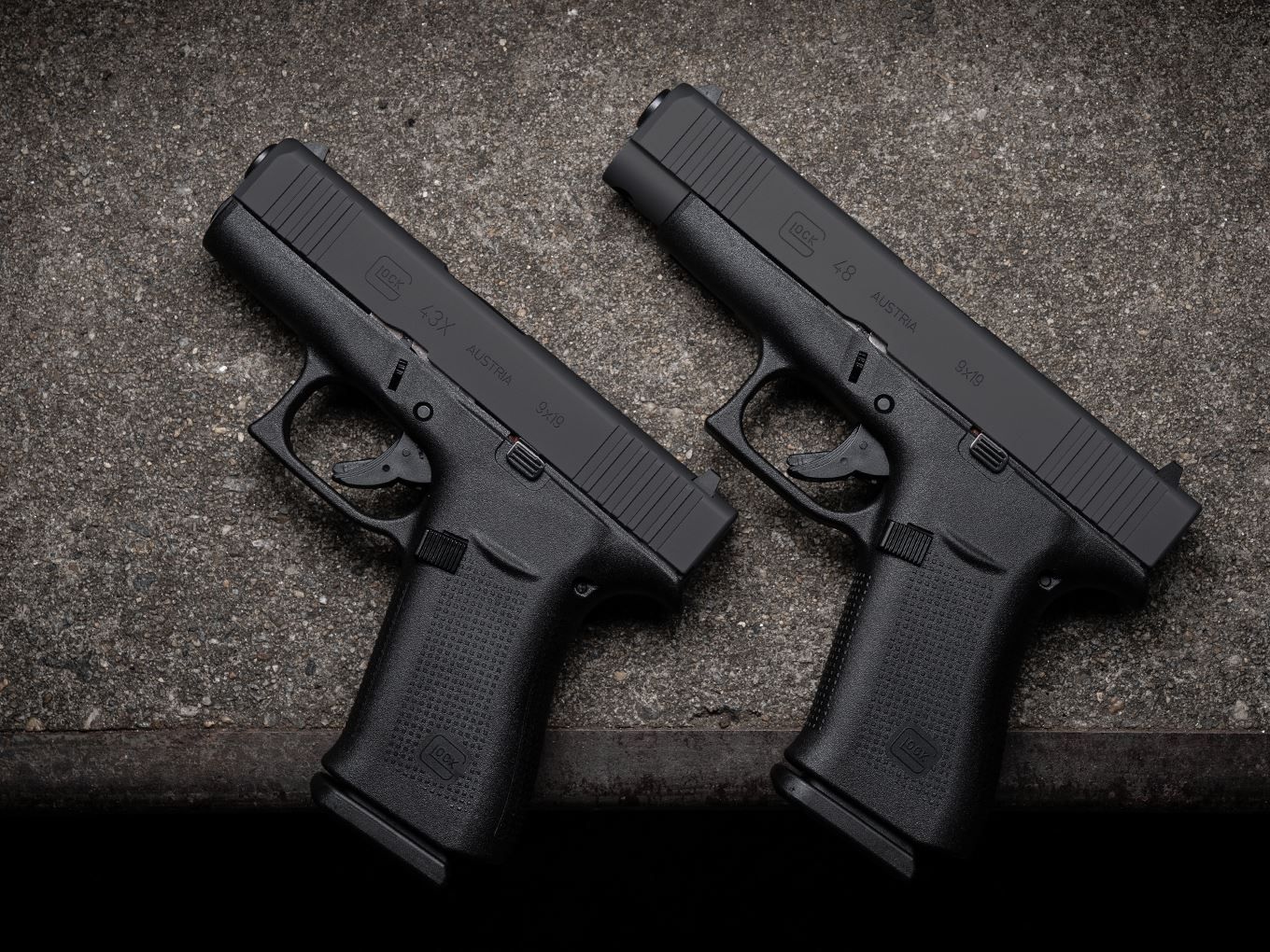 I have been carrying concealed since the day I graduated from the academy. That was almost a decade and a half ago and although I'm not old, l don't want to age myself either. Since then, things have changed a lot as far as what is available in terms of the pistols themselves to the accessories such as holsters.
Back then, compact or sub-compact pistols were the go-to options to carry if you wanted some decent magazine capacity at the smallest footprint available at the time. Probably the most popular (and still is to this day) was the Glock 19, chambered in 9mm and held 15 rounds in the magazine. Basically, it was the compact model of the full-sized Glock 17 and was great for concealed carry. However, it was still too big for some to conceal so the next in line was the Glock 26 (aka the Baby Glock, the sub-compact model of the Glock 17), also chambered in 9mm and held ten rounds in the magazine. There were other makes and models that were similar in size and capacity as these Glocks, but to keep it simple, we'll just focus on Glocks in this article.
The other options were smaller caliber semi-automatic pistols and revolvers, which were less optimal in many ways. They lacked in either the ballistics or capacity department or both in some cases. There's nothing wrong with these options as they are still effective ways to defend yourself, but when compared to the semiautomatic compact and subcompact pistols, they have their disadvantages. It's case dependant and personal preference so I won't dive into that rabbit hole either.
The Glock 19 and 26 were extremely popular due to the fact that they are closely related to the Glock 17, which dominated the Law Enforcement and civilian markets. Familiarity with the ergonomics and parts makes it an easy transition for those who already owned a Glock 17. The only thing to get acclimated to was the increased recoil from having shorter barrels, less weight up front, and having shorter grips. One of the best selling points was the magazine compatibility between all the platforms as long as the magazine was longer than the grip. This allowed for extended magazine capacity with your spare magazine. —Quick side note, if you carry concealed, you should be carrying at least one spare magazine! The Glock 26 was very popular as a backup gun for Police Officers all around because if their primary Duty Glock 19 were to ever go down, the Glock 26 could still fight on with the spare Glock 17 magazines to keep feeding it.
The downside to the Glock 19 and 26, in my opinion, is that they also share the thickness of the Glock 17. There's nothing wrong with that in terms of design and function, however as carry pistols, they're thicc. This may or may not affect certain people, but for me, I am short and of thin build. This means that pistols of this size limited me on how I carried them. Holsters have improved much over the years with quality custom kydex products in the market, but for me to carry these options comfortably, it had to be in the waistband at my 4 o'clock position. In order to conceal it without printing, I couldn't wear a T-shirt, I had to wear some sort of button-up shirt and thankfully, 5.11 and Vertx makes some nice and comfortable button-ups. So I wore quite a bit of those shirts often because I carried pretty much everywhere. Although it concealed the pistol well, the button-up shirts also made you stand out in a crowd and those career criminals and parolees can spot you from afar.
As time went on, Glock eventually came out with the Glock 43. It was Glock's first Micro Compact Pistol and it was even more so popular for the off-duty and Every Day Carry communities. It was much shorter in length and in grip and more importantly, it was much thinner in width than the Glock 19 and 26. The Glock 43 has a 3.41″ barrel, length of 6.26″, an overall width of 1.06″, a height of 4.25″, and a loaded weight of 20.64 oz. With its minute size, it sacrificed magazine capacity to hold a measly six rounds. There were after-market magazine extensions to help but it was still pretty lacking.
I got my own Glock 43 as soon as I could and it was one of the most comfortable carry guns I've ever had. It became my primary carry gun and the first for me to carry appendix. I was happy with it, I had a good kydex holster and was able to wear t-shirts again. When compared to the sub-compacts I carried before, it was hardly noticeable due to its size and weight. It made carrying concealed a comfortable experience as it could be, instead of a chore that you had to put up with having a brick inside your waistband. I know a lot of my partners and law enforcement officers out there that still to this day, refuse to carry off-duty because it can be a pain in the ass or they don't want the responsibility. Yes, it may sound crazy but it's a true fact and there's no convincing them otherwise.
Carrying the Glock 43 was comfortable and I knew its limitations with its diminished magazine capacity. I got plus two and plus three magazines extensions from Taran Tactical to increase my available firepower. Shooting the Glock 43 took me some time to get used to with its snappy recoil, which was to be expected from such a small gun. I used to joke that it was like a revolver that you can reload more easily since it was a six-shooter plus one.
My apologies for the longish evolution of carry guns from my experience but I think it really gives the newer pistols some context and appreciation that most people that carry today take for granted.
Eventually, Glock came out with the Glock 43X and the Glock 48.
They announced both at the same time and to this day, a lot of people are confused about the differences between the two and which one to go with. I will hopefully be able to go over all the differences in features so you can make a more informed decision as to which one will work for you.
I will just start with the specifications of both models according to Glock's website:
G43X
Barrel Length: 3.41″
Overall Length: 6.50″
Overall Width: 1.10″
Overall Height: 5.04″
Magazine Capacity: 10 Rounds
Loaded Weight: 23.07 oz
G48
Barrel Length: 4.17″
Overall Length: 7.28″
Overall Width: 1.10″
Overall Height: 5.04″
Magazine Capacity: 10 Rounds
Loaded Weight: 25.12 oz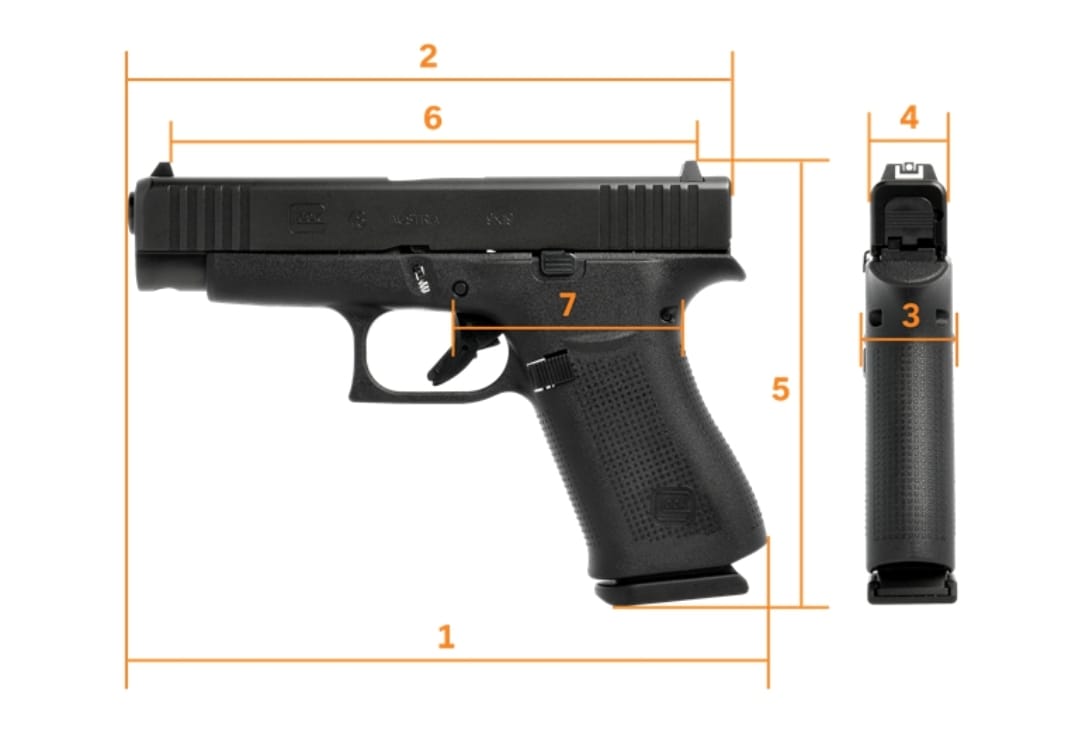 What do the two models have in common?
So I hate looking at numbers on a sheet and going back and forth to compare them. Don't worry, I did that for you! I'll go over what they both have in common first. The G43X and G48 share overall width, overall height, and a magazine capacity of ten rounds. That's quite a few similarities, but that's it.
What are the differences?
With its barrel and overall length, the G43X is slightly longer compared to the G43. It is obviously taller than the G43 and slightly thicker too, but not by much. Had to throw this in there because I'm sure some of you would be wondering between the 43 and 43X. So in short, a G43X is a little bit bigger than the G43, with a longer grip to hold the new 10 round magazine.
The G48 is almost an inch longer than the G43X with both barrel and overall length. With that, the sight radius is longer, obviously. To some, this is an important feature for some reason. It isn't for me and realistically it shouldn't be a deciding factor for these micro pistols. There will be a slight advantage in muzzle velocity with the G48 — again not that important. The added weight and barrel length should relate to less recoil and less snappy to shoot but I am not sure by how much. Both share the same grip so it is easier to shoot than the G43. They both also have front serrations on their slides as a welcome feature that took Glock some time to add to their pistols.
So why did Glock make two different pistols with the G43X and G48?
Why not just make one and let it be? I, for one, am glad that they offer both models and not just the one. Every person has a unique body type and having options, especially with an everyday carry pistol is important.
The barrel length and overall length matter!
These features go hand in hand because it affects how long the business end is. This is very important when you carry appendix — in front and towards the middle, close to the belt buckle or belly button. It's one of the most popular methods to carry since it is easy to draw from and less likely to print. It is my preferred method to carry and it is safe to do so as long as you are practice safety all the time with your pistol as everyone should. Go with whichever way you want and practice with.
The longer the overall length, the more it will affect your comfort level when you have it sitting in an IWB (In Waistband) or AIWB (Appendix In Waistband) holster. If you're short like me, the shorter the overall length the better for me because I carry AIWB and the barrel is sitting against my pelvic bone and you do get used to it, but having a shorter pistol is better for me and people of similar stature. This may not bother taller people as they won't run into this issue.
Also, remember that when you carry everyday, you will be doing your everyday activities depending on how active your lifestyle is, from walking, sitting, driving just to name a few. Sitting is where having a shorter overall length has its benefits. When you are carrying AIWB and are bending over to pick something up or sitting down, it doesn't feel good to have your barrel digging into your thigh. This is one reason that the G19X was a thing and most people flipped out when that came out, because having a shorter barrel and length does have some benefits! The same goes for the G43X.
If the overall length issue doesn't affect you, then the G48 is what you'd want because it is always a good practice to carry the biggest pistol with the most magazine capacity as you can. The G48 has a slight advantage in terms of performance over the G43X, however, they're still advantages.
What about accessories?
Glock has since updated the lineup to include MOS capabilities on the G43X and G48. These models are factory cut to accept micro red dot sights (MRDS) and have an accessory rail in the frame to accept a weapon light or laser. I will say, having a red dot on your pistol is an excellent way to improve your effectiveness with a pistol, especially a carry pistol when your ammunition is limited.
Which one is right for you?
If you want the smallest and lightest pistol in the Glock family, go with the G43. If you want more magazine capacity and grip, with a short overall length, the G43X is for you. If you want basically a slimline G19, with the most length you can get out in this series of pistols, get the G48. If you want to run MRDS and or a WML, get the MOS version.
I know that was a lot of information. I hope this will help some of you make a more informed decision and answers questions that you may have had about the Glock 43X vs 48. Either way, having ten rounds in a small, slimline package is something I wish I had available early on in my career. Most of you won't know how much more challenging it was to carry with what was available to us back then. I sure do appreciate the advances in technology and materials to make things smaller and lighter for us these days.