FN 502 Review | Olde English Outfitters
FN dropped a new .22lr pistol last year, called the FN 502. Have you wondered how the new FN 502 pistol stacks against other .22lr pistols on the market? Allen with Olde English Outfitters got ahold of one of the pistols and did a video review.
The new FN 502 pistol is a semi-automatic .22 caliber pistol. Allen says that the FN 502 is a very interesting pistol that has all the bells and whistles of a modern pistol, or the emerging trends present on the pistols.
When he received the pistol, he installed a Holosun sight on it for testing. He says the rear sight is integral in the mounting plate with the optic mounts. In the box, there were several mounting plates with the integral rear sight to choose from, so you pick the plate that matches your optic and go from there.
He goes on to say that the sights are not illuminated at all, but they are set up so that they co-witness through the optic — which Allen says is very nice. He points out that the pistol has two modern features that he really enjoys:
It's suppressor-ready out of the box.
The Co-witness height of iron sights while being optic ready.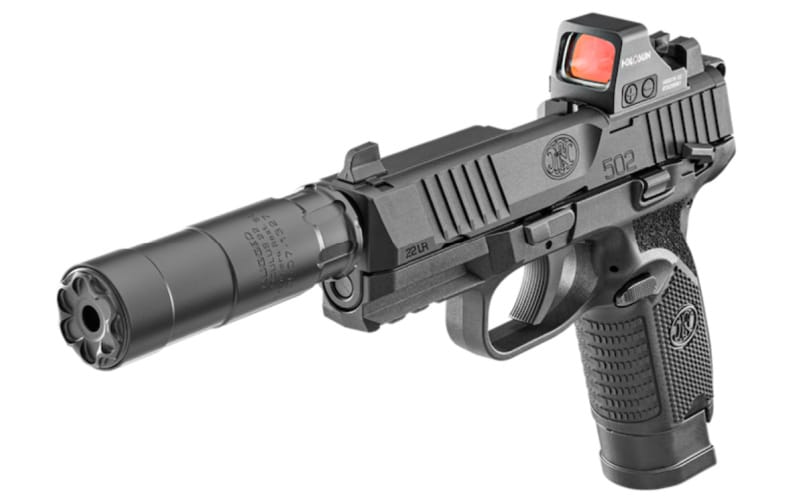 The FN 502 is a single-action pistol, with a cocked hammer after racking the slide. The pistol is made in Germany, by Umarex but marketed by FN. Don't get hung up on the fact that it was produced by Umarex because if you look closely at the FN 502, it is an FN pistol through and through. It has an ambidextrous magazine release, slide release, and thumb safety. Allen says that regardless of whether you are right- or left-handed, it will work pretty good for you.
On the slide, there are front and rear cocking serrations for ease of use. The rail under the dust cover is great for undermounting lights, laser, or whatever accessory you want down there. The grip has good checkering for hand feel and it comes with two magazines. The standard 10-round magazine fits flush and has a pull-down lever for easier loading of the magazine. The second magazine is a 15-round magazine, which higher capacity mags aren't the standard for most manufacturers. Allen says the 15-round magazine sticks out a bit, but it isn't cumbersome.
Allen rounds out the review by saying the FN 502 is a neat little gun that shoots fine and they haven't had any problems with it thus far at the range. The zeroing of the sight was no problem and using the front sight they were able to hit smaller targets without much difficulty. He says that while it is a relatively new product with a light trigger and easy cycling, it should be a pretty popular pistol and easily compete with other options on the market.
FN 502 Specs:
Caliber: .22 LR
Operation: Single Action Only (SAO)
Mag Capacity: 10 or 15 Rd.
Weight: 23.7 oz.
Barrel Length: 4.6″
Overall Length: 7.6″
Twist Rate: 1:16″ RH
Height: 5.8"
Width: 1.4"
Trigger Pull: ≈ 5 lbs
Sight Radius: 5.5"