FN 510 Tactical Series & FN 545 Tactical Series Pistols
FN America, LLC, banking on the popularity of the FN 509 Tactical, has upgraded its offerings in the Tactical line to include a 10mm option as well as a .45 ACP option. The FN 510 and the FN 545 pistols have threaded barrels for muzzle devices, optic cuts for red dots, and suppressor-height night sights.
The two pistols carry the industry-first capacity, according to FN, with standard 15-round and 22+1-round magazines for the FN 510 Tactical and 18+1-round extended magazines for the FN 545. These pistols are chambered in two very popular full-bore personal defense calibers, but the packages are not much larger than the original FN 509 pistol, making them easy to conceal and comfortable to shoot.
"There has been significant interest from FN owners in pistols chambered in big bore calibers over the last several years," said Chris Cole, Vice President of Sales and Marketing for FN America, LLC. "We are excited to announce the release of the FN 510 Tactical and 545 Tactical pistols, chambered in 10mm and.45 ACP, that advance our flagship striker-fired line of pistols and complement our FNX-45 Tactical and FN 509 Tactical."
True to FN 509 family's styling, these additions have enhanced grip texturing, changeable backstraps, and slide serrations. Both heavy-duty defensive pistols weigh just over 30 ounces (32 and 31 ounces respectively) and feature a double-action system with a roughly 6-lb trigger pull weight.
"We pioneered the Tactical feature set in the FNX-45 and FN 509 Tactical pistols, introducing the industry's first pistol that shipped from the factory with a threaded barrel, optics mount and extended capacity, and until now, the FNX-45 Tactical had the highest capacity of any .45 ACP pistol available from the factory," said Chris Johnson, Senior Product Manager, Pistols, for FN America, LLC. "This expansion into new, big bore calibers has been a long time in the making and we are excited to offer these pistols with this unprecedented capacity – 18+1 in the FN 545 Tactical and 22+1 in the FN 510 Tactical – along with the features our customers seek in an FN Tactical pistol."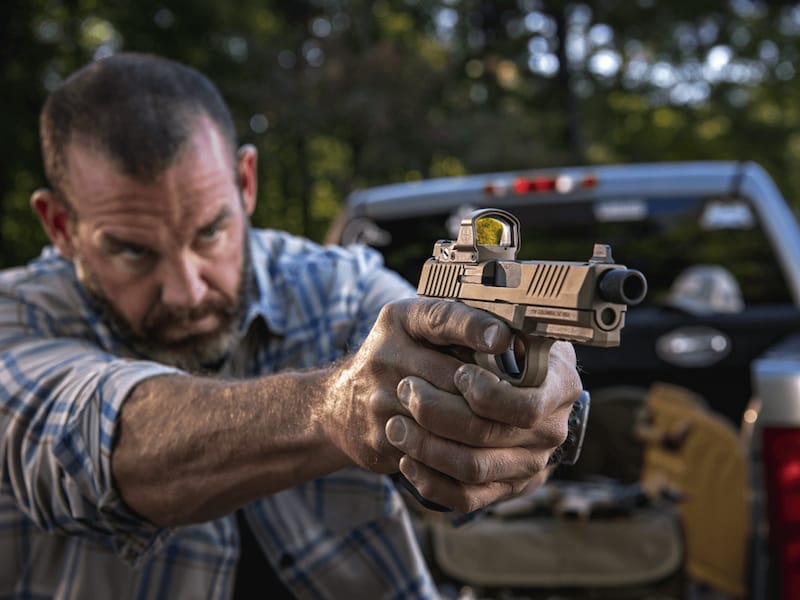 The FN 510 Series as well as the FN 545 Series pistols come with the patented Low-Profile Optics Mounting System that is compatible with every major optics footprint, meaning end users can use almost any red dot optic on the market for their pistol. Additionally, the pistols boast suppressor-height sights with tritium inserts, giving the pistols viable backup sights.
Both pistols feature 4.7-inch cold hammer-forged barrels that have been threaded 0.578"x28 that are compatible with most all muzzle devices or suppressors. Available in either black or flat dark earth (FDE) and come with two magazines (15-round and 22+1 for the FN 510, and 18+1 for the FN 545). The FN 510 Tactical and the FN 545 Tactical pistol have an MSRP of $1,139.