FN Five-seveN MRD – The Mag Life
If there's one cartridge that's been getting increasingly popular, it's 5.7x28mm. Of course, not all guns are made equal, which is why you should take the time to choose the right gun for you before adding another pistol to your collection. That said, if the 5.7x28mm chambering is what you're after, it's worth a closer look at the FN Five-seveN MRD. Not only do you get a handgun backed by FN's stellar reputation but you get one that's optics ready, right out of the box.
According to FN, their Five-seveN MRD is "what other pistols want to be when they grow up." The gun maker went on to explain the details of the gun's optics-ready platform:
…the Five-seveN MRD's optic mount consists of a series of plates that mate the optic to the slide. Just like FN's 509 optics-ready pistols, users are able to mount a miniature red dot sight within minutes using the corresponding plates and screws provided with the pistol. The system is compatible with most common miniature red dot sights including the Leupold DeltaPoint Pro, Trijicon RMR, Vortex Optics, Burris FastFire series, Docter Optics and more. The three-dot photo luminescent sights glow in low light conditions, are adjustable for elevation and windage and co-witness with certain optics..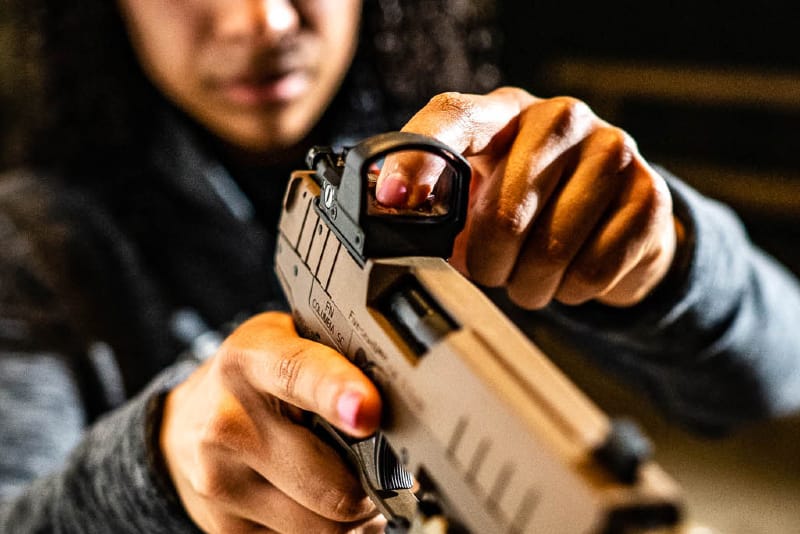 Chris Cole, Vice President of Sales and Marketing for FN America, LLC. , had the following to say about the optics-ready Five-seveN:
The FN Five-seveN pistol has been immensely popular since its introduction. Its original design capturing the performance of the FN-designed 5.7x28mm cartridge made it an instant success, and it's positioned to do it yet again with the dramatic redesign of the FN Five-seveN MRD. With the addition of an integral optics mounting system on the slide, an already accurate pistol now redefines what handgun accuracy means. We're truly excited to bring this new pistol to market with features our customers want in their favorite FN caliber.
Features of the FN Five-seveN MRD include:
Precision iron sights
Improved grip ergonomics
Available in black or FDE (Flat Dark Earth)
Crisp trigger with 6-pound, 2-ounce trigger pull weight
Target crowned, match grade 4.8 inch barrel
Aggressive slide serrations
Slide cut to mount most optics
Minimal recoil from the FN 5.7x28mm cartridge
Add most MRDs in minutes, without a gunsmith
Machined steel slide with polymer cover
Enhanced slide cover improves cocking control
Photo-luminescent front sight with adjustable rear
Specifications:
Caliber: 5.7x28mm
Operating system: Delayed blowback, Single-action only
Magazine capacity: 10 or 20 rounds
Overall weight: 25.2 ounces, empty, without magazine
Barrel length: 4.8 inches
Overall length: 8.2 inches
Twist rate: 1 in 9 RH
Height: 5.6 inches
Width: 1.35 inches
Trigger pull weight: 4.4 – 7.87 lb.
Sight radius: 7.0 inches
MSRP on the FN Five-seveN MRD is $1449.00.