Glock Watch Global – The Mag Life
Glock isn't all pistols, they do some merchandise as well. In the past, Glock released two limited edition Glock watches in the past, one for Europe and one in the US, and now the Glock Watch Global is available with a Glock Orange band or a black mesh band.
The Glock Watch Global seems to have a similar appearance to the US release of the original watch. The watch face has orange accents instead of the previous green or yellow markings. The back of the watch face has part of the world map engraved on the back, with the map centered around the Atlantic Ocean and the logo.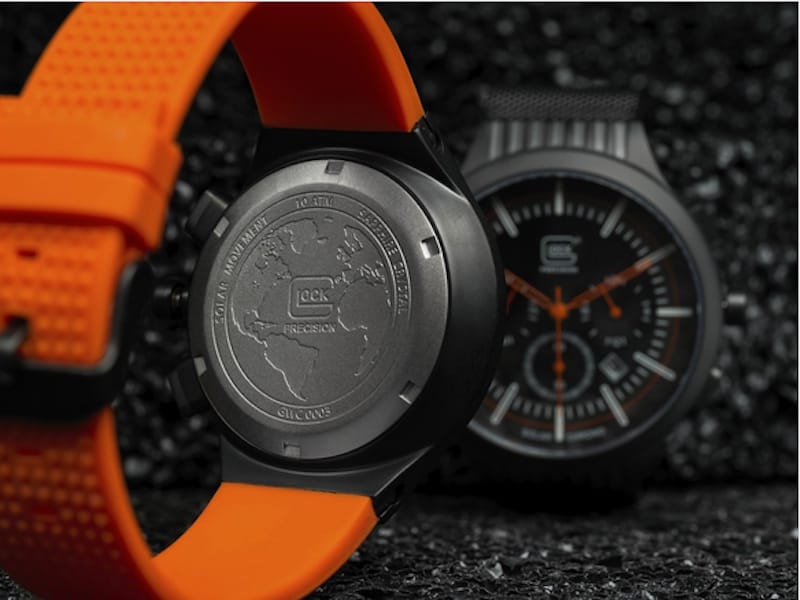 Glock Watch Global Specifications
Quality Watch Features
Elegant solar-powered Chronograph
Titanium case with serrations
Etched watch back
Sapphire crystal glass
Water resistant to 10 ATM
Black mesh band plus an additional interchangeable orange silicone band
Luminous orange clock hands
Torture tested
Design elements inspired by GLOCK pistols
nDLC coating on both the watch and the mesh band
Serrations on the case that emulates the pistol slide
Crown that mimics front sights
Rough texture on the silicone band is similar to the pistol frame
Just like the previous versions, the new watch comes with a silicone band that is orange and with a black metal mesh band. One major departure with the Glock Watch Global is the case that it comes in. The Glock Watch Global appears to come in the same smaller accessories case as the Glock light and dummy rounds.
Another major change is the price tag. The Glock Watch Global retails for $299.99. That is $100 cheaper than the US and European exclusives. It seems the watch does not come with any swag like the patch (US version only) or a challenge coin. As mentioned earlier, the US and European watches were limited quantity exclusives. This one does not appear to be limited. At least the Glock website does not mention anything about limited numbers.
Patti Miller is one of the most awesome females in the tactical/firearm (or any) industry. Imagine a tall, hawt, dangerous Laura Ingalls Wilder type with cool hair and a suppressed blaster and you'll be getting the idea. What's interesting is that in addition to being a willing brawler and intrepid adventuress, she's also an Ent/Ogier level gardener and a truly badass baker.