Grey Man Tactical —Solution to Archery Storage Problem
Bowhunters understand the struggle of storing their bows and gear during transport. Grey Man Tactical has an archery hunter's dream solution with the #204 Vehicle Bow Rack. Ditch the heavy and bulky bow case when traveling to the next hunt and secure the bow to the Rigid Molle Panel (RMP) bow rack from Grey Man Tactical. Save precious cargo space when mounting the bow to the RMP which allows for easy access.
The #204 package was created for bow hunters who wanted a better way to store and transport their bows. Attaching to the seat back with buckle loop-around straps and d-rings, the RMP is quick and easy to install. The Enlarged QuickFist clamps securely hold the bow in place during transportation without damaging the sight. A large utility pouch comes in handy for extra storage and a double mag pouch works great for holding extra magazines for your defense pistol or small tools. Like other items from the RMP series, the panel is universal MOLLE compatible, weather resistant, and has non-corrosion construction.
The #204 Vehicle Bow Rack – 15.25 X 25 RMP Package contents include:
15.25 X 25 RMP
Buckle Loop-Around + D-Ring Strap RMP Strap Black [Headrest]
Buckle Loop-Around RMP Strap Black [Seat Bottom]
Two Enlarged Clamps [bow]
Double Mag Pouch [pistol]
Large Utility Pouch
According to Grey Man Tactical, the bow can be seen upside down in videos and images. This is to keep the weight of the bow at the bottom of the RMP The bow can be stored either way. The Grey Man Tactical #204 Vehicle Bow Rack RMP Package currently is only available in black and has an MSRP of $269.99.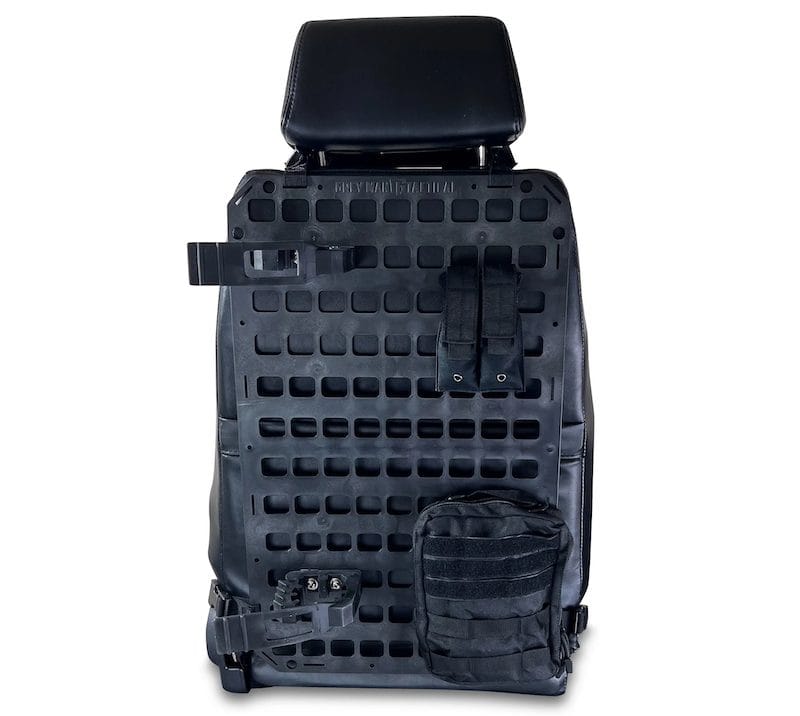 Compatibility
The #204 Bow Vehicle RMP Package is compatible with any vehicle seat with seat back dimensions equal to or greater than 15.25″ wide X 25″ tall.
Specifications
Width: 15.25″ | 387.35mm
Height: 25″ | 635mm
Thickness: 3″ | 76.2mm
Weight: 65.48 ounces | 1,856.33 grams
Material: Injection Molded Glass Filled Nylon + Rubber + Aluminum + Nylon
Warranty: Grey Man Tactical (GMT) Guarantee
American made, finished by hand
Patti Miller is one of the most awesome females in the tactical/firearm (or any) industry. Imagine a tall, hawt, dangerous Laura Ingalls Wilder type with cool hair and a suppressed blaster and you'll be getting the idea. What's interesting is that in addition to being a willing brawler and intrepid adventuress, she's also an Ent/Ogier level gardener and a truly badass baker.