Henry AR-7 — The Go Anywhere Survival Rifle
Back in 1959, the Air Force expressed a desire to be able to equip its pilots with a lightweight survival rifle that was both convenient and reliable. The sort of rifle that they could have with them and yet hope to never have a need for. Interestingly, the USAF never adopted this particular design, which is a shame.
Over the years, it has been manufactured by a host of companies. Unfortunately, the units put out by a few of these companies weren't known for their reliability, and for a time, the AR-7 received a bad rap. Well, rest assured that since Henry Arms has been making this little rifle, it is being done the right way, all the way!
Weighing just 3.5 pounds, this easily and discreetly portable rifle is 16.5 inches long when all the components are stowed. Stowed where? Tucked into its own buttstock, of course! When the components are broken down, they fit into the buttstock, which is water and impact resistant.
The barrel, action, and magazines each have their own molded slot to fit into inside the buttstock, which is then sealed using a cover that doubles as the butt plate. It reduces everything into this incredibly handy, compact package that can then be slipped into a backpack, a plane, your car's trunk, behind the seat…you get the picture. This thing fits into all sorts of small places that are out of the way until you might need it. And at 3.5 pounds, it's not a major burden to carry around.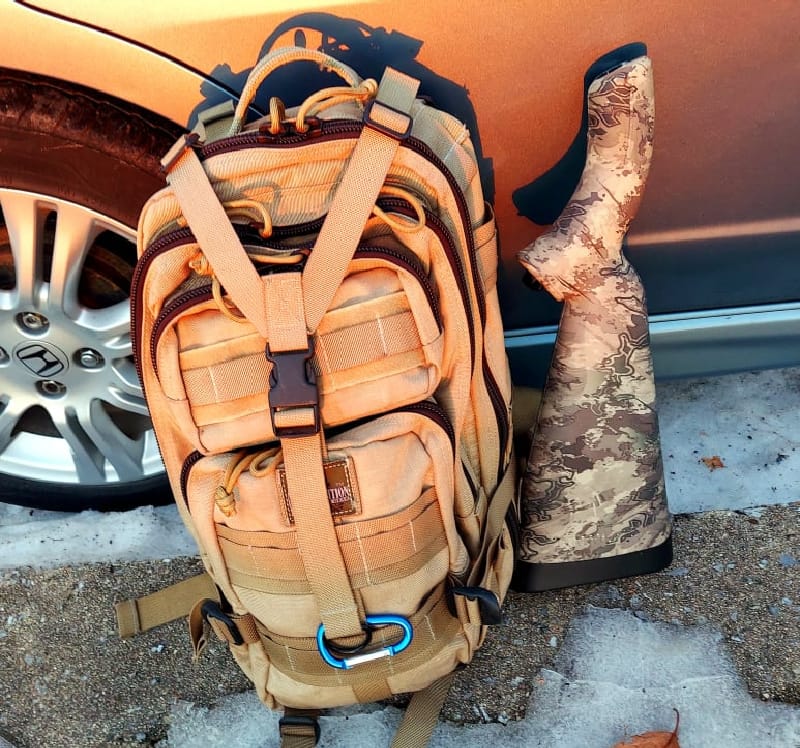 How difficult is it to assemble the Henry AR-7?
Rest assured, it is incredibly easy and simple! Your author can do it in about a half a minute, and if I can assemble it, anyone can. Simply attach the receiver to the stock by sliding it into a groove and tightening a screw. Then insert the barrel (there is a tab so that you cannot mess it up) and tighten the nut. That's it, you're done. Aside from that, you insert a loaded magazine, pull back on the charging handle, and the rifle is ready to fire. No tools are needed!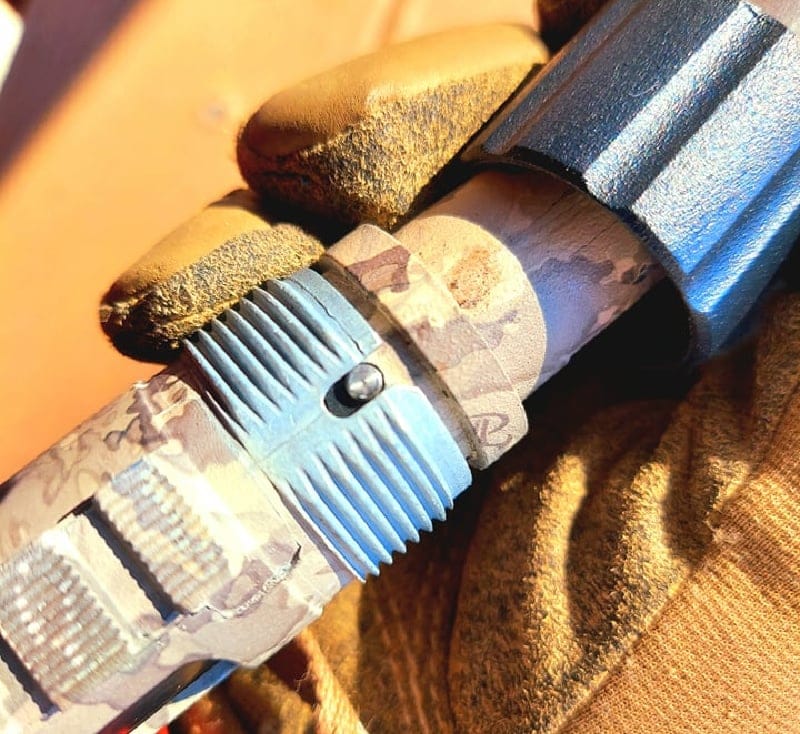 Let's take a look at the features.
The barrel is steel and is covered with ABS plastic. The entire thing is covered with a protective coating. Mine wears a camouflage pattern called True Timber Viper Western Camo, and I have to say, the pattern is really pretty cool and seems effective. That's what Henry sent me for test and evaluation, and I'm quite pleased with it.
Interestingly, the charging handle can be pushed into the bolt when the receiver is stored in the stock. When you need to use the charging handle, you just pull it out and charge the weapon with it. It's a rather ingenious space-saving idea.
The front sight is of the blade variety and appears to be a piece of polymer or similar plastic in the color of bright orange. It shows up very well, being quite visible in most conditions. The rear sight is the epitome of simplicity, being a peep sight that is adjustable. It's just a piece of metal with two holes that can be raised or lowered by loosening a screw. I did not need to adjust mine, it was sighted from the factory.
It's a magazine-fed semi-auto and the mags hold eight rounds.
The magazines appear to be reasonably robust. I went ahead and ordered two spares right away (two come standard with the rifle) from Henry. A magazine can be stored in the receiver when it is inside the stock, and two more magazines also fit in the slots inside the stock, which allows three magazines to be stored in the stock when the rifle is broken down. You can have this rifle in any caliber that you desire, as long as that caliber is .22 LR. Now some people will turn up their nose at the lowly .22, but when we examine why this caliber was chosen, it makes perfect sense.
For a survival weapon/tool, you can carry quite a bit of .22 ammo with you, even if it's in a backpack; it would not be a burden to have 500 rounds with you for an extended stay in the wilds. If you keep the rifle in a vehicle, you could easily have more ammo, which doesn't take up much space compared to other calibers and is also much cheaper than other calibers. That allows you to stock up on more ammunition as well as practice a lot more. And the .22 is much quieter than many other rounds, which may help you if you're trying to be somewhat discreet. Naturally, there is almost no recoil, which is always a good thing.
With proper shot placement, the .22 can take a wide range of game. No, it's not our first choice as, say, an elk round. In a pinch and at close range with precise shot placement, however, the .22 can take down a surprising host of animals. Aside from that, a semi-auto rifle with an eight-round capacity isn't the worst thing in the world for self-defense, either. Sure, it's not optimal, but it absolutely beats nothing. Let's face it, the .22 is a compromise caliber in a few areas (mostly in the power category), but it does a lot of things well enough to get you by, and that's exactly what this rifle is intended to do; get you by until you are back home.
Since it breaks down, it is portable and concealable.
Personally, if I were backpacking into an area where I might not want to visibly carry a rifle, but yet wanted to have a rifle along with me, the AR-7 would be just about perfect. A real comfort to have along. You'd probably never need it, but then again, one never knows. And stowed in your backpack, no one would ever have a clue that you were carrying a rifle.
To clarify, I'd have a pistol with me (most likely concealed) in the event that I needed immediate protection. Since the rifle takes a few seconds to assemble, I'd not rely on it as my emergency protection device initially. But should things begin to look dicey, I could take it out and have it up and running in short order, and that's where the peace of mind comes in.
I see this compact rifle as being the perfect addition to my "Get Home" bag that I like to carry in my car. If I were traveling any real distance from home, I'd likely bring it along for the ride as one of those "I'm comforted that I have it but pray I'd never have to use it" items that provide a pleasant peace of mind.
I have to be honest, I was seriously excited to receive this rifle, which made unboxing it much fun. The entire concept appeals to me because of the reasons mentioned above; but mostly being able to have a rifle broken down in its own stock was what sold me from the get-go. It's almost as if you can make a rifle appear out of nowhere, and I find that to be attractive. Yes, I have rifles that are far sexier, but this one does things that they cannot and is more unique in concept and execution. The fact that it's in .22LR put the cherry on the sundae.
For a moment, let's set aside the aspect of this rifle breaking down into its own stock. We'll pretend that it is simply fixed in the "open" position and stays that way. This little rifle would still be a winner in that mode. That fact that it does, indeed, break down just takes it that much farther.
Does the Henry AR-7 have good performance and accuracy?
Happily, I can report a wonderful range session. A few hundred rounds of .22LR went down the pipe with accuracy, low noise, and little recoil. There were no failures of any kind. Many semi-auto .22LR caliber firearms require ammunition that is high-velocity, ie., full-powered, in order to feed reliably. I'm happy to report that this is not one of them. It worked just fine with standard velocity ammunition, which just adds to the versatility.
For what it is, this little rifle places the rounds very accurately. At 25 yards, it easily grouped into two inches. At 50 yards, it grouped just over 2 ½ inches. At 75 yards, the group was around four or so inches. Mind you, I wasn't going for supreme accuracy, as the sights are not designed for that, and frankly, my eyes aren't that great anymore. I did a lot of firing from the bench, but at a fairly rapid rate. I wasn't taking my time to wring every ounce of accuracy from the rifle, and as such, I'm sure I could have tightened up the groups a bit if I had done so.
Suffice to say that I believe the AR-7 is more accurate than I am. Mounting an optic would definitely add to the accuracy potential, although that would eliminate it being able to be stowed away inside the stock. Nevertheless, the rifle did its part well. I'm certain that, at well past 100 yards, the AR-7 could put hits on a human-sized target should it be required for defensive reasons, however unlikely such a scenario would be. Mine will wear the open sights for the duration, as it is accurate enough for my purposes as it is.
Far more likely a scenario would be the harvesting of game at closer ranges, and the AR-7 would be just fine for that. Remember, it's a "Survival" rifle, and providing game for food would be the chief job of this rifle. Repelling predators is just another role that it would fulfill.
The MSRP at the time of writing is $408, however, it can be found on gun store shelves for considerably less than that, making this a superb bargain, considering what the consumer receives. To be honest, I can't believe I didn't get one of these little gems sooner. This particular rifle will not be going back to the factory, it will remain with me. And with that, I will add a word here about Henry's customer service: they are simply great folks who are a serious pleasure to deal with, as they're very responsive and helpful. It's not very often that you receive a great product and super customer service together.
Check one of these rifles out, you won't regret it. Aside from that, Henry has an expansive line of other firearms that are quite nice as well, and they are all made in America