Hornady RAPiD Shotgun Wall Lock Safe: Safety and Readiness
Many folks who keep firearms for home defense strive to balance readiness with safe storage. After all, it's not always possible to quickly access a gun in your safe, but, unless you live alone, having firearms lying around isn't practical. Quick-access handgun safes can help strike that balance, but what about long guns? Historically, there haven't been many options and the days of the loaded rifle over the mantlepiece are mostly gone. But the Hornady RAPiD Shotgun Wall Safe partially addresses that problem.
The Hornady RAPiD Safe provides a secure storage option coupled with fast, reliable access. Let's look at those two aspects individually.
RAPiD Security
The safe is small and can be used as a standalone device, but for maximum security, you'll have to mount it to the wall. This is not hard to do. Mounting hardware and instructions are included. All you have to do is find the studs in your wall. The mounting bolt heads are inside the safe, securing them from tampering by a potential thief or curious adolescent. You can mount the safe horizontally or vertically, depending on your needs.
The safe's housing is constructed from 14-gauge steel and features 2 internal hardened steel locking lugs. The safe exceeds ATSM International safety standards regarding lock strength; drop, pick, and saw tests; hinge attack resistance, and child and pry resistance.
Your shotgun is held in place by a steel lug that fits in the open ejection port. The gun cannot be pulled through either end. The mounting lug blocks the action so you can store the gun with ammo in the tube. There is also a separately mounted muzzle loop to support longer-barreled guns.
RAPiD Access
The safe offers several access methods, including keys, a coded keypad, and RFID technology. The redundancy here is a strength. The safe includes 2 circular barrel keys for manual access. Make sure you don't lose them because Hornady does not offer replacements, due to security concerns. If you do lose them, you'll have to rely on the electronic options or call a locksmith.
The safe's lid features a keypad, into which you can program a 4-to-6-digit access code. Punch in your code and the safe pops open. I was pleased by the door's positivity when it opened. The keypad is large and easily visible. The keys are also easy to navigate by touch in the dark and light up when you hit the 1st key. That's a real positive. The code is also easy to input and change if necessary.
The final access option uses RFID technology. This, in my tests, was the weak spot. The safe comes with an RFID wristband, key fob, and 2 adhesive decals for your phone or whatever. The safe can accept up to 5 separate RFID input devices.
The programming is simple and only takes a few minutes, but I found the RFID reliability to be less than ideal. All the devices worked, but it often took several seconds of moving them around over the sensor trying to find the right spot. I did eventually figure out where that spot was, so I got better at it, but in a stressful situation, maybe in the dark, I wouldn't want to rely on it.
Plus, I don't see myself wearing the wristband, attaching the key fob to my keys, or applying the decal to my phone, especially since the instructions say the metal in a phone may interfere with the signal. Still, I kept the RFID inputs as a backup in case I misplace the keys. I just keep all the RFID devices locked in my main gun safe. The keys and the keypad are the simplest and, to my mind, most reliable access methods.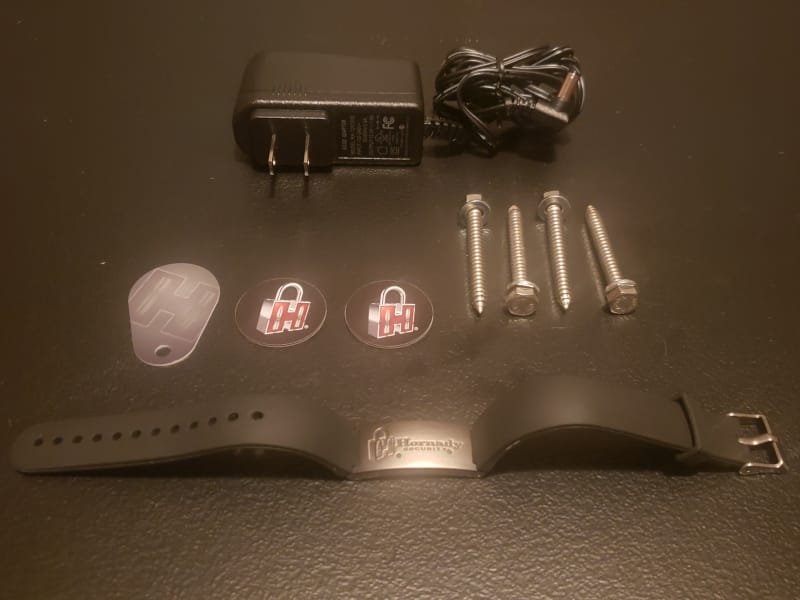 Finally, the electronics "beep" when you use them, providing audible confirmation that you're doing what you think you're doing. But you can turn that off if you want. I can see not wanting to tip off an intruder that you're breaking out the artillery.
Power Supply
The safe's electronics are powered by an included AC power cord and/or 4 AA batteries that are not included. If you plan to use the electronic access options, I recommend installing the batteries. I found that the AC connection inside the safe can occasionally work its way free if you open and close the safe a lot. Maybe that's just my example, but it happened a couple of times. That's where the keys come in, but that could be a problem if it's the middle of the night and you can't see the keyhole in the dark.
Relying on the safe's electronics also limits your placement options somewhat, but I doubt that's a major issue for most people. If you don't have an available outlet, use the keys.
Not for All Shotguns
The Hornady RAPiD Wall Safe is made for most standard pump and semi-automatic shotguns, including 12-gauge, 20-gauge, and .410s. It will not, however, fit certain magazine-fed guns. I had originally hoped it would house my Rock Island VRPA40, but the mag well is too big. But no real worries since my Mossberg 590 Shockwave does just fine. I cannot speak to all magazine-fed guns but be aware that not all guns will fit.
The Verdict
Overall, I like the Hornady RAPiD Safe. It's solidly built, compact, and versatile. You can mount it pretty much wherever you want, or not. The mounting holes would even allow you to attach it inside your vehicle with a cable if you wanted to try that.
The locking mechanism is positive and, aside from the finicky RFID tech, was 100% reliable in my tests over the last 6 weeks or so. I mounted it over my bed and quickly got to where I could access it smoothly. I will say that you should have a hand on the pistol grip while opening the safe. The gun can slide off the mounting lug. I had to take some of the photos with the inner foam removed because it was a little shaky otherwise.
I was very pleased with the safe's robust construction. Its weight surprised me at first. It's not heavy, but it's obviously solid. There's no rattling and I have no concerns about anyone getting to my gun if I don't want them to.
I'm glad I got this safe. It gives me flexibility in my home defense scheme while not compromising safety. I wouldn't mount it in my living room, but I certainly could, if I chose. To me, it's a good bedroom, home office, or even garage setup. But that's me. Versatility is one of this safe's strengths. If this sounds good to you, you're in luck. GunMag Warehouse has them in stock right now. Check it out.