Manta Rail Covers: The TAC-Wrap, A Heat-Mitigating Fix
As rail handguards became standard after the turn of the century, many shooters began to notice an issue with them.  Being made of aluminum and often bristling with Picatinny rails, these handguards didn't guard the hand exceptionally well.  Sure, it was better than grabbing a hot barrel, but they could be uncomfortable to use between the heat and the rails. That's where Manta Rail covers from Manta Defense come into play.
Hot hands?  Beat the heat with Manta Defense!
Numerous solutions have been proposed over the years.  The first and most apparent were Picatinny rail covers, which are still available from multiple vendors today, in both the thicker snap- or slide-on styles or the thin ladder style.  Vertical foregrips were extensively tested, too, and back in the day, some shooters were quite dogmatic about their ergonomic superiority.
Handguards, Picatinny to M-LOK
If you're interested in seeing what types of setups shooters used in years past, this archived thread at AR15.com is full of pictures from a Pat Rogers Carbine Class in 2010.
However, as full-on quad rails gave way to free float tubes with attachable rail sections, the viability of rail covers diminished.  Then came KeyMod and Magpul's M-LOK, and now fully-railed handguards are a rarity.
Most free float handguards mounted to AR-pattern rifles today are M-LOK.  Many, but not all, have a full top rail.  Some have a full bottom rail.  All have M-LOK slots for attaching accessories, such as grips, light mounts, or even modular rail sections.  While this does eliminate the cheese-grater effect of grasping a bare Picatinny rail, it does nothing to mitigate heat buildup.  In fact, given how slim some of these handguards are and how close they are to the barrel and gas block, they can get even hotter than their quad rail ancestors.
The heat from firing the weapon isn't the only thing that can make a slim, aluminum handguard uncomfortable.  If you've lived in the South or spent time in the Middle East, you know how hot metal can get when left out in the sun.  A hot, sunny day at the range can make your rifle's forearm too hot to hold with your bare hand.
A smooth metal handguard doesn't make for a very tactile gripping surface, either, and might be slick in wet conditions.  In cold weather, at or below freezing, an aluminum forend might be unpleasantly cold to the touch.
Manta Rail Covers vs. Gloves
You can, of course, wear gloves.  However, there's an argument to be made that you shouldn't have an additional piece of personal protective equipment, along with your eye and ear protection, to shoot your guns.  Several types of plastic M-LOK covers available can give you some heat protection and a better gripping surface, but what if you want something more substantial?
What if you forget your gloves?
Manta Defense has a solution: the TAC-Wrap.
Manta Rail Covers: The TAC-Wrap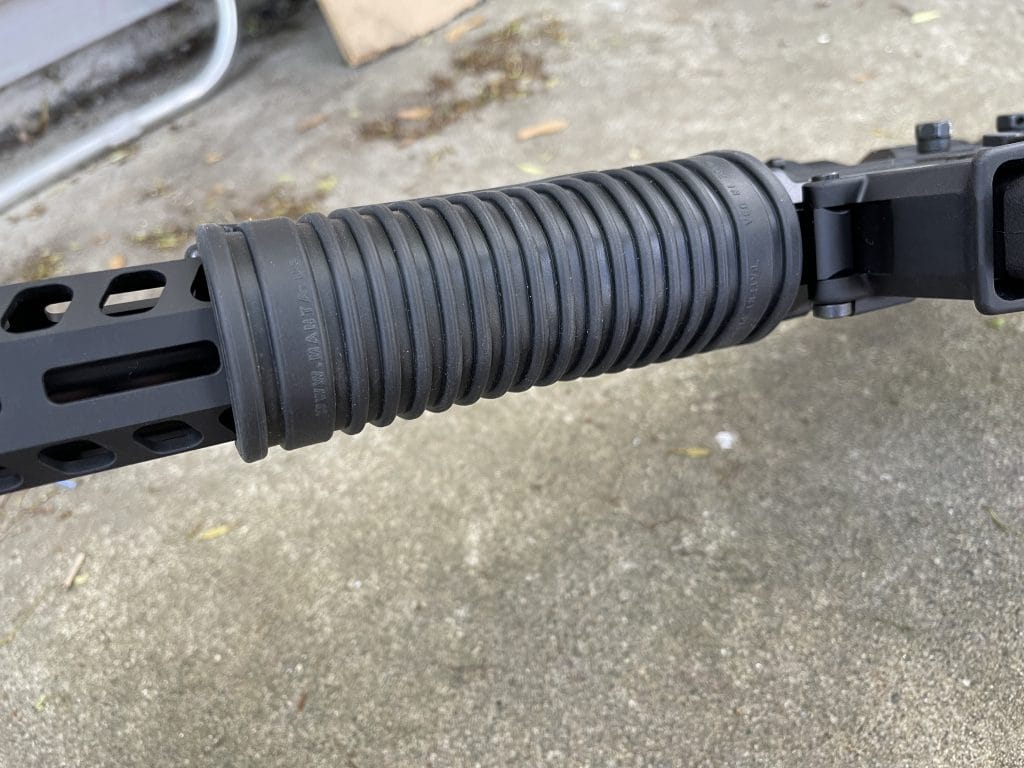 The TAC-Wrap is a straightforward design made of a soft, tactile, rubbery material that's very heat resistant.  It is designed to clip to the top Picatinny rail of a handguard and wrap around the sides and bottom.  The wrap itself weighs just over 5 ounces and is 5.75" long.  Thick and ribbed (please compose your own jokes), it provides you with a comfortable gripping surface on your weapon's forend.  It will work on most slick, KeyMod, or M-LOK handguards between 1.25" and 2" in diameter.  It will probably not work on a Picatinny quad rail type forend.  Measure your handguard's diameter before you buy.
The Tac-Wrap Instructions
Mounting the TAC-Wrap is straightforward.  It comes with two metal rods threaded on each end.  Using the included lubricant (a tiny bottle of hand sanitizer), you slide the rods through the tunnels on either side of the TAC-Wrap.  A plastic cross-bar clip goes at the front, and the rear of the wrap, and the whole thing is held together by four acorn nuts.  You can attach it without tools, and you'll need a few drops of blue thread locker.  (If you skip the thread locker, the nuts may work themselves loose under recoil.  If you lose one, you can order a replacement set from Manta for only $5.00.)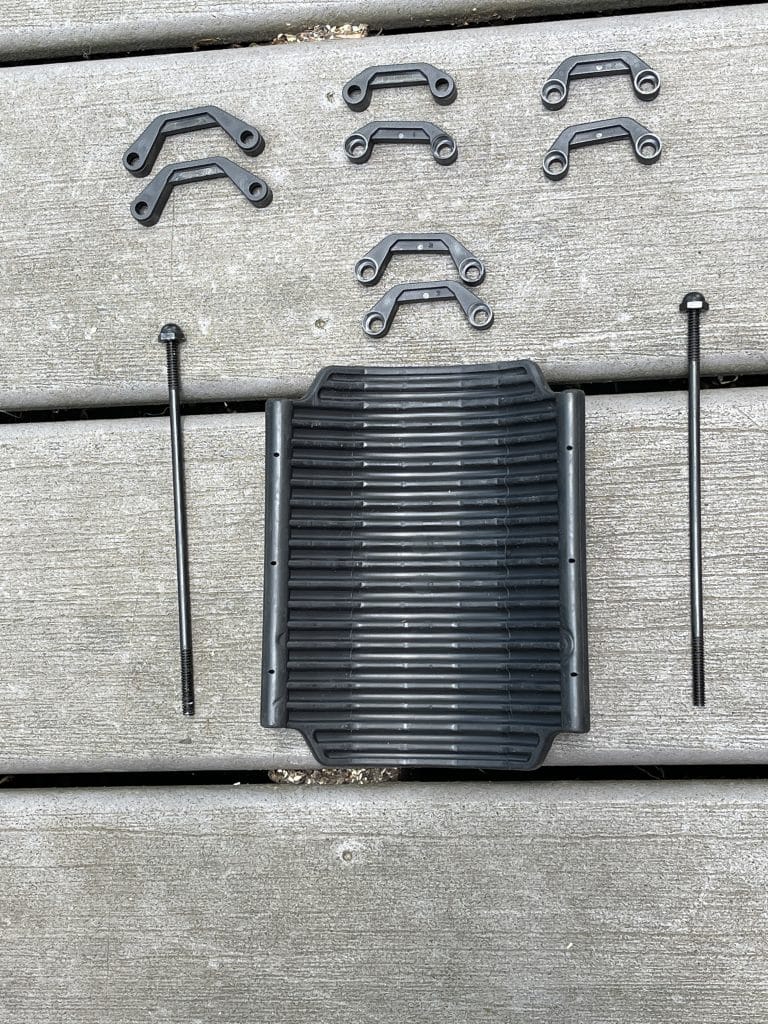 The Tac Wrap Kit
The TAC-Wrap kit comes with four sets of cross-bar clips that accommodate handguards of different thicknesses.  You can mount the wrap wherever you like on the forend, provided you have top Picatinny rail sections where the cross-bar clips need to attach.  From my experience, I would suggest making sure you know where you want to mount the wrap before you secure it in place because once affixed, it's not quick-detach.
The complete kit costs $49.95 from the Manta Defense website and is available in four popular tactical colors: olive drab, flat dark earth, wolf gray, and basic black.  When installed, it leaves the section of rail between the front and rear cross-bar clips exposed.  If you prefer wrapping your thumb over the handguard, Manta also sells an optional top piece for $10.95.  Alternatively, that top section might be an excellent place to mount a tape switch for a weapon light.
This top cap is made of the same heat-resistant, rubbery material as the wrap itself but is reinforced with metal inserts.  The one I received was a bit too long to fit in the space between the two cross-bar clips, but it can be trimmed to the desired length.  Keep in mind that you'll need to cut around the metal inserts.
An Overview of the Manta Rail Covers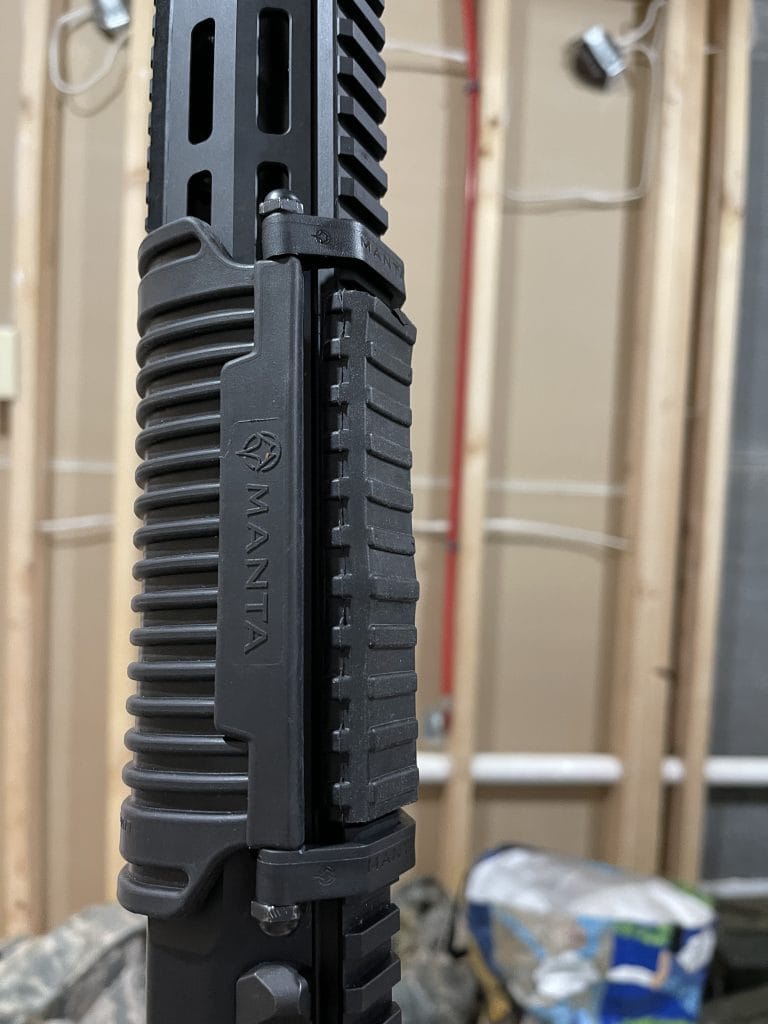 Evaluation of the Manta Rail Covers
I installed the TAC-Wrap on my Sig Sauer 716i "Tread" rifle, caliber 7.62mm NATO, and put it through its paces.  The wrap did exactly what it was supposed to and gave me a comfortable spot on which to place my support hand. However, even after shooting several magazines' worth of ammunition, the TAC-Wrap was barely warmer than ambient temperature.
The wrap could have other uses as well.  If you shoot from an improvised rest, even on a rough surface like concrete, the TAC-Wrap will protect the finish on your handguard from scratches.  It's useful for giving yourself an index reference if you're concerned about maintaining a consistent shooting stance.  You could use it to route a wire to a tape switch.  If you have large hands, you might find the thicker gripping area provided by the TAC-Wrap more to your liking than the handguard itself.
Conclusions
I purchased the TAC-Wrap with my own money and have no relationship with the company. However, I became aware of them by their being mentioned in a Small Arms Solutions video on YouTube.  I'm pretty pleased with the quality of the product and would definitely buy it again.
Suppose the TAC-Wrap isn't to your taste. In that case, Manta Defense makes a variety of other heat-mitigation products that you may find helpful, including Picatinny rail and M-LOK covers, tape switch fasteners,  rail covers with wire routing built into them, suppressor covers, grip wraps, and a barrel cover for the Browning M2 machine gun.  Manta Defense is an American small business, and its products are made domestically in the State of Ohio.  I would recommend them without reservation.