Mepro Tru-Vision Rifle Red Dot First Impressions
Meprolight is the latest optic company to join the rifle-mounted optic fray with their new Tru-Vision red dot. They sent me one to try a couple of weeks ago. Normally, I would run it through the paces, use it in a variety of environments, shove a ton of lead downrange using it as my aiming point, and then give you my overall thoughts in a full-on review. But I'm going to do something different this time: start with my first impressions and issue an after-action follow-up later. So read on today and stay tuned for later.
The rifle red dot field is crowded. Many legacy brands such as Leupold, Vortex, and others jumped on the bandwagon long ago and have been steadily improving their offerings over the years. A case could be made that Meprolight has been playing from behind this whole time, with a very narrow red dot selection that didn't really compete at the same level. Until now.
At least that's my initial impression. I've shot with the other brands, so I have something to compare to Meprolight's latest version, and I'm impressed with what I've seen so far.
First, the specs, courtesy of Meprolight's website:
Weight: < 285 gr.

Dimensions (L x W x H): < 73 x 56 x 68 mm

Display Window Dimensions:

25 x 20 mm

Aiming point diameter: 2.0 MOA

Reticle Pattern: Dot

Reticle Color: Red

Click Size: 0.5 MOA (0.14 mRad)

Brightness levels: 12 Day + 4 Night + Automatic Adjustment

Power Supply: 1x CR123 Battery

Weapon Mount: Picatinny Rail Quick release (Mil-STD 1913)

Environmental: MIL-STD-810
Unboxing
As I mentioned above, the optic came to me a couple of weeks ago, so I haven't had much time to play with it. When it arrived, I did my usual unboxing ceremony to get first impressions of the customer presentation. I work in marketing at my day job, so I always pay attention to a product's initial impression to the consumer.
What caught my attention the most about the Tru-Vision's packaging wasn't so much the box, although that was very nice and clean, but how Meprolight placed the optic on a tiny pedestal of Picatinny rail like it would soon be mounted on a rifle. It was also sheathed in a microfiber shroud that not only protected it during shipping but can prevent scratches moving forward. Not being a big fan of carrying extra stuff, however, I took the shroud off and tossed it back into the box, likely to never be seen again. But that's just me. If you like that sort of thing, it's a nice cover.
Mounting the Tru-Vision took all of five whole seconds, thanks to the Picatinny Rail Quick release (Mil-STD 1913). Knowing I would add a magnifier behind it, I mounted the red dot a bit forward of the chamber, a perfect distance for maximum eye relief both with and without the magnifier behind. Weighing in at less than 285 grams or around 10 ounces, the optic barely added any significant heft to the AR.
The optic came with a Lithium 123 battery already installed, so I held the up arrow button and the red dot lit up the window. Next, I fiddled with the up and down arrows, adjusting the dot brightness from impractically blinding down to barely visible. The buttons were easy to use and big enough to easily accommodate my fat digits. That's when I noticed the pentagonal NV button. Yep, the Tru-Vision works with night vision. Alas, I don't own any night vision gear, but it's nice to know the function is built in. In addition to manual brightness settings, the optic also features an automatic brightness control system that enables clear visibility of the red dot in any lighting condition.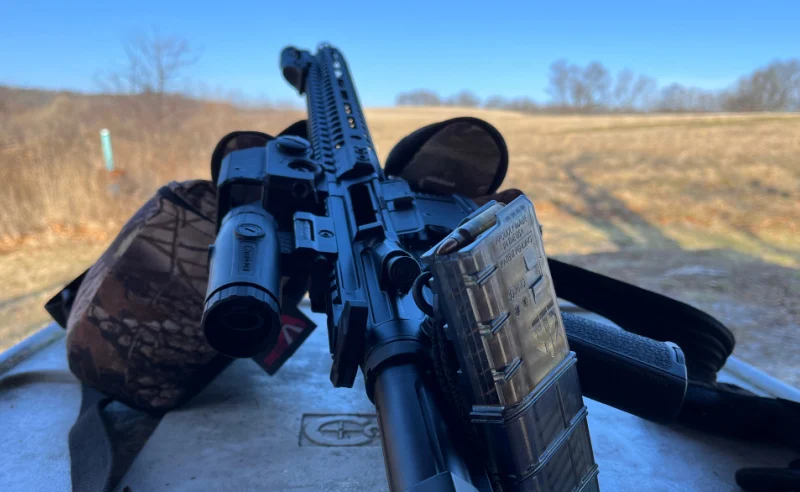 The non-reflective window is gigantic by rifle optic standards at 25 x 20 mm, making aiming with both eyes open easy and clear. The window glass is smooth and even, with no parallax around the edges.
The advertised battery life is ridiculously good, with up to two years claimed on the full automatic setting, which includes sleep mode, auto shut off, and shake up/wake up when it's time to shoot again.
Zeroing & Shooting
Since no optic is ever zeroed from the factory and I needed a long-distance outdoor range, I reached out to a friend who has a makeshift setup on his farm. When we got there, he had thoughtfully set up targets at 50, 100, and 200 yards. Since I don't typically shoot my AR farther than that (yes, I know it can be done—I've done it—but it's not common), I settled on zeroing to the 100-yard mark, a common range for an AR point-of-aim/point-of-impact crossing distance.
All seemed in order until I pulled the rifle out of the bag and noticed the Tru-Vision's battery cover had unscrewed itself. Thankfully, it's held on by a small tether, so I didn't have to hunt for it, but it was a bit annoying to have to reseat the battery and screw it back on. This was all before I had fired a shot, so it made me wonder if it would back itself out under recoil. I got it all put back together, turned on the optic, and settled the rifle into the bag rest.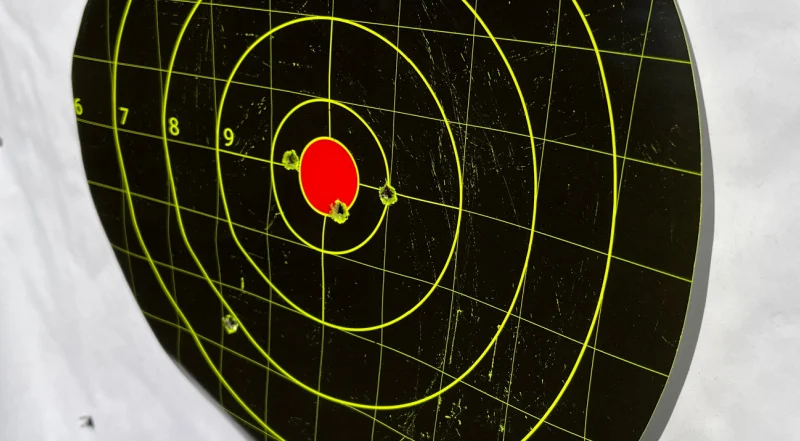 The view through the spotting scope revealed the first shot poked a hole in the target at the 7 o'clock position, about seven inches low and left. Each click on the Tru-Vision is .5 MOA, so I cranked it up and right three clicks each. Thanks to generous adjustment screws, moving the dot was super easy with the flathead screwdriver from my multi-tool. Each click was also tactile and audible, assuring me of the changes. Did my adjustment work? Well, the second shot landed on the 9 o'clock edge of the bullseye, close enough for my needs. It was zeroed in my book.
Next, I flipped the Holosun 3x magnifier up behind the Meprolight Tru-Vision to see if it needed any adjustment. My third and fourth shots struck 5 o'clock and 3 o'clock, respectively, showing no need for changes.
Satisfied the dot was as zeroed as I needed, I spent the next several minutes poking holes at 50 and 200 yards to see what sort of holdover was required. Much to my surprise, the shots went exactly where the dot was aimed at both distances. The normal holdovers didn't seem to apply.
Initial Findings
My first impression of the Meprolight Tru-Vision is that it is an easy-to-use, solid rifle red dot that gives other contenders in the space a real run for the money. Speaking of money, it sells for $479.99.
A few things I haven't tested yet but will for my full review are true battery life, ruggedness, how well it holds the zero, and whether it handles weather. Stay tuned for reports on those items and more in my later review.
One more thing: remember the battery cover issue from earlier? Apparently, it was a fluke, as it held tight the rest of the day.