Radian Weapons Model 1 Review with Kit Badger
If you're interested in AR-style rifles, you've probably heard of Radian Weapons (and if you hadn't, you have now). Radian is known for producing good-quality firearms with fantastic attention to detail and their Radian Model 1 proves they're delivering as promised. In this video review, Ivan of Kit Badger runs through a hands-on review of this rifle. 
What are the Features of the Radian Model 1?
The rifle Ivan reviews in this video is the Model 1 with a 17.5-inch barrel. Radian markets it as their intermediate-length rifle but it would also be accurate to refer to it as carbine-length since it's under 18-inches. The rifle is chambered in the popular 5.56 NATO round and has an eye-catching flat dark earth finish. Ivan describes some of his favorite features at some length:
"There is a QD endplate with a stainless steel insert, so it [won't get] chewed up or come out like some of the aluminum ones. …of course, the castle nut is properly staked, which is a good thing. [It has] super clean billet lines going forward and…you get into their proprietary handguard. The barrel nut is incredibly strong; [it is a] really strong, rigid handguard, which is good…especially if you end up mounting stuff like lasers to it."
Check out the video below to find out what else Ivan liked about the Radian Model 1 and how it performed on the range:
Specifications
Designed & manufactured in the USA
Upper receiver, lower receiver, and handguard Cerakoted together for perfect color match
Weight: 6.0 – 8.0 lbs depending on configuration
Upper Receiver Specifications
Sub-MOA Accuracy guarantee w/ Black Hills Match Grade ammunition
Billet machined 7075-T6 upper receiver w/ M4 feed ramps
Proprietary extended aluminum handguard w/ Magpul M-LOK Modular Mounting System and integrated upper/handguard stainless steel anti-rotation pin
Match Grade 416R stainless steel barrel w/ polished crown and feed ramps, chambered in .223 Wylde/5.56 NATO or 300 BLK, threaded ½ x 28 (.223) or 5/8 x 24 (300 BLK)
Enhanced Black Nitride M16 bolt carrier group
Lightweight forward assist
Radian Raptor-SD Suppressor-Optimized ambidextrous charging handle
Direct impingement gas system
9" 300 BLK: pistol-gength
10.5" 5.56: carbine-length
14.5" & 16″ 5.56: mid-length
17.5" 5.56: intermediate-length
SilencerCo ASR Flash Hider/Suppressor Mount or Dead Air Flash Hider/Muzzle Brake
Lower Receiver Specifications
Billet machined 7075-T6 lower receiver w/ integral trigger guard and flared magazine well
A-DAC Ambidextrous Dual-Action Control right side bolt hold open feature
Ambidextrous right & left side magazine and bolt release buttons
Radian Talon Modular Ambidextrous 45°/90° safety selector
Radian Vertex trigger
6-Position Milspec receiver extension w/ QD end plate and an H2 carbine buffer
Magpul pistol grip and collapsible stock (SBA3 Brace for Model 1 Pistol Variants), USGI 30 Round Magazine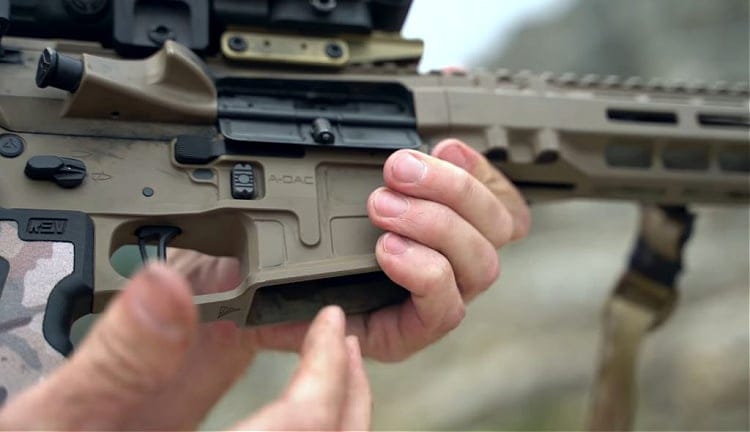 What's the Bottom Line?
Overall, the Radian Model 1 17.5-inch in 5.56 NATO looks like a well-made, reliable rifle that's capable of fantastic accuracy. It's always nice to see such precise machining and attention to detail on a gun, and who doesn't love sub-MOA?
Do you have a Radian Weapons rifle? Do you want one? Tell us about it in the comments below.