RIA-USA 5.0: American Engineering – The Mag Life
Choosing a handgun for home defense typically means you're looking at full-size pistols, because there's no need for the gun to be small enough to comfortably conceal. Of course, you should demand more of a defensive handgun than its size. A gun you intend to use to defend your life should be reliable and accurate, and if it offers other features that make it possible to customize it to your needs, even better. The Rock Island Armory RIA 5.0 is designed to deliver on all those points, and then some. This is a pistol well worth a closer look.
Rock Island Armory states the RIA 5.0 is a game-changer. The gun has a lot to offer including a patented RVS recoil system the company says is engineered to maximize barrel mass and linear movement. This serves to mitigate felt recoil and muzzle rise which, in turn, translates to greater accuracy.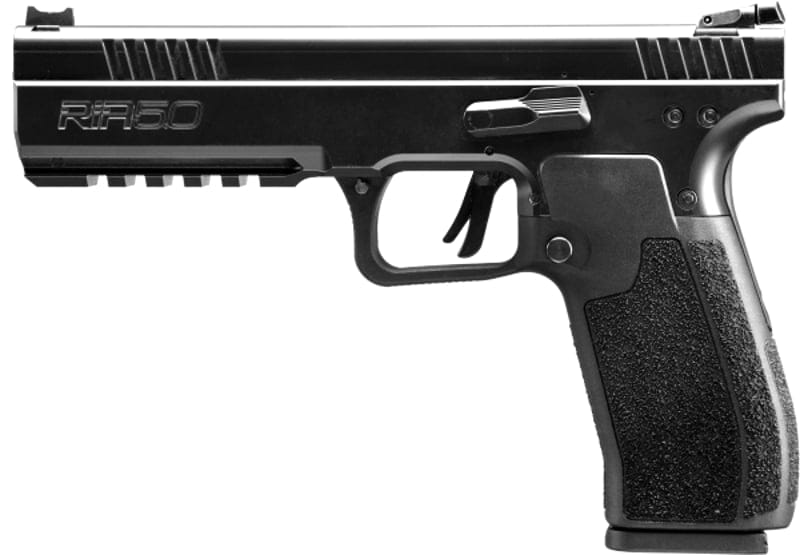 The barrel of the RIA 5.0 sits deeper into the bore axis than on many guns which helps the muzzle remain flatter during live fire. A flatter shooting pistol means rapid target acquisition and faster, and more accurate, follow-up shots. The gun also has a two-piece modular grip for the purpose of enhancing ergonomics and recoil control. Its design is made to offer both the flexibility of polymer and the durability of a full-length aluminum receiver.
Martin Tuason, President and CEO of parent company Armscor/Rock Island Armory, said:
The RIA 5.0 is really an engineering marvel. It's an extremely shootable sporting pistol with a meticulously engineered trigger system. Best of all, we're proud to say it's made entirely in the U.S.A.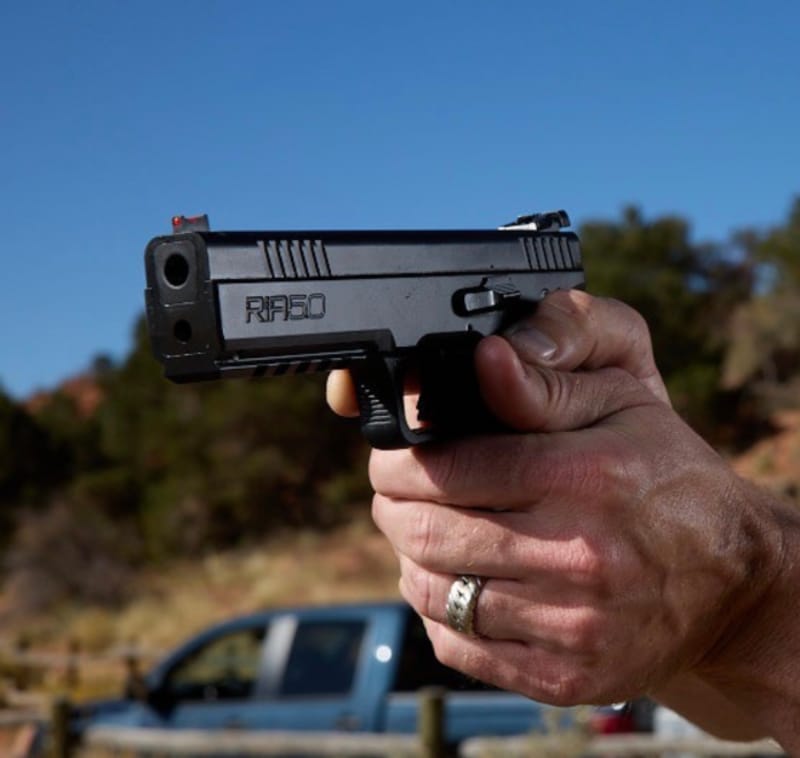 Features of the RIA 5.0 include:
9x19mm Parabellum chambering
17 +1 capacity
4.91-inch barrel
2.47-pound empty weight which helps reduce felt recoil and improve accuracy.
Dawson Precision fiber optic front sight in a dovetail cut to draw the eye and make acquiring the target easier.
LPA adjustable dovetail cut rear sight.
C More RTS II red dot sight is also available as an alternative to the iron sights.
4.5-pound trigger pull weight set at the factory.
E100 Cerakote finish for resistance to wear and tear.
RVS recoil system to create a flatter-shooting gun.
Two piece modular grip for stability and comfort.
Safety blade trigger.
Deeper bore axis for smoother, more accurate shooting.
1.33-inch overall width.
5.17-inch overall height without red dot sight.
8.11-inch overall length.
Angled forward and rearward slide serrations for easier manipulations.
Accessory rail ahead of the trigger guard for lights and lasers.
Thanks to the accessory rail in front of the trigger guard, it's easy to add a weapon-mounted light or laser. Angled slide serrations make racking the slide simpler and a textured grip facilitates a firm hold even with wet hands.
What do you think? Share your thoughts in the comments section.
MSRP for the RIA 5.0 starts at $998.88.