SB Tactical Announces Release of Second-Gen Braces
SB Tactical has announced that it is now shipping its new SBT line of Pistol Stabilizing Braces with models available for a number of the latest large-frame pistols on the market.
The SBT series from SB Tactical features a lightweight, integral right side-folding strut with a rubber arm cuff based on the popular SB-Mini. These complete and ready-to-install braces come with an adjustable nylon strap for a custom fit to almost any size forearm.
Bren2
The Bren2 Pistol Stabilizing Brace is designed for the CZ Bren 2 and is enhanced with an integral, right-side-folding mechanizing and an arm cuff. It provides the user with all the advantages of a pistol with improved control with the added point of contact for stabilization. The Bren2 features a tool-less disassembly for easy field stripping.
SBTEVO-G2
The SBTEVO-G2 was designed along with CZ USA from the ground up for the CZ Scorpion Evo as a pistol stabilizing brace. The arm cuff is based on the SB-Mini and features a right side-folding polymer strut in a lightweight housing and a QD mount.
SBT-G2
The SBT-G2 brace is the next generation of the SBT brace and enhances the B&T APC, HK UMP, or LWRCi SMG45 with the integral folding mechanism and arm cuff based on the SB-Mini.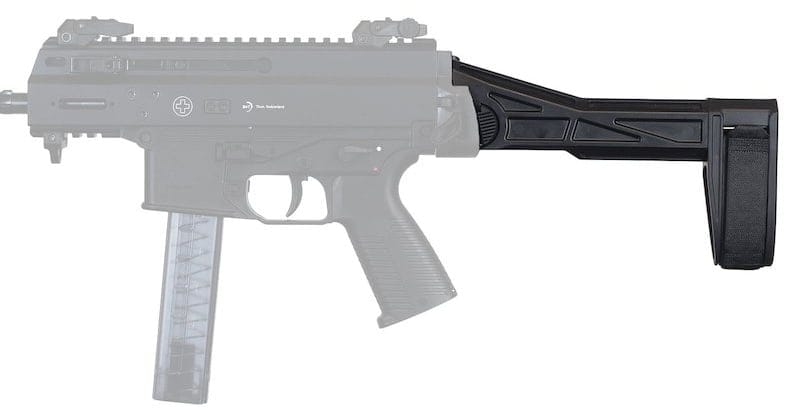 SB Tactical is designed to be used by those with strength or other physical challenges so the user could acquire greater stability while shooting. SB Tactical states they have helped many shooters return to the sport or hunting activities through use of these braces.
Users, especially those with strength or other physical challenges, will find greater stability, control, and accuracy using a Pistol Stabilizing Brace. Designed for use by wounded veterans, SB Tactical braces have helped many people return to the shooting sports and hunting activities they enjoyed before their injuries.