Shootout! Four of the Best Bullpup Shotguns and CQB
Bullpup shotguns used to be a rather weird, niche type of shotgun that would pop up and then fade away. Mossberg made a bullpup 500 series gun, High Standard had the Model 10, but then KelTec came along with the KSG. When the KSG came around, something clicked, and the concept became much more accepted. As a shotgun nerd, I've experimented with a variety of bullpup shotguns, and today we are doing a bullpup shotgun shootout with four of the best bullpup shotguns on the market.
Bullpup Shotguns — Why?
Bullpup shotguns make a lot of sense. Shotguns are close-quarters weapons that excel in bad breath ranges. In CQB, the smaller your weapon, the more maneuverable it is and the easier it is to use. With shotguns, you can see two routes to get a short shotgun. First, get a tax stamp, trim the barrel down a bit at the cost of ammo capacity, and call it a day.
That's one way, but bullpup shotguns are the other. They shrink the platform to short barrel shotgun levels without the need for a tax stamp and without the need to trim ammo capacity. In fact, three of the four bullpup shotguns on this list have expanded capacity compared to most shotguns. These shotguns are shrunk to SBS levels but don't require a tax stamp.
Into the Breach
So today, we have four of what I think are the best bullpup shotguns currently on the market. We are looking at the KelTec KS7, the Smith and Wesson M&P 12, the IWI TS 12, and the SRM 1216. We have two pump actions and two semi-autos with capacity varying from 7 to 16 rounds.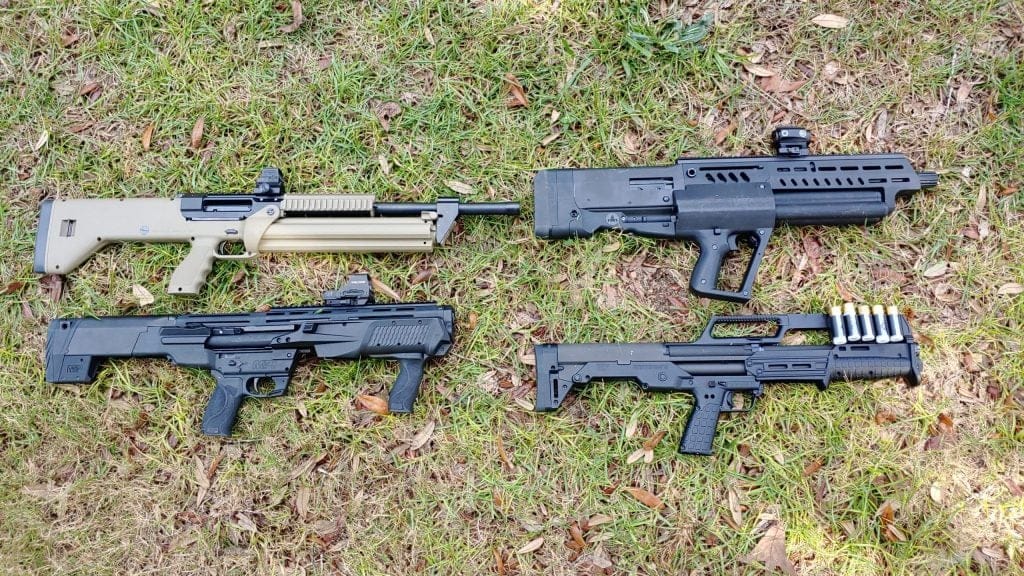 Unlike bullpup rifles, which tend to follow a similar layout, bullpup shotguns are all over the place in design and function. This makes them rather fascinating, and it feels like bullpup shotguns are at a phase where experimenting and the market will drive what becomes the best overall model that will drive the market in the future. So without further ado, let's get down to our bullpup shotgun shootout.
1. KelTec KS7
The wee little KS7 is a descendant from the KSG and simplifies the design rather nicely. This single tube gun holds seven rounds and presents a very affordable bullpup blaster. This is about as close to a regular shotgun as you get on this list. The KS7 is super lightweight and shorter than a Mossberg Shockwave, yet you get a stock, seven rounds, and a weird but efficient mounting system for accessories.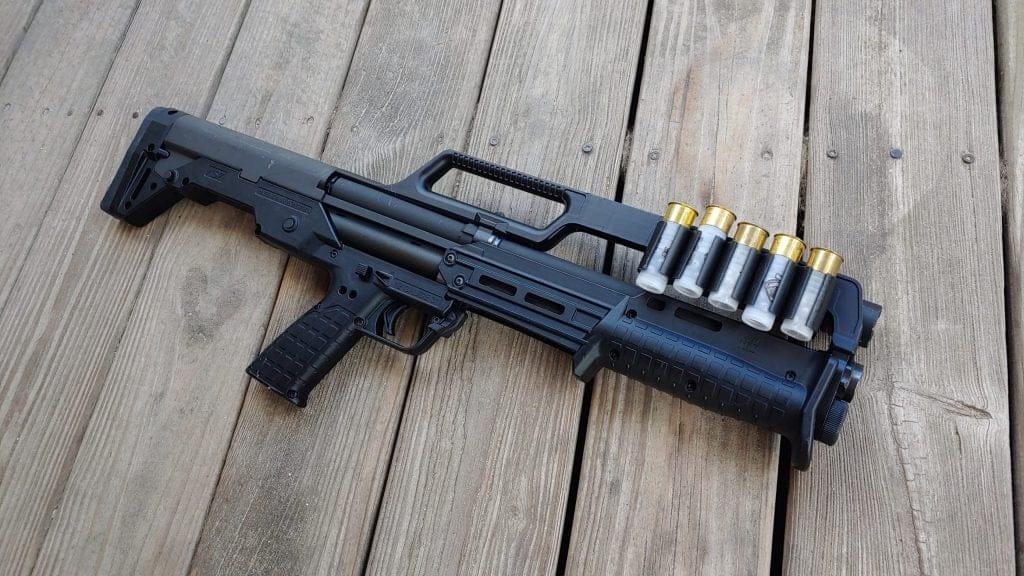 Bullpup shotguns are rarely this simple, but the KS7 is a nice break from more complicated guns. Simply load the tube, rack the pump, and you're set. The controls are ambidextrous, and ejection is done through the bottom of the gun, ensuring both righties and lefties get their day in the sun.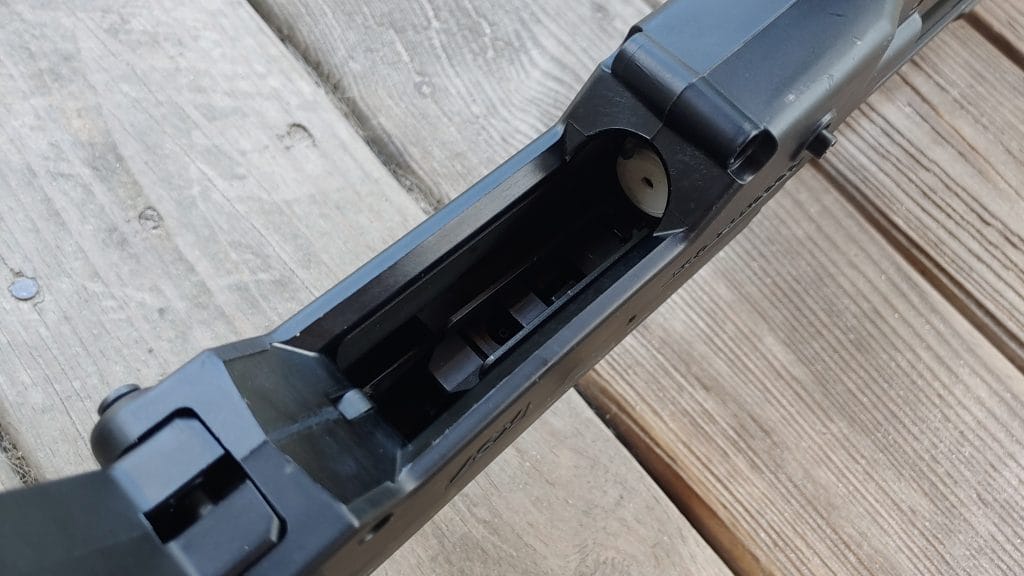 Bullpup shotguns, much like bullpup rifles, are often slow and awkward to reload. That is an issue here with the loading port in front of your armpit. It's slow to reload and awkward to reload while on target. However, the little 5.9-pound shotgun handles well and is so damn short it's easy to use in a phone booth.
Pros
Extremely Lightweight
Extremely Short
Holds 7 Rounds
Downright Affordable
Cons
Awkward to reload
No stock optics options
2. S&W M&P 12
Of all the bullpup shotguns, the M&P 12 surprised me the most. First, Smith and Wesson isn't a shotgun company. Second, this is an odd shotgun to make. This is a pump-action, dual tube design with a bullpup layout. The M&P 12 holds fourteen 2.75 inch shells, and that's a ton of lead for a shotgun.
The barrel is 19 inches long, but the overall length is only 27.8 inches total. It's a super short design that took the KSG's initial idea and then refined it into a much more ergonomic shotgun. The M&P 12's tube selector is mounted on the pump, and the controls are ambidextrous, an optics mount and M-LOK rail are also included. It's a well-built shotgun that's filled to gills with ammo.
The weapon feeds and ejects from the bottom, making it quite handy for lefties. While it's short, the M&P bullpup shotguns are quite hefty when fully loaded and weigh over ten pounds. S&W solved a problem if the weapon jams by making the ejection port expand at will to dump jammed shells.
Pros
Optics/Accessory ready
Short and CQB ready
14 rounds with mini shell compatibility
Awesome ergonomics.
Cons
Long Length of Pull
Heavy
3. IWI TS12
The IWI TS 12 produced a concept I fell in love with at first sight. As far as bullpup shotguns go, this one shocked me with how cool the design is. IWI utilizes three rotating tube magazines that each hold five rounds. The total capacity of this weapon is 15 rounds of 2.75-inch shells. The shell release is located in the trigger guard and makes rotating tubes fast and easy.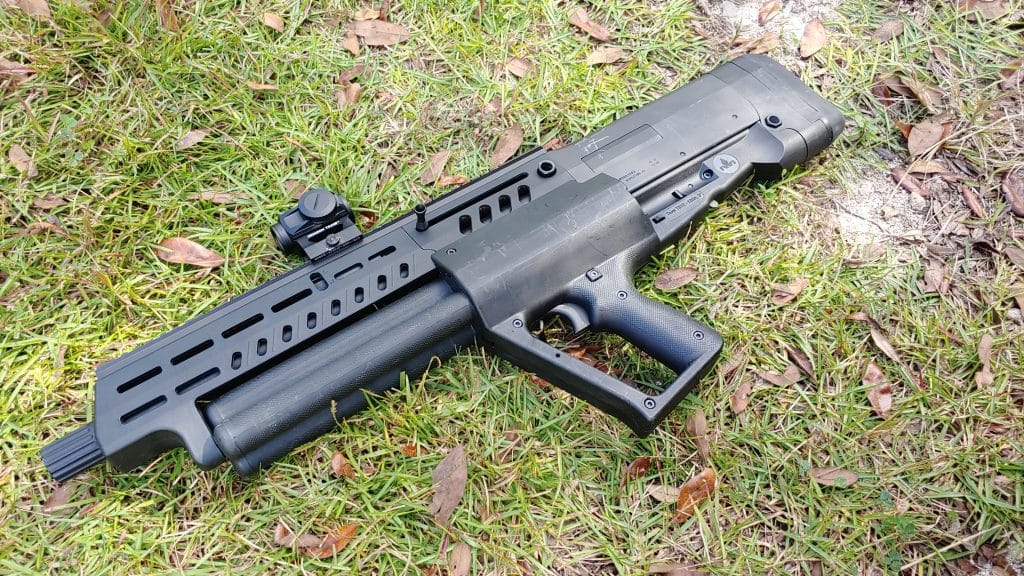 The IWI TS 12 is also semi-automatic and uses a gas operating system for the utmost reliability. The gas operating system also helps reduce recoil significantly and makes controlling the weapon very easy. The IWI TS 12 is only 28.34 inches long with an 18.5-inch barrel, making it extremely efficient.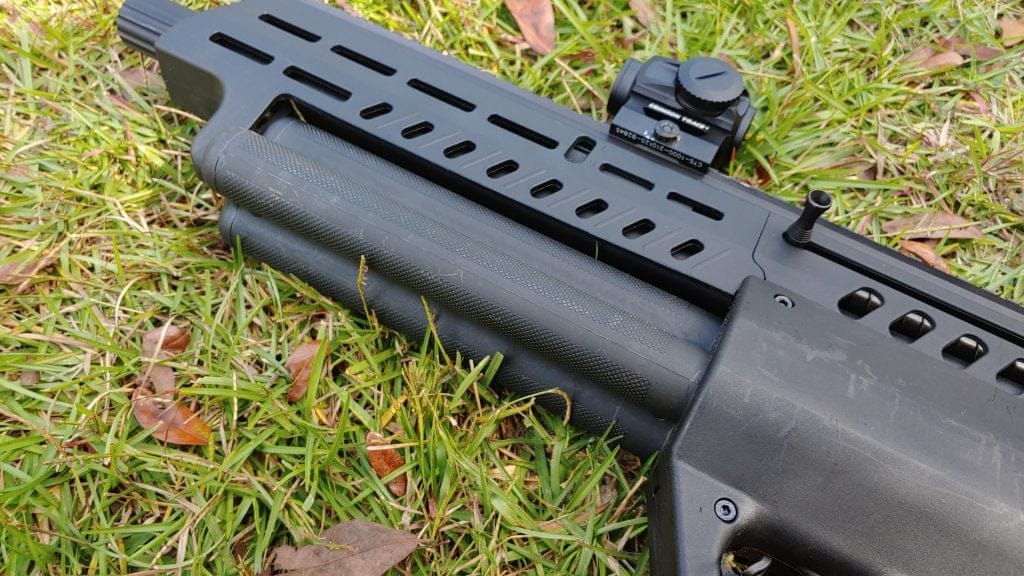 The IWI TS 12 can be loaded like a normal shotgun with loading ports on the left and right side. You can very easily continually load the gun like a normal shotgun and keep the gun running. The downside of the gun is that it tends to be ammo picky, with a requirement for ammunition loaded to 1 1/8th of an ounce at least 1,200 FPS. My first TS 12 was unreliable, but IWI seems to have figured it out in the later generations.
Pros
Soft recoiling
Semi-auto
15 rounds
Easy to load
Cons
Ammo Picky
Must be sold/set up for left-handed use at the factory.
4. SRM 1216
This is a quasi bullpup shotgun, but I'm including it on my list of bullpup shotguns. The SRM 1216 utilizes a unique feeding system that predates the IWI TS 12 but also uses rotating tubes. This shotgun utilizes four rotating tubes that hold a total of sixteen 2.75 inch 12 gauge shells. These tubes also rotate in both directions, and when a loaded tube meets the empty chamber, the weapon automatically loads the round and closes the bolt.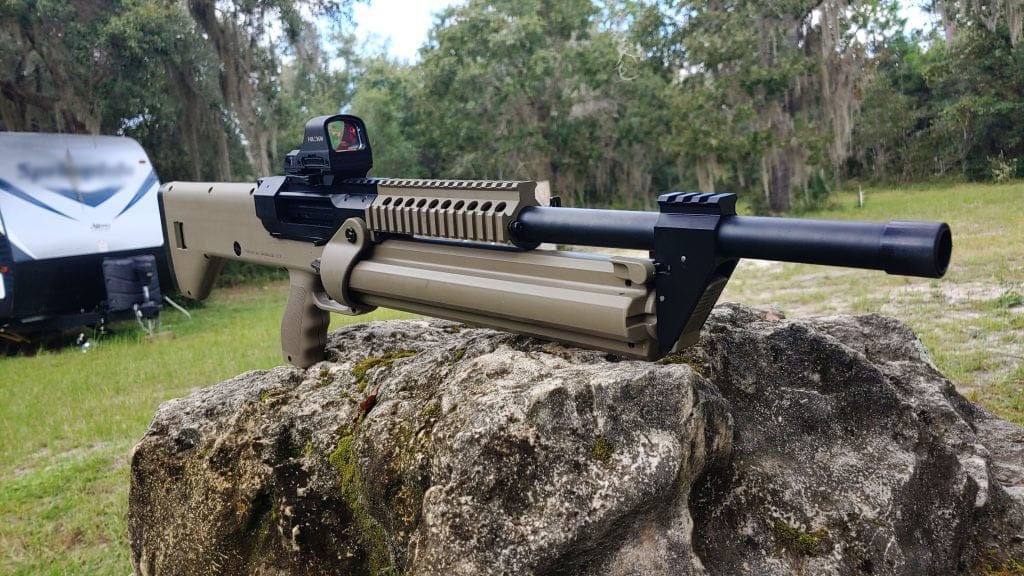 Those four tubes combined are also a removable magazine that makes quick reloads a reality. The SRM 1216 reloads faster than any other shotgun on this list and gives you an immediate 16 rounds on tap. The SRM 1216 utilizes a roller delayed blowback system that makes it easy to fly through those 16 rounds.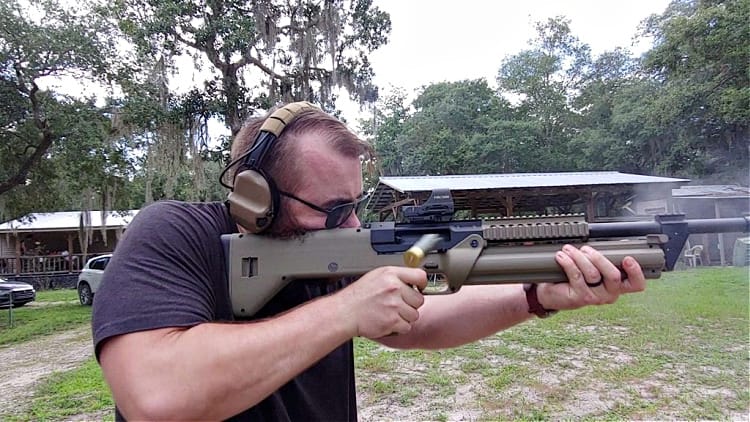 The controls are ambidextrous, and users can swap the ejection port and charging handle to accommodate righties or lefties. This isn't super simple, but it can be done by users at home with some simple tools. The SRM 1216 is a blast to shoot, and I mean that literally and figuratively, and is my personal favorite of all these bullpup shotguns.
Pros
Removable tubular magazine
16 round capacity
Reliable semi-auto action
Ambidextrous layout and setup
Cons
Extra magazines are expensive.
Bullpup Shotguns and You
Who doesn't love a good shotgun? Who doesn't love bullpups? Combine the two, and you get a shotgun concept that makes a lot of sense. It's short and easy to maneuver inside a building, which makes them well suited for defensive use. Of course, you need to load them up with Federal Flitecontrol as well.
Which one is for you? Well, hell, I don't know. Why don't you tell me below which you prefer? Let us know why as well.