SHOT 2023: Beretta 92XI SAO
Whether you intend to carry openly on your belt or utilize a system that allows you to conceal a full-sized handgun, it can still be a challenge to choose a pistol. Beretta is looking to solve your search for a full-sized carry gun with the Beretta 92XI SAO—a 9x19mm Parabellum handgun with an eye for precision. This is a single-action-only handgun with a host of enhanced features designed to make it both comfortable and accurate.
The arrival of the Beretta 92XI SAO means there is now a 9x19mm Parabellum handgun in the 92 family with a frame-mounted safety. This pistol also boasts fantastic single-action-only features and numerous ergonomic enhancements. Beretta describes this gun as the new frontier for their 90 Series. The addition of a frame-mounted safety means the gun offers ambidextrous functionality which is useful for left- and right-handed shooters as well as those shooting mirror. This also brings the safety lever into a better position with the natural ergonomics of the gun.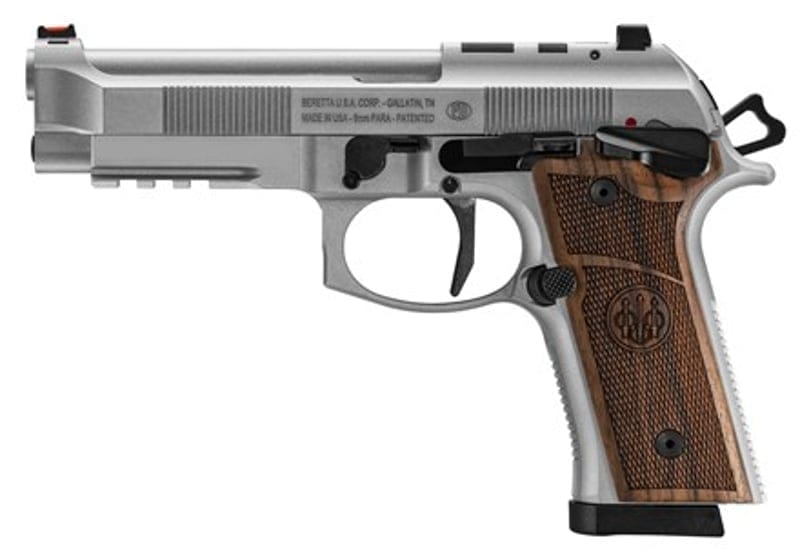 The 92XI has a variety of excellent features including the X-treme-S single action only, flat-faced trigger, which gives the shooter greater trigger control and great finger contact with the trigger face. Numerous parts of the gun are DLC (Diamond Like Carbon) coated, including trigger components, which means smoother operation, parts longevity, and superior wear resistance. The gun also has a lightweight skeletonized hammer for both comfort and functionality.
This pistol carries forward the Vertec style frame for superior ergonomics and offers high and low-capacity magazine options. Guns ship from the factory with a fiber optic front sight to draw the eye for faster sight acquisition and rapid follow-up shots. The gun also offers the option for MRDS optics mounting. Beretta designed this gun to be a high-performing, reliable choice for personal defense and competition. The 92XI SAO is available in a variety of colorways in standard and limited edition variants.
Features of the Beretta 92XI SAO:
9x19mm Parabellum chambering.
Single action only.
DLC coating on trigger components for a clean, smooth trigger pull, and durability.
1.5 inch grip width.
18 +1 capacity (10 +1 and 15 +1 are also available).
5.4-inch overall height.
Accessory rail in front of the trigger guard for the addition of weapon-mounted lights and lasers.
Aggressive serrations at the front and back of the slide for easy manipulation.
Squared-off trigger guard with oversized base for use while wearing gloves.
Fiber optic front sight for rapid target acquisition.
MRDS capable.
Overall length of 8.5 inches.
Frame-mounted safety for ambidextrous function.
Cerakote slide finish to withstand serious use.
33.3 ounces empty.
Beavertail grip to help the shooter maintain a high, secure grip.
MSRP for the Beretta 92XI SAO starts at $949.00.
Kat Ainsworth Stevens is a long-time outdoor writer, official OGC (Original Gun Cognoscenti), and author of
Handgun Hunting: a Comprehensive Guide to Choosing and Using the Right Firearms for Big and Small Game
.
Der Teufel Katze
has written for a number of industry publications (print and online) and edited some of the others, so chances are you've seen or read her work before,
somewhere
. A woman of eclectic background and habits, Kat has been carrying concealed for over two decades, used to be a farrier, and worked for a long time in emergency veterinary medicine. She prefers big bores, enjoys K9 Search & Rescue, and has a Master's Degree in Pitiless Snarkastic Delivery.