With the cold air blowing and the holiday hangovers ebbing, it must be that second-most magical time of the year. Yes, that is right, January means the return of the ever-present itch to go to Vegas. No, it's not for THAT; it's for SHOT Show 2022! With last year's SHOT Show as a virtual Show, plenty of folks are jonesing to get back in person and get their hands and eyes on the new products.
As folks start converging onto Las Vegas once again for SHOT Show 2022, there will be some that can't make it, or can't make it around to find all the newest and coolest products for this year. Fear not, we're here to help you out. You get to hear and see the new and exciting gear coming out of the Show, all while not catching the SHOT Show plague, or something worse, by attending in person.
Even though this year's SHOT Show still could be a little different since some larger companies have recently announced they won't be there, surely there will still be enough new things and news coming out to make it work. NSSF, who puts on the SHOT Show, has been working hard to make sure that this in-person event will be just as good as Shows in the past, with a few modifications.
SHOT Show 2022 is sure to be different, no matter what. The Show floor space has expanded from what was just held in the Venetian Expo space to include space at the Caesar's Palace with a shortcut between. NSSF is saying that this is the largest SHOT Show they have had with over 2,400 exhibitors and 800,000 net feet of Show space, there will be lots to try to keep up with.
As you scroll down you'll find the newest gear that came out leading up to and coming out of SHOT Show 2022. But take note: this article will change pretty often with updates from companies around the industry so make sure you check back often for the latest knives, optics, holsters, ammunition, and accessories. Right below here you will find some quick links to get to the category you really want to see.
Optics/Lasers
Aimpoint Duty RDS Red Dot Sight
BROWE Micro Reflex (BMR)
BE Meyers & Co. KIJI

Ameriglo Haven Red Dot Sight
Steiner Optics Micro Pistol Sight Red Dot
SIGHTIRON S6 1-6×24 30mm & 34mm Riflescopes
Meopta MeoSport R 3-15×50 RD
Lucid Optics L7 Riflescope
Riton Optics 1 Primal 4-12×50
Riton Optics 3 Primal 3-12×56
Riton Optics 3 Primal 4-16×44
March Scopes 1.5-15×42 in MIL Scope
March Scopes 1-10×24 Shorty FFP Dual Reticle
iAiming Smart Thermal Scope
Ultradot 4
Barska Optics 10-30x50mm Precision Monocular
Hawke Optics Sidewinder FFP Riflescopes
Hawke Optics Airmax 30 WA SF Riflescopes
March Scopes 5-42x56FFP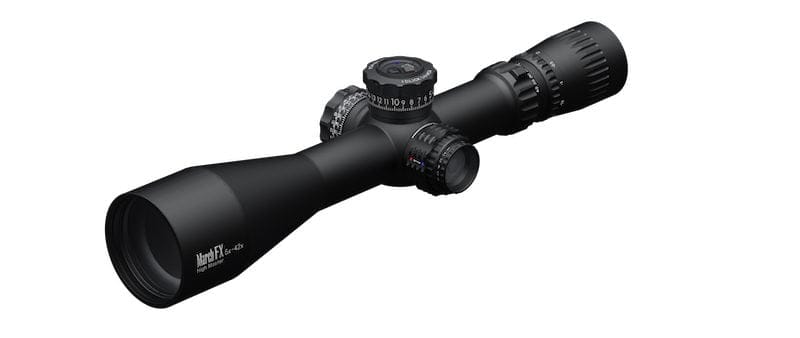 Holsters
Galco Hornet Belt Holster
DeSantis Uni-Tuk IWB Holster
CrossBreed Holsters Rogue Holster System
Comp-Tac CT3 Level III Duty Holster
Galco IWB Holsters for S&W SCX Pistol
DeSantis Rifle Scabbard
Ammunition
Federal 30 Super Carry
APEX Ammunition TSS Shotshells
HEVI-Shot HEVI-Hammer Bismuth-Steel Dove Loads
Accessories
Magpul DAKA Single Pistol Case
Badger Ordnance C1 Max Mount lineup
Magpul Tejas Gun Belts
Constructed with the same ingenuity and reliability found in our hardware, our Tejas Gun Belt – "El Cibolo" is a beautiful American-made gun belt ready for your everyday wear. This 3-ply belt is crafted from a solid, one-piece strap of 100% American bison hide, reinforced with North American bull hide, which is then backed by a supporting, flexible polymer reinforcement. The result is a comfortable and refined belt that's strong enough to carry your pistol.
The 100% American bison hide is extremely durable, pliable, and features a natural distressed look. It measures 1-1/2" wide and 1/4" thick, so it will fit most belt loops and holsters comfortably. Eight holes provide precise 3/4" spacing for a wide adjustment range. The belt includes an easily removable buckle, engineered with a sleek profile design that sits flat against the waist and helps reduce printing when you're carrying.
Vortex Optics MICRO6X Red Dot Magnifier
Magpul DAKA Utility Organizer
The DAKA Utility Organizer is a durable, weather-resistant, compact case designed to protect, store, and secure your gear. Reinforced by its semi-rigid construction, the Utility Organizer provides extra protection to important items, making it the perfect tool kit, first-aid kit, admin pouch, travel kit, or electronics case.
The exterior features a water-resistant YKK AquaGuard zipper with a large zipper pull for easy access and closure. The oversized pull tab and carabiner pass-through keep your gear at hand when you need it, and the pen dot matrix makes ID of what's stored within easy. The interior consists of one zippered mesh pocket on one side; on the other side are two vertical pockets and three elastic pass-throughs capable of storing tools, pens, documents, and managing cables.
XS Sights Armorers Block
Crimson Trace Laserguard for Ruger Max-9
Raven Concealment MATBLOCK IR Signature Reducing "Government Kit"
Magpul DAKA Lite Pouches
Haley Strategic Thorax Plate Carrier
THORAX has been through many revisions in its life. Beginning as a modular plate bag for chest rigs to evolving into a fully-fledged plate carrier system. Just like the Dragonfly of our logo, THORAX is designed to be adaptable for any mission requirements. We understand the importance of adaptability from an operational view. The force multiplier and lethality it brings is why we designed our plate carrier to have such features. THORAX seamlessly interfaces with our existing products and those currently in development. Its construction incorporates advanced materials to maintain the highest level of mobility and protection for the user with minimal weight and profile.
High Speed Gear Core Cummerbund
Agilite AG Pouches
Samson Manufacturing Rapid Precision Scope Mount
Wilde Custom Gear's CZ Scorpion SIG MPX 30 Round Placard
High Speed Gear APEX Sling
High Speed Gear Navigator Tech Pouch HL
SURVIVOR FILTER All Terrain Filtration Bottle
Elite Survival Systems Avenger GunPack
Otte Gear LVZ OVT Plate Carrier
Tac Shield RZR Molle
Tac Shield Tactical Gun Belt
Cleaning Products
Otis Elite Pistol cleaning kit
Liberty-Tuff CCK Compact Cleaning Kits
Ear/Eye Protection
Otis Technology EarShield Ranger Earmuffs
Revision LazrBloc Protective Eyewear
Macks' LIVE FIRE BTX Electronic Shooting Earmuffs with Bluetooth
Mack's Live Fire Stealth Electronic Shooting Earmuffs
Flashlights
MagLite ML150LRS
Knives
Templar Knives CALI Legal Micro knife
Spartan-Ronin Shoto
Halfbreed Blades MIK-02 Fixed Blade
CRKT Clever Girl Kukri Fixed Blade
CRKT M16-03DB
Spartan Blades Harsey Folder 3.25
RMJ 3V Syndicate Sparrow
Suppressors
Elite Iron ASSET Suppressor
Sylvan Arms Warthog 30 Cal. Titanium Suppressor