SIG Sauer Romeo 4XT Pro: AAA Battery Powered
Adding a red dot sight to your setup is an excellent way to improve aim and rapid target acquisition. Of course, many red dots on the market utilize hard-to-find batteries, which can be frustrating. Sig Sauer understands the need for an effective product with a simple power source, and the Romeo 4XT Pro delivers. This red dot is powered by a AAA battery and performs exactly as needed for a variety of applications.
According to Sig Sauer, the ROMEO 4XT-PRO offers many of the same reliable features as the popular ROMEO 4T, such as high-end optical performance, quad-reticle, and impressive durability. However, it boasts additional features the company says have been specifically requested by professionals. Those additions include the illumination control being moved to the top of the sight, to provide easy access with either hand, which also reduces the risk of getting hung up on chest rigs and plate carriers when the rifle is slung.
The ROMEO 4XT PRO also has a dedicated night vision override switch, making it easy to switch settings in low-lighting conditions. This system combines Motion Activated Illumination (MOTAC) with an easy-to-find AAA battery and has a manufacturer rating for 50,000 hours of runtime. That's undeniably impressive, and an important feature for serious users. In addition, the ROMEO 4XT-PRO is IPX8-rated waterproof, fog proof, and is tested to MIL-STD-810 for reliability.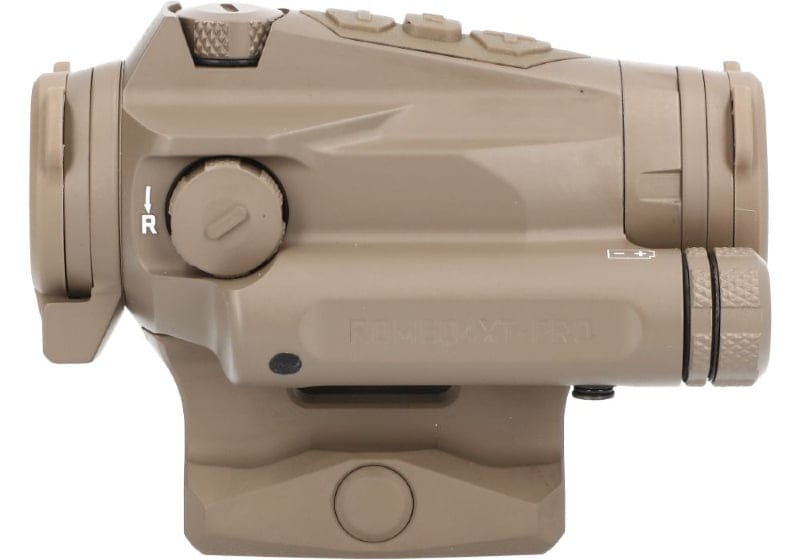 Features of the ROMEO 4XT PRO include:
Top-mounted button activation for ambidextrous use with no need to lower the rifle from the shoulder.
Night vision override simplifies the changing of settings in low or no-light scenarios.
Protected adjustments to maintain zero during use.
Powered by a commonly found AAA battery for simplicity.
MOTAC, which is activated through motion sensing technology to turn on illumination when it senses motion and automatically powers down after an extended period of inactivity.
Quad reticle, so the user can choose from 4 different reticles. The Ballistic Circle Dot reticle is used, which lets users pick from a 2 MOA dot, a 2 MOA dot with ballistic holds, a 2 MOA/65 MOA Circle Dot, or a 2 MOA/65 MOA Circle Dot with ballistic holds. Holdover points are designed for 5.56 NATO and 7.62x51mm NATO.
Total elevation travel is listed as 100 MOA
Dot color is red.
D.A.R.C., which is the company's Dark Adaptive Reticles & Coatings Specialized lens coatings and reticle brightness settings for optimal use with GEN 3+ night vision.
Dimensions of the ROMEO 4XT PRO are 64mm in height, 58mm overall width, and 86mm overall length. The sight weighs 7.0 ounces, meaning it won't add unnecessary bulk to the user's gun. This sight has 1x magnification and a 20mm objective lens diameter. It has a Half Inch Hex Mount for adding it to the rifle's Picatinny rail.
MSRP for the Sig Sauer ROMEO 4XT PRO is set at $