Springfield Armory Hellcat & Hellcat Pro Color Exclusives
The Hellcat and Hellcat Pro have proven themselves to be class-leading concealed carry options. The 3″ barreled micro compact Hellcat features an impressive capacity of 11+1 with their patented magazine and 13+1 with the included extended mag. The Hellcat Pro features a 3.7" barrel and flush-fitting 15-round magazine. For shooters who want a little more visual appeal, Springfield Armory now offers a series of specialized color offerings for Hellcat and Hellcat Pro 9mm pistols, exclusively available through select distributors.
One set of these specialized color versions is made up of a Hellcat OSP and a Hellcat Pro, featuring a Burnt Bronze Cerakote finish on the slide. This is complemented by a low-profile black frame and black controls.
The other trio of specialized color versions is made up of a Hellcat, Hellcat OSP, and Hellcat Pro. All three variants feature a stainless steel slide, matched up with a Robin's Egg Blue frame.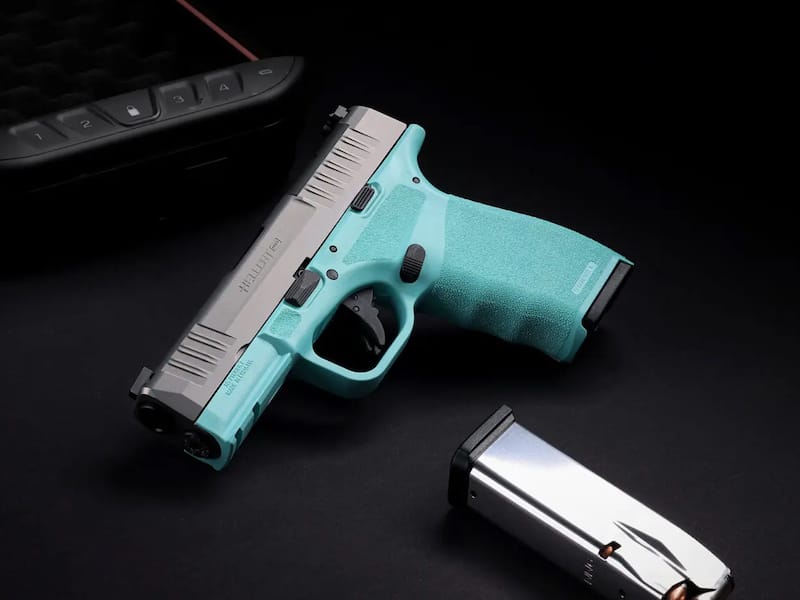 "These new specialty offerings in the Hellcat line give customers exciting new color options for their CCW needs," says Phil Rawlings, Vice President of Sales and LE for Springfield Armory. "From Burnt Bronze to Robin's Egg Blue, there's a Hellcat variant that's just right for your needs."
Combining exceptional style with the proven performance of these CCW-ready 9mm pistols, these specialized color option Hellcats definitely deserve a close look for EDC. Prices for the Robin's Egg Blue Hellcats range from $635 to $677, and for the Burnt Bronze Hellcats range from $642 to $655.
The Hellcat is offered in both standard and "Optical Sight Pistol" versions. The OSP variant features a removable cover plate that allows direct mounting of a micro red dot in the Springfield Micro footprint for the lowest possible profile. This allows for co-witnessing with the pistol's U-Dot sight system, made up of high visibility tritium and luminescent front sight paired with a tactical rack U-notch rear.
Hellcat PRO OSP Specs
Caliber: 9mm
Color: Burnt Bronze or Robin's Egg Blue
Barrel: 3.7" Hammer Forged Steel Melonite Finish, 1:10
Slide: Billet Machines, Optics Ready, Burnt Bronze Cerakote
Frame: Black or Robin's Egg Blue Polymer w/ adaptive grip texture
Sights: Tritium/Luminescent front, Tactical Rack U-Notch rear
Recoil System: Dual Captive Recoil Spring w/Full Length Guide Rod
Grip Width: 1"
Magazines: (2) 15-Round
Weight: 21oz
Length: 6.6"
Height: 4.8"
Hellcat 3" Micro-Compact OSP Specs
Caliber: 9mm
Color: Burnt Bronze, or Robin's Egg Blue
Barrel: 3" Hammer Forged Steel, Melonite Finish, 1:10
Slide: Billet Machined, Stainless Steel or Burnt Bronze, Optics-Ready,
Frame: Black or Robin's Egg Blue Polymer with Adaptive Grip texture
Sights: Tritium/Luminescent Front, Tactical Rack U-Notch Rear
Recoil System: Dual Captive Recoil Spring w/Full Length Guide Rod
Grip Width: 1"
Magazines: (1) 11-Round, (1) 13-Round Extended
Weight: 17.9 oz w/ Flush Mag, 18.3 oz w/Extended Mag
Length: 6"
Height: 4" w/Flush Mag, 4.5" w/Extended Mag