Strike Industries' Ambush 45 Degree Optic Mount
If you've spent much time doing CQB (close quarters battle) work, you're probably familiar with angled optics. Having an extra optic option mounted to the side of your rifle at a 45-degree angle can come in handy for various shooting techniques and positions. Of course, figuring out how to securely mount it to your handguard is another issue entirely. Strike Industries has a solution to the problem: the Strike Ambush 45-Degree Optic Mount.
The Strike Industries Ambush 45-Degree Optic Mount is designed to allow shooters to run dual optics on their rifles. It's offset 45 degrees to provide the optimal angle for use when rotating your rifle to one side while shooting. And, it is ambidextrous, so it can be mounted to either side of the gun. The rail mount is compatible with Picatinny rails and is made from SUS630 hardened stainless steel. The mounting plate itself is made from 6061 T6 aluminum. Strike Industries created this angled mount to be functional, durable, and resistant to damage from the expected bumps and scraps that take place while running your gun.
Regarding the Strike Ambush 45-Degree Optic Mount, the company has this to say:
When you want to run a dual optic setup and have a close distance Mini/Micro Red Dot Sight (MRDS) with a Low Power Variable Optic (LPVO) scope, this 45-degree optic mount is a low-profile and high-strength accessory without forcing you to pick only one red dot you have to pair it up with. The 45-degree angle should get you out of the way of most LPVO scopes along with two mounting positions to pick from on the SI Multi-Optic Mount side. Easily place a MRDS alongside a LPVO with the low-profile SI-Ambush Picatinny rail mount that either sits flush with the top of the Pic rail or slightly below making it easier to sit under a scope or scope mount. The Strike Ambush 45 comes with a dual footprint mounting plate which has the SI Multi-Optic Mount on one side and the Aimpoint Micro Standard footprint for T-1/T-2 compatible red dots on the other side making this a new innovative modular option for a diverse market.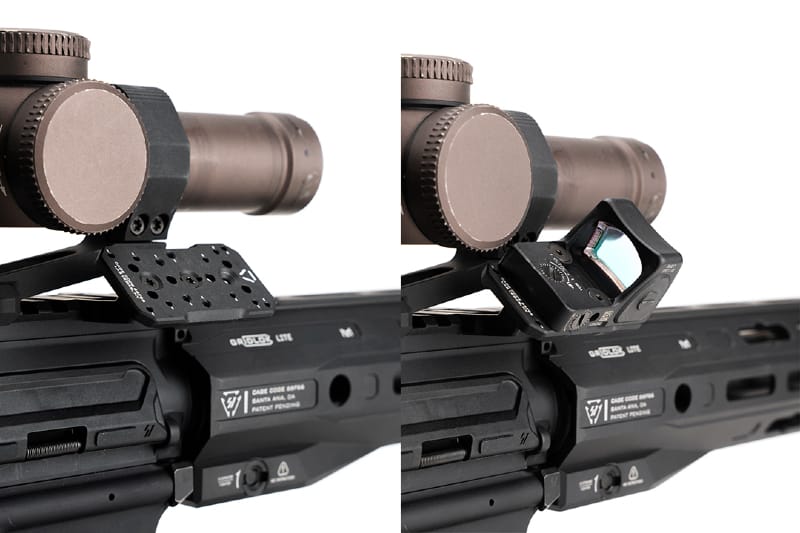 Product Features
45-degree offset for preferred positioning on the handguard
Dual footprint mounting plate with SI Multi-Optic Mount and Aimpoint Micro Standard
Ambidextrous, can be mounted to either side of the rifle
Two mounting positions are possible
Strike Industries' own SI-AMBUSH low-profile mounting system
Made to be lightweight and rugged
SUS630 hardened stainless steel Picatinny rail mount
Mounting plate made from 6061-T6 aluminum for durability and lighter overall weight
Included with Mount
Strike Ambush 45-degree mount (1, fully assembled)
Strike double-sided optic plate (1)
Screw for the optic plate to mount (2, M3x10mm T10 Flat)
Screw for Aimpoint Micro Standard (4, M3x6mm T10 Rounded)
Screw (2, M3x6mm T10 Flat)
Screw (2, M3x8mm T10 Flat)
Screw (4, M3x8mm T10 Rounded)
Screw (2, M3x10mm T10 Rounded)
Screw (2, M3x10.5mm T10 Flat)
Large mounting post (3)
Small mounting post (5)
Torx tool (1, T10)
Torx tool (1, T20)
Loctite® Threadlocker Blue 243® (1)
Warning card (1)
MSRP $74.95.
Kat Ainsworth Stevens is a long-time outdoor writer, official OGC (Original Gun Cognoscenti), and author of
Handgun Hunting: a Comprehensive Guide to Choosing and Using the Right Firearms for Big and Small Game
.
Der Teufel Katze
has written for a number of industry publications (print and online) and edited some of the others, so chances are you've seen or read her work before,
somewhere
. A woman of eclectic background and habits, Kat has been carrying concealed for over two decades, used to be a farrier, and worked for a long time in emergency veterinary medicine. She prefers big bores, enjoys K9 Search & Rescue, and has a Master's Degree in Pitiless Snarkastic Delivery.