Strike Industries Threaded Barrel for Glock G19/G19X
A Glock just might be one of the most customizable handguns on the market. It fires reliably right out of the box, but it can be nice to upgrade and create the ideal Glock for your use. Strike Industries carries a number of components made to upgrade Glocks and if one of the things you'd like changed is the barrel of your gun, they've got you covered. The Strike Industries Threaded Barrel is made for the Gen 3 to Gen 5 Glock 19 and 19X which might be two of the most popular models of the polymer pistol line.
What is the benefit of a threaded barrel?
Threaded barrels on Glocks make it possible to mount a suppressor or muzzle device to the guns. The great thing about suppressors is that they really do save your hearing and the hearing of anyone near you. As for muzzle devices, compensators are a good way to reduce felt recoil and mitigate muzzle rise, which, in turn, increases accuracy. So, having a threaded barrel ready and waiting on your Glock 19 or 19X increases its overall versatility and usefulness in a variety of applications
Strike Industries has the following to say regarding their Threaded Barrels for the G19 and G19X:
The threaded barrel end allows you to attach a 1/2″-28 TPI compatible threaded device or the included thread protector. The unique straight fluted design helps reduce weight and increase cooling with some SI styling. Using pre-hardened 416R premium grade stainless steel material and precision machining tolerances of exacting details, the barrel is corrosion resistant with high tensile strength. The Strike Threaded Barrel is a quick and simple direct drop-in installation. Pick between your choice of Black Nitride, Stainless Steel or Titanium Nitride (TiN) finishes, the Strike Threaded Barrel for GLOCK G19 should be your first choice in a new slide build or premium upgrade as the ultimate performance enhancer. Proudly Made in the USA.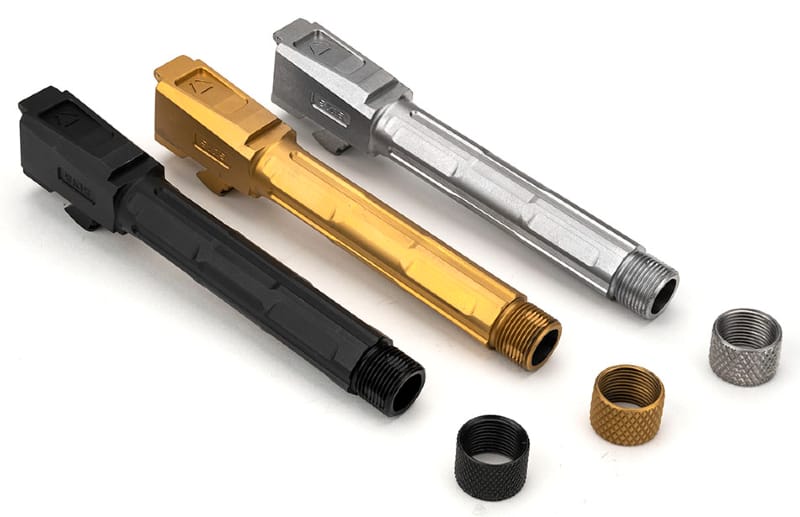 Barrel Specifications:
Barrel Length: 113.32mm (4.46″)
Chambering: 9mm
Threaded: 1/2″-28 TPI
Rifling: 1:10 6-Groove rifling with precision crown
Profile: Straight fluted
Material: Pre-hardened 416R Stainless Steel
Width: 15.40mm (0.61″)
Height: 24.33mm (1.96″)
Weight w/thread protector: 3.40 oz
Weight w/pkg: 5.00 oz
Compatible with: Glock G19/G19x GEN3-5
Not compatible with: With some non-OEM Glock aftermarket slides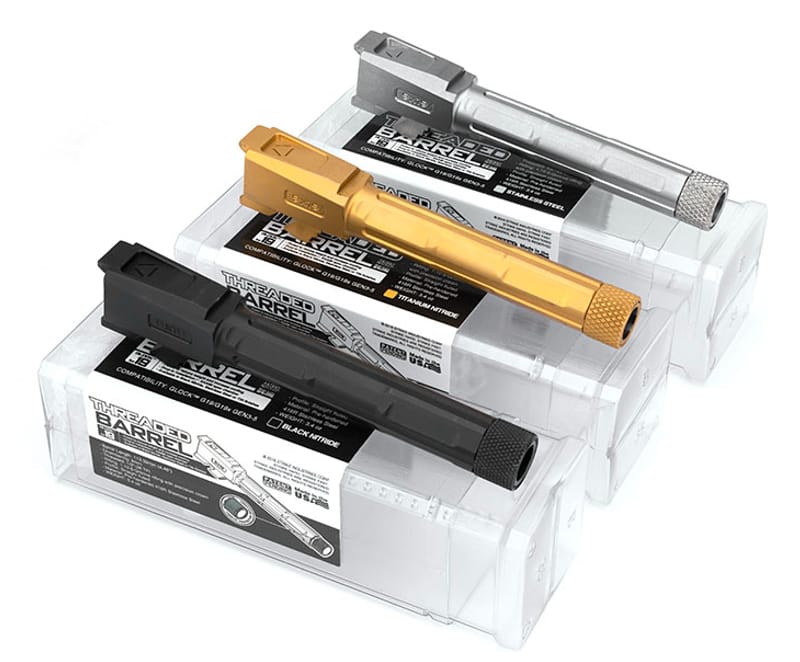 Product Features:
Thread protector included
Fluted to reduce weight and increase cooling
Drop-in installation
SAAMI spec chamber
Made in the USA
Available in Black Nitride, Stainless Steel, or Titanium Nitride (TiN) finishes
Do you have a threaded barrel on your Glock? What device do you use it for? Tell us about your Glock customizations in the comments below.
Kat Ainsworth Stevens is a long-time outdoor writer, official OGC (Original Gun Cognoscenti), and author of
Handgun Hunting: a Comprehensive Guide to Choosing and Using the Right Firearms for Big and Small Game
.
Der Teufel Katze
has written for a number of industry publications (print and online) and edited some of the others, so chances are you've seen or read her work before,
somewhere
. A woman of eclectic background and habits, Kat has been carrying concealed for over two decades, used to be a farrier, and worked for a long time in emergency veterinary medicine. She prefers big bores, enjoys K9 Search & Rescue, and has a Master's Degree in Pitiless Snarkastic Delivery.