Swampfox Justice: Good Optic for Duty Guns?
Sage Dynamics' Aaron Cowan recently reviewed a Swampfox Justice to see if it was all it's cracked up to be. (Spoiler Alert: The "cracked-up" part applies later. Stay tuned.) Is it rugged enough to find itself on the slide of a duty pistol? Can it take the beating optics often have to absorb when screwed onto the top of a gun that gets abused a lot over the course of repeated shifts?
Aaron has a standard evaluation process he takes all his optic reviews through for both consistency and the overall torture test: 2,000 rounds. He breaks the large round count into 500-round increments to pause and add additional non-round evaluations, such as drop tests, to see how the optic performs other functions besides just sighting targets. Expectations set, let's find out how Aaron liked the Swampfox Justice.
Initial Impressions
Mounting and adjustments were fairly routine since it fits on a standard RMR footprint. No surprises there. The battery goes in the top, making installation and swaps easy. Adjustments are manual, which he liked, and the Justice features a "shake awake" feature to save battery life — although that is rated at over a year.
Glass clarity is something Aaron focuses on (ha!) when evaluating an optic, and he finds this one exceptional. One thing he points out is how super clear lenses can deplete batteries faster because the dot has to be brighter to show up against a lit background. So it's a trade-off between clarity and battery life. He notes a lack of distortion, making see-through easier and more accurate.
As for the dot itself, refresh rate or "flicker" was "very good," meaning it did not lag or stutter as he transitioned targets or shook the gun, something that can cause a real problem on lower quality optics that use cheaper LEDs or projecting technology. He did notice, however, in certain backlit conditions a halo effect appeared on the lens. While he could still see the real dot aiming point, the extra red lights were distracting.
Drop Tests
One standard test Aaron throws in for all optic tests is a shoulder-height drop test down to a hard object such as concrete to simulate the effects of tough duty and see how well the optic holds up under adverse conditions.
On the first test, some chipping inside the frame appears in the top left corner of the lens. This concerns Aaron but isn't a deal killer. Zero holds true, so he can keep shooting with no adjustments.
The 500-Round Burndown
Yep, you guessed it: it's time for a 500-round test – with a catch. It's on full auto. How does the optic do after all that constant shaking and recoil?
Single Hand Manipulations
Next, it's time to test the optic body as a reloading and racking tool, working it off the edge of a wood barricade. Will it hold up against repeated racking? Can it withstand this level of abuse? Aaron is concerned that the lens position — close to the front of the body — might be more susceptible to damage during these drills, but his fears turn out to be unwarranted. The Justice performs flawlessly.
The Crack-Up
As promised, here is the rest of the story on the lens crack.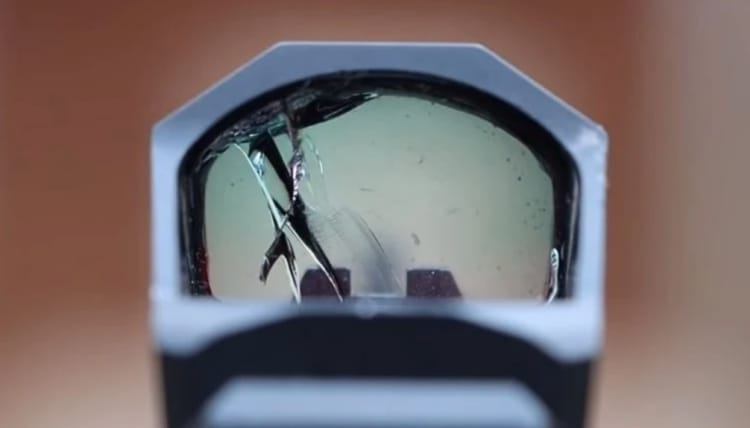 On the fourth and final drop test, it finally cracks beyond the small chip in the corner. In fact, the crack goes top to bottom in the left third of the glass. But Aaron is okay with the crack. Why? Because the whole lens isn't destroyed, only a part of it. The dot still appears and is still zeroed.
Is it Duty Ready?
The shorter answer is no —sort of. Watch the video for Aaron's answer and explanation in his own words.
Check out more Red Dot Sights at the Warehouse
and Subscribe to
GunMag TV!
David Workman is an avid gun guy, a contributing writer to several major gun publications, and the author of Absolute Authority. A logophile since way back, Workman is a quickdraw punslinger and NRA RSO and Certified Pistol Instructor. He helps train new shooters on basic handgun skills and CCW requirements and is a strong advocate for training as much as practicable. "Real-world shootouts don't happen at a box range."