The JP5 Roller Delayed PCC — If Stoner and Hans had a Baby
Roller delayed blowback actions, and 9mms go together like extra cheese and pizza. The MP5 made it so, but since it's not the 1980s, we've moved well beyond the 1911 or SMGs and PCCs. For example, we have the JP5. The JP5 is an AR-based roller delayed 9mm rifle designed with PCC competitions in mind. Obviously, JP5 sounds a lot like MP5, but JP Enterprises produces the rifle, so it's clever marketing that happens to make sense.
If you're not familiar with JP Enterprises, you are missing out. They build fantastic rifles that are often the cream of the crop in some competition circuits. The GMR-15 is used by something like over 20% of USPSA PCC shooters. The JP5 is a premium-grade follow-up of that rifle that tosses in a roller-delayed blowback system. Don't get me wrong. JP Enterprises makes more than PCCs and competition guns. They have duty-grade rifles, AR 15s, AR 10s, bolt actions, 22LRs…definitely worth checking out. 
Let's get back to the JP5. There are three models of this gun, the All-Purpose, the Competition, and the Steel Challenge model. I have the Competition model that has an MSRP of $3,269 dollars. Yep, it's an expensive gun, but it should be noted it's not your standard PCC for plinking and range use. It's a serious competition-grade gun and is priced accordingly.
Why a roller delayed system?
We all know simple blowback works exceptionally well and provides a reliable operating system for a pistol-caliber carbine. The downside to a blowback system is the rather harsh recoil it delivers. Don't get me wrong. It's not like a 12 gauge or even painful in any way. However, the recoil is excessive for a pistol caliber. Direct blowback systems also require heavy bolts, or heavy buffer springs, or a combination of the two.
The JP5 uses a roller delayed system to reduce that recoil and eliminate the need for a heavy buffer spring or a heavy bolt. JP5 builds the rollers into the bolt of the weapon, and two rollers help delay the bolt from moving until chamber pressure drop to a safe enough level. It's a neat system and compared to the Garrow Arms solutions, and it's a fair bit simpler.
Beyond the Roller Delay
This isn't a 3,000 dollar AR 9 packed with a roller delayed system and then a bunch of average parts and pieces. No, everything installed into the JP5 Competition rifle is premium grade. Starting at the barrel, the JP5 gives us a 14.5-inch stainless steel barrel with a massive compensator that's pin and welded. However, it really looks like it's a one-piece design. It's insanely well done and installed/pinned in place well.
The handguard is this massive JP Enterprises MKIII Rapid Configuration. It's a big aluminum tube with M-LOK slots and a number of lightening holes. The handguard comes textured heavily, is lightweight, and provides an ergonomic option for mounting accessories and getting a grip. The furniture comes from Hogue and includes an adjustable stock as well as a Hogue pistol grip.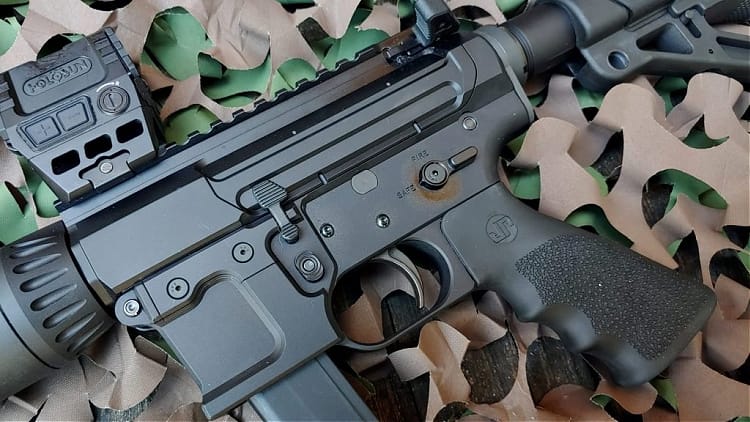 The ergonomics, in general, are absolutely fantastic. The JP5 comes with completely ambidextrous controls. The magazine release, the bolt release, and the safety come ready for right or left-handed shooters. On top of that, the charging handle is a massive Radian Raptor and makes charging and clearing the weapon easy enough. The gun comes with last round bolt hold-open device and a beveled magazine well for quick reloads.
At 6.1 pounds, it's lightweight and is very handy. It's what a PCC should be — light, easy to handle, and incredibly ergonomic. The design from the ground up is for competition, and it certainly shows. That being said, it's tough not to say the JP5 couldn't be adopted for home defense.
At the Range
Holy crap, the JP5 is the lightest recoiling PCC I've ever handled. I tossed a Holosun AEMS on the gun, and my first few shots were zeroing the optic to the weapon. From the first shot, I was impressed by just how well the light recoiling the weapon was. It's absolutely delightful. I was firing three rounds slowly to zero the gun, and the JP5 was also incredibly accurate.
One three-shot group was so tight I thought I initially missed two of the three rounds until I got close to the target. Zeroing took all of 9 rounds, including my confirmation group. Once we zeroed in, it was time to light it up.
With a variety of fun targets setup, I committed to blasting through way too much 9mm. The JP5 trigger is the JP EZ trigger, and it's incredibly light, short, and smooth. The trigger is 3.5 pounds on the light side, and that certainly contributes to the gun's accuracy and helps you shoot it rapidly and accurately. Dishing out rapid double taps or long strings of fire in an accurate manner is easy.
I Wanna Go Fast
I fired five-round strings as fast as I possibly could at a 6-inch gong and landed all five shots with ease over and over again. That trigger is absolutely fantastic, and running fast splits wasn't an issue. I ran through four gongs from 10 to 4 inches and did so in slightly less than three seconds. I did snapshots at 25 yards on the head of an ISPC target in under a second with repeatable accuracy.
Sub three-second failure to stop drills wasn't an issue, neither was a PCC modified Bill Drill. I shot the Bill Drill from 14 yards, starting at the low ready, and scored all six shots in the A-zone for the majority of my runs and did it right around 3 seconds for each run. With more time behind the gun, I'm sure I could trim a bit of time off of that.
The reason you can go so fast with the JP5 involves the roller delayed system making it nearly recoil-free and the massive compensator that keeps the gun almost entirely still between shots. Seriously, my red dot barely rises off between shots, making it extremely controllable for fast and accurate shots on target. It's crazy easy to control, and the JP5 is fantastic in that department.
Shooting Straight
The JP5 delivers some awesome accuracy as well. The stainless steel barrel certainly helps, as does the outstanding trigger. At 100 yards, your average 9mm PCC is challenged, but the JP5 seems to persevere. I used the AEMS reticle to elevate the dot and to compensate for bullet drop. I put the dot on the head of the IPSC target, and the rounds dropped right into his chest.
This was from the standing, and I went five for five in under 10 seconds at 100 yards with the JP5. My time was 7.59 seconds, and I felt quite good about that time. The fact that the gun barely rises between shots makes it easy to stay on target.
At 50 yards, I went against a standard paper IPSC target in a supported kneeling position and fired three rounds. All three landed in the A-zone of the head of the target, and I stopped there. I didn't want to ruin my streak at that point. I think the JP5 is one of the more practically accurate guns for competitive use.
Pop, Bang, Pow
The JP5 is accurate, fast, ergonomic, and also reliable. I dived through four hundred rounds of 9mm without a single complaint. When I pulled the trigger, the gun went bang. It didn't matter the ammo or the magazine. The gun worked fine with ETS, KCI, Magpul, and Glock OEM magazines.
I love this gun. It's so easy to handle and shoot. It makes me feel like I'm a better shooter than I actually am. I feel like it's going to be tough to go back to a standard rifle after handling the JP5. It's superbly sweet, and I can see why it demands such a high price point.