The M&P 12 — S&W's Latest Bullpup Blaster
Smith and Wesson got out of the shotgun game in 1985 when the Smith and Wesson assault shotgun failed to attract military and police customers. It simply wasn't profitable even though they produced and imported a collection of shotguns for years beforehand. Imagine my shock as I, a shotgun nerd, awoke to see that the M&P line now included a shotgun. I was even more surprised when I saw that the new M&P 12 was a dual tube bullpup shotgun.
The KSG started the genre, the UTAS 15 followed, and so did the DP-12. The DP-12 did utilize a second barrel but mostly fits here. The S&W M&P 12 is more practical with a single barrel. It's a pump-action design, and it might just be the most practical and high-quality option of these futuristic bullpup dual-tube shotguns. Let's dive into it.
Specs and Features
This is a bulky beast. It looks like it stepped out of some sci-fi flick set in the near dystopian future. If you said this gun was from Cyberpunk 2077, I'd agree. It does the job of looking cool quite well. The M&P 12 comes in a sweet hard plastic case with two chokes, instructions, gun lock, and a choke wrench. Here are the numbers for you nerds.
Barrel Length: 19 inches
Overall Length: 27.8 inches
Weight: 8.3 pounds
Chamber: 2.75 to 3 inches
Capacity: 14 (2.75 inch rounds)
Fourteen rounds are nothing to laugh at, especially 14 rounds of high-quality buckshot. That second tube adds some weight to the gun, but the weight is easy to ignore since it's closer to the body. Ultimately it's quite small, much smaller than my Benelli M4 or Mossberg 590A1.
Inside The M&P 12
As a bullpup shotgun, the M&P 12 doesn't follow the traditional pattern of a standard shotgun. Therefore let's take some time to point out some of the more unique features of the M&P 12 gauge.
First, clearing malfunctions appear difficult. The bulky ammo, bullpup design, and small loading area look like it might be a nightmare. S&W saw this and designed a retractable rear plate that opens up that loading chamber.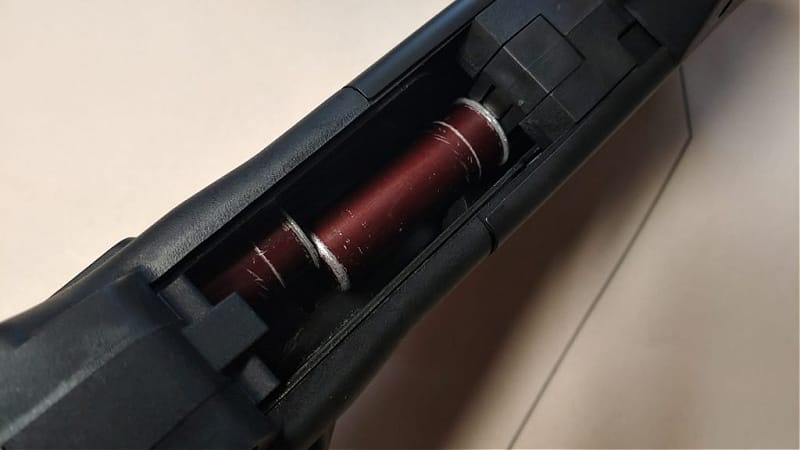 The extra room makes it easy to dump out jammed shells. I purposefully jammed the gun with two Snap Caps and retracted the rear plate. The two rounds dumped right out.
Retracting the plate requires the push of a button in the stock and a sharp pull. Ensure the action is locked forward when you do so.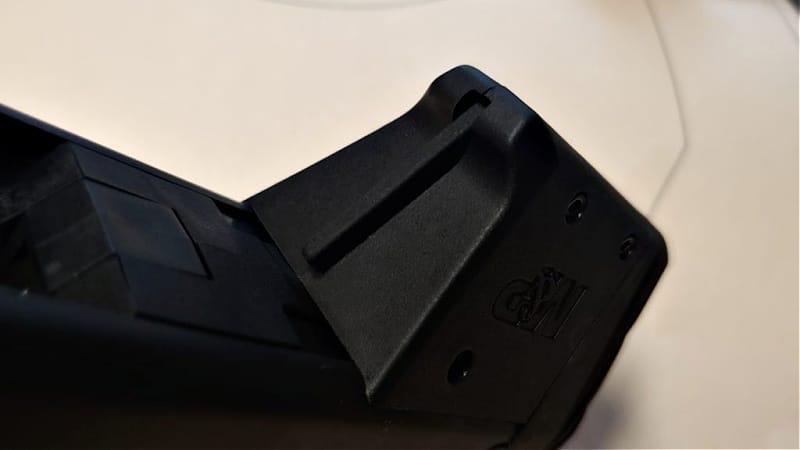 Clear it, close it, and get back after it. It's not as easy as tap rack bang or even clearing a normal shotgun. It's one of the bullpup compromises, and I commend S&W for including it.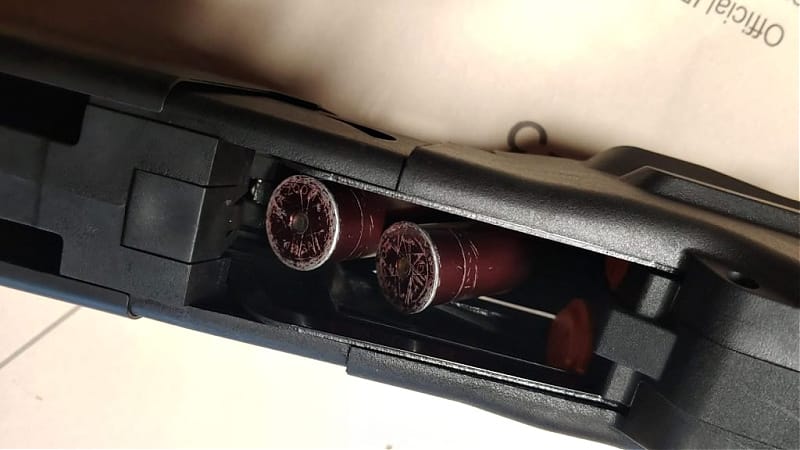 In front of the chamber, on each side of the gun, there are two load-assist buttons. These make loading the gun easier and also make unloading it easy. Press the buttons, and the shell retainer hits the road. This allows you to easily load the gun and makes admin unloading quick and safe. Pressing the load assist buttons is not necessary to load it but makes things easier.
Optics and Slings
Along the top of the gun sits a long optics rail—plenty of room for a red dot, like the AEMS from Holosun. You can also mount 12 o'clock lights like the OWL from Cloud Defensive. If you want more options, there are M-LOK slots that run across the top of the gun and allow you to offset mount accessories.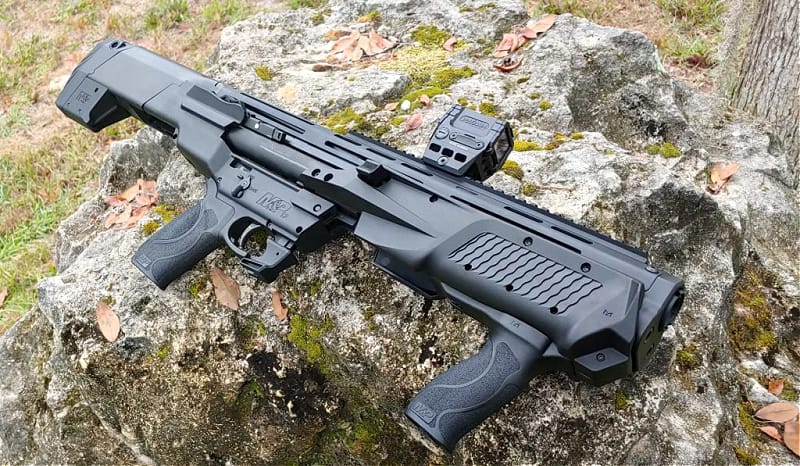 This scope rail and mounting platform also works as a heat shield. It covers most of the barrel and will certainly protect your paws. Also, it seems to be the only place to mount a front sling point. An M-LOK sling mount is easy to attach and will work perfectly with the rear QD sling mounts. These are ambidextrous and simple to use.
S&W M&P 12 Ergonomics
S&W embraced ambidextrous ergonomics with the M&P 12. In fact, all the controls are ambidextrous. The safety is an AR-type design that sits above the thumb for easy access. In front of the trigger, we have the pump release that's also ambidextrous. The rounds eject downward and avoid throwing hulls into your face.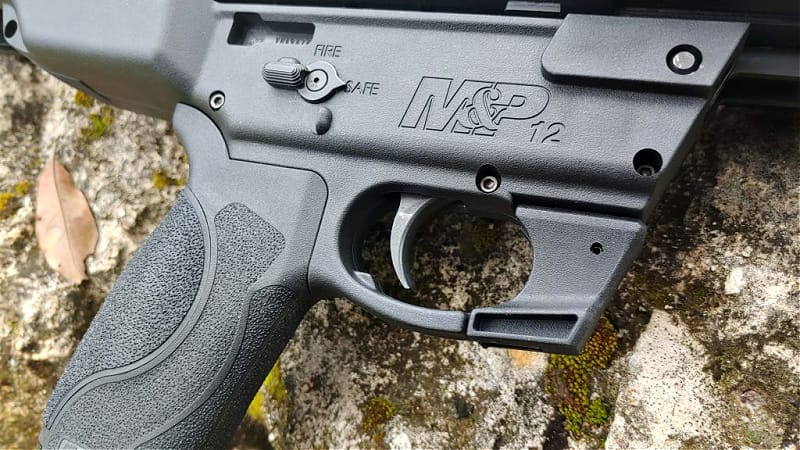 Swapping tubes requires the press of a button that's integrated into the pump. It's huge, easy to reach, and works well. According to the manual, the pump needs to be locked forward before you switch tubes. If not, you might damage the gun.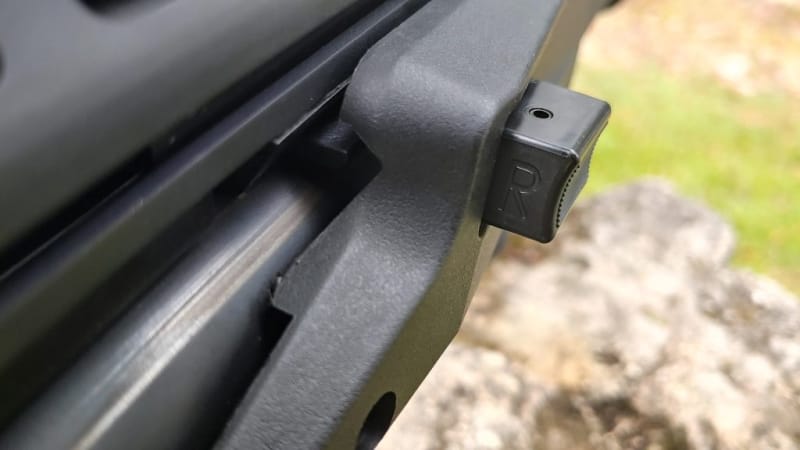 The M&P 12 pump utilizes an integrated attached vertical foregrip. I think this is a great idea because the distance from the pump to the barrel is quite short. You wouldn't want your hand to slip off and find its way in front of the barrel as you fire. Also, it makes it easy to fight with recoil. You can detach the foregrip. I will say that S&W did it right and ensured the pump wasn't just reliant on a small M-LOK slot. It's a beefy boy.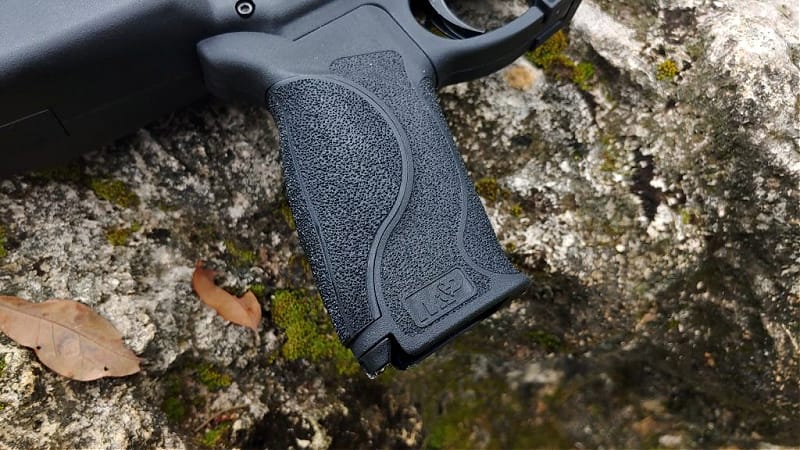 The rear pistol grip is the new M&P model and allows for AR 15 compatibility. The included grip even comes with three back straps to customize the grip for you.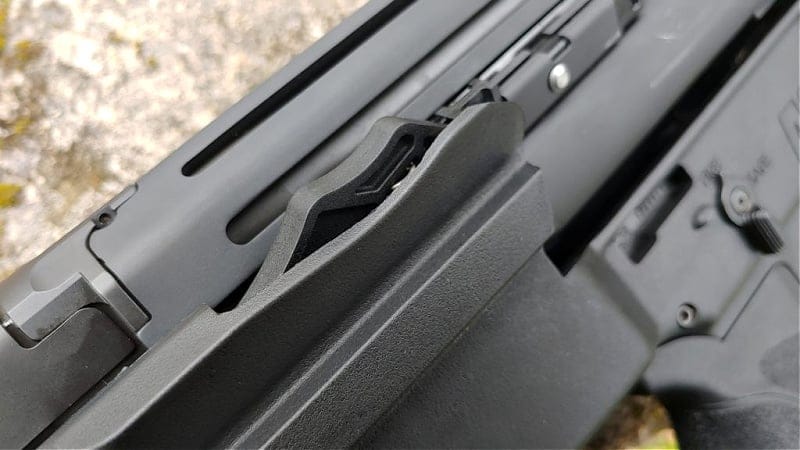 Lastly, boy, oh boy, is the length of pull rather long. It's a little over 14 inches. For my 6'5" gorilla self, it's okay. With that said, I still prefer a shorter LOP. Smaller shooters should most certainly ensure they shoulder this gun and comfortably run it.
The M&P 12 At the Range
New shotguns and range days are always my favorite. I love shooting shotguns, so I went with two hundred rounds of birdshot from Estate and Federal and 50 rounds of Rio 00 buckshot, five rounds of Flitecontrol, five slugs, and 50 rounds of Suprema buckshot. Oh, and I also brought 20 mini shells.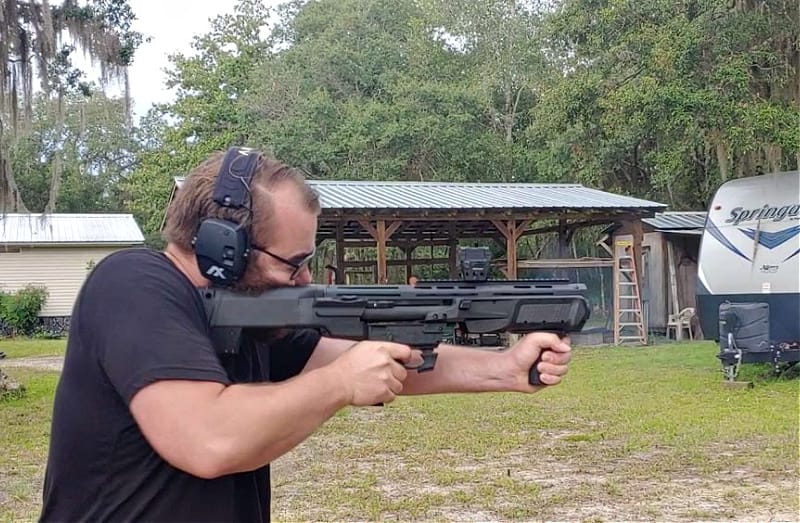 I equipped the M&P 12 with an AEMS red dot I'm testing. I figured a shotgun's recoil would be easy to test it with. I start zeroing the gun with some basic buckshot using the 65 MOA circle and 2 MOA dot. Once zeroed, I began blasting away first with buckshot on an ISPC target. I got a good idea of how the gun recoils.
Using a push/pull recoil mitigation technique, I was able to easily control the gun and keep the red dot on target shot after shot of full-powered buckshot. That front integrated grip makes it quite easy to apply the ole push/pull technique to its full effect. I feel I would be able to better control the gun if the LOP was a little shorter, but even so, I don't have issues running the gun.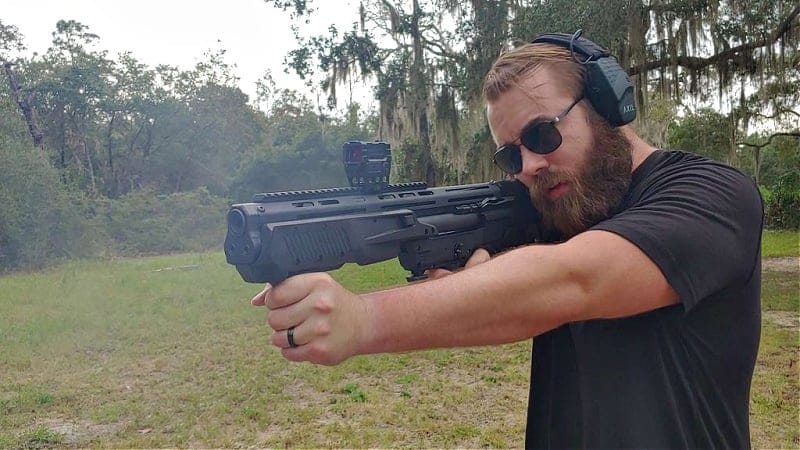 The action is chunky but smooth. It's not gritty, but not as smooth as an old Wingmaster from Remington. It slides rearward and forward with ease. The M&P 12 delivers a tactile feeling as rounds load into the chamber. You'll feel the difference between a shell loading and not, and this helps you know when to swap tubes.
Tube Swaps
The M&P 12 allows you easily swap from tube to tube without issue. Hit that button, and bam, you are rocking and rolling with your next tube. Doing so on the fly isn't tough to do. You can do it when a tube runs dry or swap to the second tube, which could be holding slugs instead of buckshot.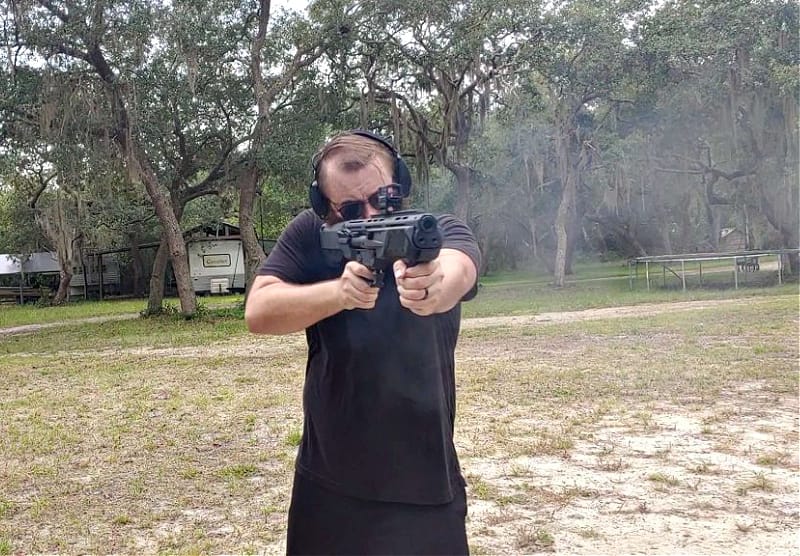 Swapping tubes is easy, but reloading is not. That loading port is small and makes it tough to load either tube with the weapon shouldered. In fact, it's easier and much quicker to dismount and get the gun into action. Loading it in combat would be impossible. However, after 14 rounds of Federal FliteControl, the problem is likely solved.
Keeping this thing continually loaded like a standard shotgun isn't possible. Shotgunners won't like it, or at least this shotgunner doesn't like it. I like being able to continually top off a shotgun. This is a gun that you blast away with and then go to your secondary.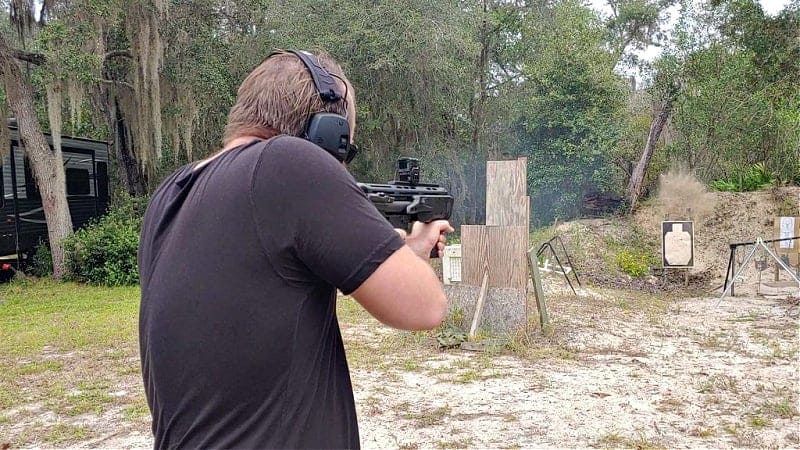 Remember when I said that I had to improvise a malfunction? Well, it's because the gun never failed when firing. After a little over two hundred rounds of various shot types, the gun ran crazy well. In fact, it ate through those mini shells without issue.
Accuracy and Patterning
The pattern is average and obviously dependent on your load and choke. The gun comes with two chokes, including modified and cylinder bore chokes. Most basic loads will pattern as you expect at 10 to 15 yards. Nothing crazy, and the group is typically around 12 inches or so at fifteen yards.
At 15 yards, Flitecontrol will make one big hole, and you'll get all the advantages that Flitecontrol offers. Make sure you use the cylinder bore, or your FliteControl patterns might be wider.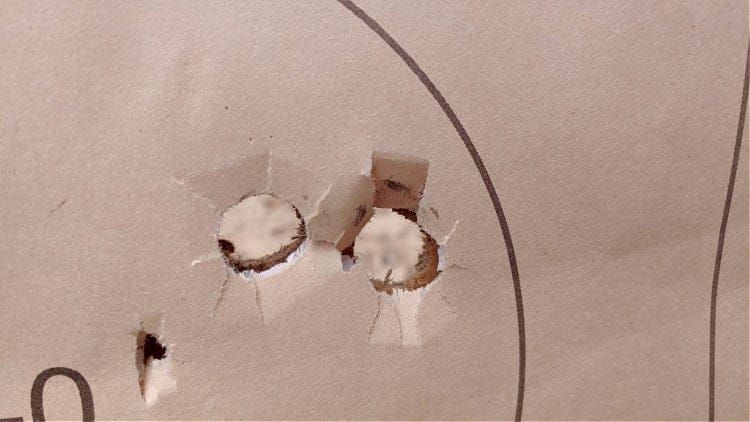 With Hornady slugs, I got impressive shots at 25 and then 50 yards in the offhand. I punched the IPSC target in the -0, and two slugs nearly formed one hole.
One major complaint I have is the ambi safety works a lot like the CZ Scorpions safety. With every shot, it digs into my trigger finger. If this was my gun and not a loaner, I'd take a Dremel to the safety. Why is this in the accuracy portion? Well, I found myself anticipating the pain, and I would flinch as I came to the end of my 200+ rounds.
Short and Sweet Design
I messed around shooting around cover and found the short bullpup design of the M&P 12 to be quite nice. I could ease up to the cover and feel like I'm quicker to peek and fire around corners. The 27.8-inch overall length makes the gun quite nice for maneuvering indoors. For home defense, it's even handier.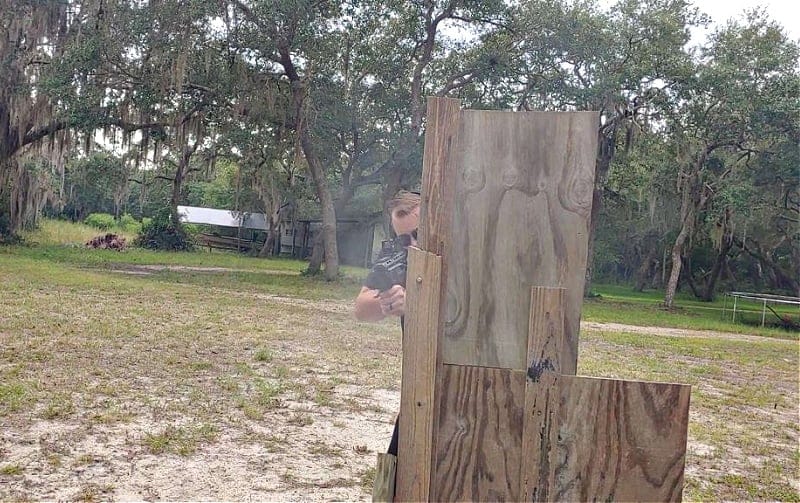 Imagine holding up in your room, calling the police, and aiming the M&P 12 at the door. It's easy to hold the gun up with a single arm with the weight all to the rear. If someone comes through the door, it's easy to fire that first shot, drop the phone and rack the action.
The same goes for opening doors or clearing something out of your way. Here the M&P 12 works well and allows you actively navigate an environment without the need for both hands all the time. Short shotguns are the best, and the NFA is garbage. This is the best way to get a truly short shotgun without the need for a tax stamp.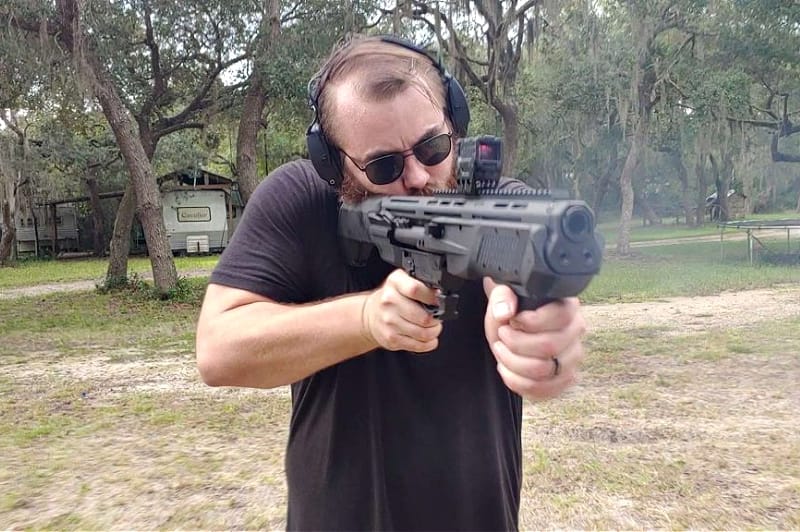 The M&P 12
The M&P 12 isn't a perfect gun, but it's the best bullpup pump-action I've ever handled. It solves the shotgun's low capacity problem, is super easy to use, and is mostly ergonomic. The LOP is long, and the ambi safety is a pain, but other than that, it's a well-planned out design. Reloading sucks, so better get it done in those 14 rounds. If you want a bullpup pump-action for serious use, this is the only one I'd suggest. It's insanely reliable and suited well for home defense in most aspects.
What say you? Are you into the pump-action bullpup genre? Does the S&W M&P 12 appeal to you? Let us know below.