The STK100: Rock Island's New Striker-Fired Pistol
Rock Island Armory has expanded their handgun lineup with a striker-fired pistol: it's the Rock Island Armory STK100. Chambered in 9mm, it's a 17-round, aluminum-framed handgun with a grip angle similar to the 1911. And, like so many defensive handguns today (at least the ones that hope to stay relevant), it sports an optics-ready slide. Overall it seems to be a pretty interesting addition to the mid-sized 9mm pistol scene.
We've gathered some information, pictures, and videos from around the web so you can decide for yourself if it is something that you are interested in ogling!
Let's just jump right into it.
What does the official product page have to say about the STK100?
"Striker-fired pistol fans, rejoice. The STK100 boasts an aluminum grip that adds just enough weight to reduce felt recoil while still being comfortable to carry all day. This 9MM 17-round gem has a textured grip angled like a 1911 grip to give you greater control. With a patent-pending frame designed for durability, It has all the advantages of metal for the price of a polymer."
Armscor's specification sheet expands on this a little bit more.
"[The SKT100] also has an optic-ready slide so you can add your favorite aftermarket accessories, and it boasts an extended beavertail for comfort… it's perfect for recreational and self-defense users, as well as law enforcement."
STK100 Specifications
| | |
| --- | --- |
| Caliber | 9MM |
| Capacity | 17 |
| Barrel | 4.5″ |
| Overall Length | 7.91″ |
| Overall Width | 1.25″ |
| Overall Height | 5.16″ |
| Weight | 1.80LBS |
| Front Sight | Tenon cut w/ retaining screw |
| Rear Sight | Fixed integrated on optic cover plate  |
| Grips | Aluminum (integrated on frame)  |
| Finish | Black anodized |
| Action | Semi-automatic |
| Trigger Pull | 5-7 lbs. |
| Purpose | Personal protection, recreational shooting |
So, yes, it's like a polymer-frame striker-fired pistol, but there's no polymer.
Instead, it has a metal frame. We're aware many gun owners like to have polymer as an option, the rigidity is often much more appealing. Armscor & Rock Island Armor President and CEO Martin Tuason had an interview with American Handgunner. He spoke on how and why they chose metal over polymer. 
"I wanted Armscor to get into the striker-fired market, but not with a plastic gun. That's been done. Dustin Jones, our CFO, knows the market and did the research. He came back, encouraging us to take the leap. We put our heads together and decided, let's do it. And, since we're famous for working with metal, it was only natural we decided to do what we do best. We're the number one producer of metal 1911s in the world, so we know how to do it!"
A lot of the promotional material for the STK100 seems to be focused on the fact it is in fact metal over polymer. Here is some of their promotional material from their website.
Below, you can watch the advertisement mentioned above. The editing is pretty snazzy. Whoever Armscor/Rock Island Armory hired to do the editing does pretty awesome quick cuts. The number of environments and shooters they manage to fit in 30 seconds is nifty. (Sidebar here, whatever the process they did to make the colors vibrant is pretty neat. It may seem like a silly thing to focus on, but 'color' this author impressed.)
More Quotes from Around the Web about the STK100
Armscor CEO
Martin Tuason
 also had this to say;
"We think shooters are going to be excited about the STK100". "It really does give shooters all the advantages of metal for the price of polymer. It's perfect for recreational shooting, self-defense, and even law enforcement, which makes it incredibly versatile."
"We informally tested the new pistol with a selection of ammunition, including Federal Syntech, Hornady American Gunner, Speer Gold Dot, and Super Vel's solid copper hollowpoints. It fed and fired all without a hitch. The trigger felt moderately heavy, but there was less mushiness at the break than is standard on many striker-fired pistols. Instead, there is a distinct snap when this one breaks.

Personal-protection carry guns are meant to be carried a lot and shot a little. As a result, many designs are (for want of a better term) "weighted" in favor of ease of carry. However, the extra weight of the STK100 gives it an advantage on the range. True, it doesn't flex like polymer (which absorbs some of the felt recoil). However, it does counter the gun's recoil impulse, resulting in less movement. In theory, aluminum's greater rigidity may result in enhanced accuracy, too. What was most distinct in my brief shooting session, though, was the fact that the STK100 didn't break down my grip during long strings.

Its empty weight is about the same as a Colt Lightweight Commander. However, its generous ammunition capacity makes it much heavier when loaded than the fully loaded Colt. It is also, of course, several ounces heavier than similar-size polymer pistols. Still, if you don't mind the extra weight on your hip or only intend it as a range or home-defense gun, you're getting a lot of pistol for $599."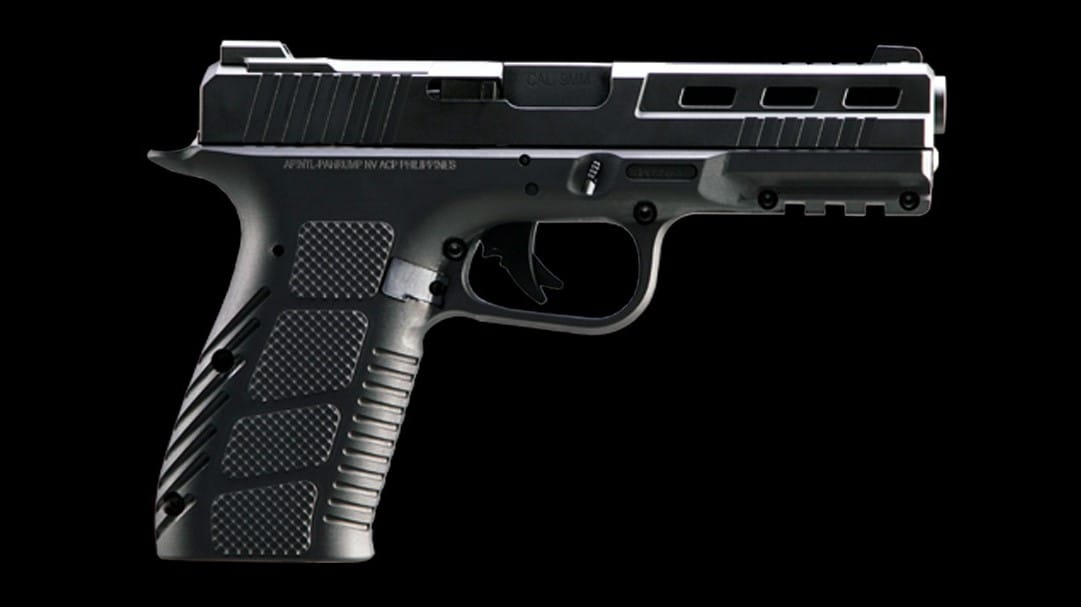 Reviews of the SKT100
We figured we might share a couple of written reviews that bring up a couple of decent points.
Field & Stream's Review
Field & Stream got the chance to get their hands on the SKT100, and they had some pretty interesting things to say about the pistol. Even the title of their review was an alluring statement; "The RIA STK100 is An Affordable Feature-Rich Glock Clone" Here's a little bit more to elaborate about what they really mean by that;
"Remember purchasing a polymer-framed striker-fired pistol only to spend even more to customize it to fit your needs? Yes, we all do. Add weight to the frame, lighten the slide, change the grip angle, add a beavertail, add optics capability—the list goes on and on. In the end, you could almost triple the pistol's original cost."
The author Yamil Sued continues,
"The RIA STK100 is what I would call a 99-percent-Glock-compatible pistol. Its compatibility extends to almost all the internal parts, except for the rear sights, barrel locking block, magazine release, and pins. The STK100 has a list of features that put it in a class of its own. It has a clamshell aluminum alloy frame, textured 1911-style grip, extended beavertail, stainless steel guide rod, lightened slide with front cocking serrations, optics-ready slide, and Glock-style front sight."
The pistol even runs Glock compatible magazines and ships with "two KCI USA 17-round Glock-compatible magazines..." But, of course, it never hurts to have more mags, right? Right?…
American Handgunner's Review
As previously mentioned in this article, American Handgunner also got a chance to talk to the CEO of Armscor and get hands the gun. One of the stand-out features that author Roy Huntington mentions several times is the handling of the firearm.
"The grip angle makes such a difference as to be immediately noticeable. General gun-handling seems a bit smoother for me, and bringing the gun up to shoot feels as if the sights settle right where they belong. I found it to be fast, secure and certain when pointing."
He also said, "Shooting [the SKT100] was, in short, a delight." and "The STK100 isn't another clone of a clone of a clone — but pushes the envelope out even further."
However, the most crucial takeaway from American Handgunner's entire review comes from the last line of the article: "…remember — dogs can't eat an STK100. Just sayin'."  You know those little furry monsters would too, given the chance.
More on the STK100
The SKT100 seems to be shaping up to be an interesting newcomer to the mid-sized pistol scene that we're excited to see how it develops. Although they may not be necessarily advertising it as such, it is interesting to see another newcomer that is friendly to some of the "Glock eco-system." Glock being one of the most common weapons systems on the market definitely helps the SKT100's case. Using more budget-friendly using hardware that you already have isn't a benefit to sneeze at.
As previously mentioned in the article, the MSRP retail price on the Rock Island Armory STK100 is $599. If you want more information about the pistol, visit Armscor's website.
Here are some more pictures from Rock Island Armory's promotions mixed in with some videos we found on the pistol from around the web!
Gun Talk Media's First Look Video
The Firearm Blog TV's Video Review
Scootch00's Video Review
GUNS & American Handgunner's Video Review