Welcome 30 Super Carry: a new caliber for 2022
The pre-SHOT frenzy of new releases has seen the announcement of a brand new pistol caliber — the "30 Super Carry". Announcement of the new cartridge stirred up all sorts of discussion on forums, Reddit threads, and all the other usual places.
The 30 Super Carry Cartridge
So what is 30 Super Carry? First off, it should not be confused with the old Kimber Super Carry. This is a cartridge, not a specific weapon. In fact, There is actually more information on the cartridge(s) available than there is on the guns that will be using it, though we do know there will be a Nighthawk model (above) and Smith & Wesson Shield EZ model (below). 
The new cartridge will require its own magazines. 
30SC Shield EZ
30SC Ammunition
Here's the Federal Premium announcement…which unfortunately announces very little at all.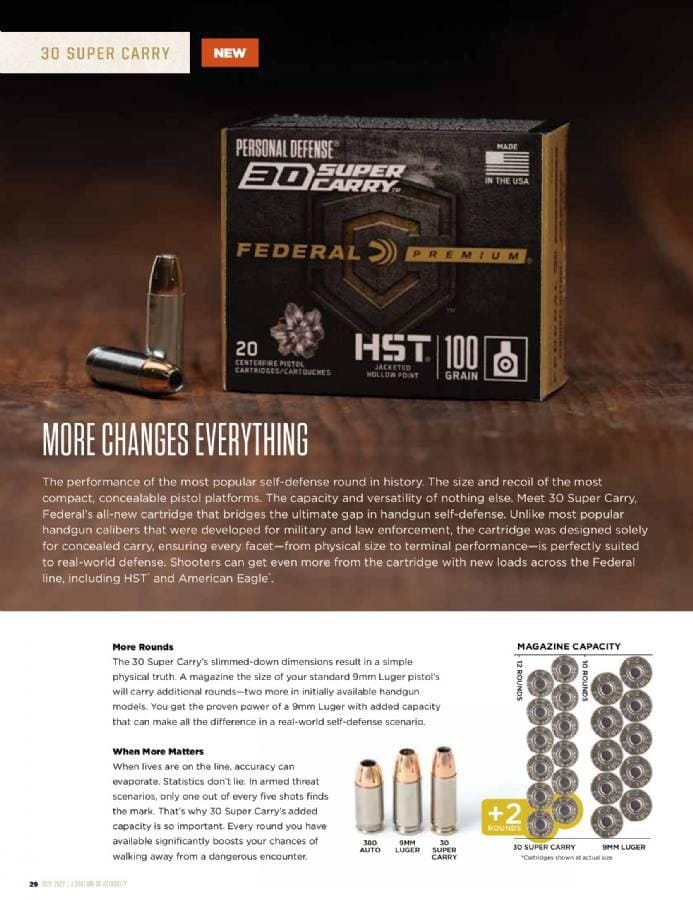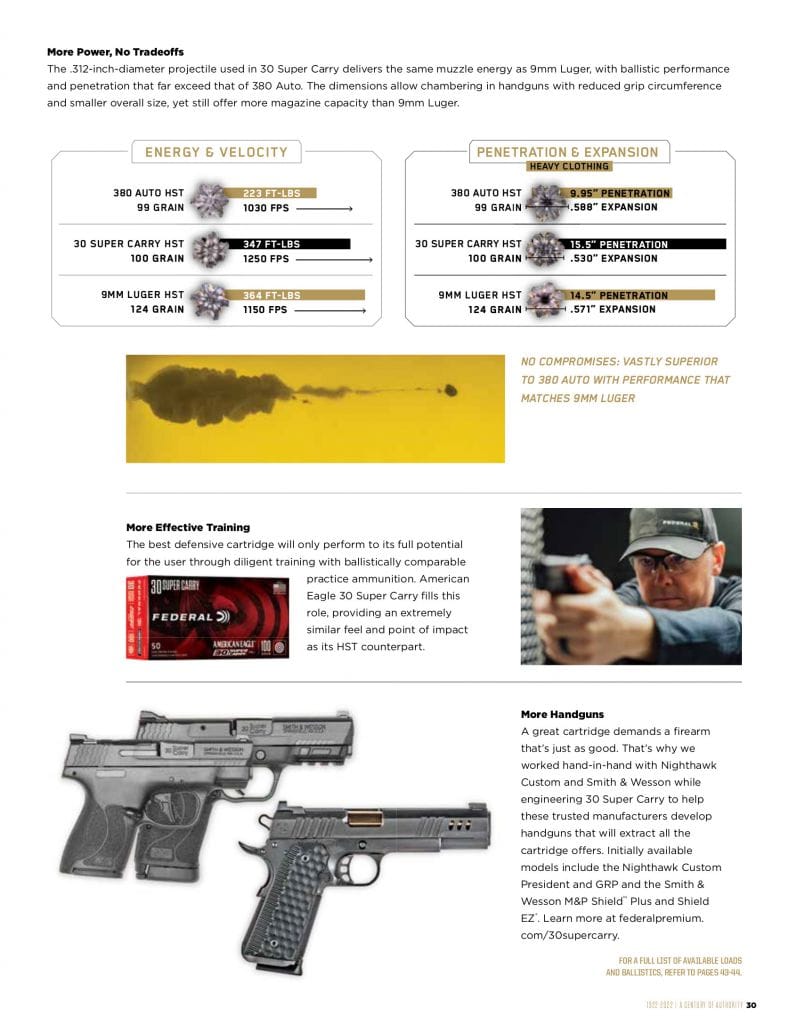 30 Super Carry Shield EZ Specs
    Safety: Thumb and Grip Safety
    Chamber Length: 0 in.
    Frame Finish: Black
    Front Sight: White Dot
    Rear Sight: 2 Dot
    Grips: Aggressive Texture
    Finish: Black
    Firing System: Internal Hammer
    Frame Material: Polymer
    Trigger: Tactile & Audible Reset
    Magazine Type: Double Stack Magazine
    Barrel Configuration: Single
    Rifled Barrel: Yes
    Minimum Pull Length: 0 in.
Additional Features
    Easy to rack slide.
    Crisp, light trigger with tactile and audible reset.
    Includes 2 easy-to-load magazines.
    Grip safety.
    Magazine offers 10+1 round capacity.
    Windage adjustable, White Dot Rear Sight.
    Disassembles without pulling trigger.
    Grip texture optimized to size and recoil.
    Tactile Loaded Chamber Indicator (TLCI).
    Picatinny-Style Rail.
    Perfect size for nightstand, carry or a day at the range.
    Reversible magazine release.
    Optimal 18-degree grip angle for natural point of aim.
    Armornite® – Durable, Corrosion Resistant Finish.
    Backed by Smith & Wesson's Lifetime Service Policy
David Reeder's Wu Tang name is 
Lucky Prophet
. He is a retired AF veteran, former Peace Officer, and current Tier 2.5 writer-operator. Over the course of his career, he has worked a variety of military and lE billets, served as an Observer-Controller at the National Homeland Security Training Center, a MOUT instructor, and an MTT tracking instructor – all of which sounds much cooler than it really was. Although he only updates
his website
once in a very great while, he can absolutely be relied upon to post to social media (@reederwrites) at least once a month.
-Ish.