Build a better brainbucket: Bump Helmet Optimization
Helmets — we wear them to protect one of the most important organs on our bodies — the brain. There is a specific helmet for nearly every aspect of life, stemming from sporting activities to construction to warfighting. I've written many reviews on Ballistic Helmets over the years and the technology has improved vastly during that time. Long gone are the days of the Protec skateboarding and snowboarding helmets that were very popular with special operation forces who needed or wanted a lightweight helmet to mount their night vision devices. Many companies like Ops-Core have stepped up and developed "Tactical Bump Helmets" that were designed specifically for low threat and training missions for the special operations community and those technological updates are now available to everyone in the law enforcement and civilian sectors.
The term or classification "Bump Helmet" describes them pretty well…they protect your head from impacts or bumps. They are non-ballistic, meaning they won't stop a ballistic threat from either bullets or high-speed fragmentation. They are made of high-impact polymers or carbon fiber and this makes them very lightweight in comparison to their ballistic counterparts. They usually have air vents, which makes them a lot cooler to have on. They vary in the level of impact protection based on the padding system that is in place. Basically, they have all the features identical to the ballistic version, just a lot lighter and more comfortable in every way.
This article originally ran in August 2020. 
So what are bump helmets used for?
The special operations community uses them for parachuting, maritime, vehicle, training operations (search and rescue teams all over the world wear them during training and missions), rock climbers, recreational shooters — especially those who run NODs, and basically anyone who needs some blunt force trauma protection. With all of the current events with civil unrest, it wouldn't be a bad idea to have one just in case you need to get out of a bad situation that couldn't be avoided. We'll get more into that later.
Bump helmets are relatively inexpensive, starting around two hundred dollars and going up from there. Like any other piece of kit, you get what you pay for. I have both a budget and a high-end setup. I figure it's a good idea to have more than one, so I can have different applications as well as a spare for my wife or kid to use, especially in an emergency.
In general, all bump helmets are lightweight and have an NVG shroud for mounting NODs, light, or camera. There are many manufacturers, typically armor companies, that make a bump version of their ballistic offerings. I will go over both of my setups and the accessories that I have on them as well as other available options that I have seen and done research on. When it comes to protection from blunt force trauma, having a good padding system is important to absorb the impact before it reaches your head.
With the advances in helmets, companies that make accessories started to design their products for use on helmets. The good thing about all of the accessories that go on helmets is, for the most part, they are modular and simple to install and remove. When ordering, make sure you use the sizing guidelines and go with the larger helmet if you're close to the limits on a certain size. I have a small head and medium-sized helmets are usually perfect for me.
Budget Bump Helmet Setup
Hard Head Veteran's or HHV for short, makes an affordable high-cut ballistic helmet, which is currently in the second generation of their ATE (above the ear) ballistic helmet. I have an early version of the Gen2 ATE. Not long after the Gen2 was released, HHV started working on a non-ballistic version, the ATE Bump Helmet. It has most of the same features as the ballistic version with a double-layer padding system, MLOK rails, NVG shroud, and magnetic chin strap. The difference is obviously the lighter weight and thinner profile as well as air vents to assist in airflow.
I have on them, my Peltor Sport Tactical 500 headset attached via the HHV Rak adapter kit. Depending on what I am using the ATE bump for, I usually leave it slick as I can attach a marker or light very quickly and easily. This helmet gets the job done and is very comfortable to wear. The inner padding does cover some of the air vents and therefore restricts airflow throughout the helmet when worn. It is also on the softer side when it comes to padding, with the two layers installed. It does the job in blunt force trauma protection.
For the price, the ATE Bump helmet is a great entry-level helmet and is very capable. Since I have two setups and this being the lower end, it is my back up and readily available for my family if the situation dictates that it is necessary for them to need a helmet whether it's for recreation, range use, or emergency.
High-End Setup — My Primary Bump Helmet
It is the non-ballistic version of their new Fast SF Ballistic Helmet, which is already very lightweight, one of the lightest I have tried on. I got to wear the ballistic version briefly at SHOT Show 2020 in January. This is therefore the latest version of their Carbon Bump helmet and features a new blend of composite materials and Carbon Fiber. It shares a lot of the features from the Fast SF Ballistic with the same super high cut profile, the new Modular Bungee Shroud, and ARC rails. The new materials make it stronger than the previous offerings and that adds to the price. This one, in my opinion, is the high-speed, low-drag — or the Ferrari of bump helmets.
Since you can't have holes in a ballistic helmet for obvious reasons, the bump version can and does. The vented lux liner in the Fast SF Carbon matches the vent holes, giving unrestricted airflow to help with cooling. The pads are stiffer and hold their form much better than the ones in the HHV.
The exterior of the Fast SF Carbon matches its ballistic counterpart with the unique velcro pattern throughout the helmet. It breaks up the shape of the helmet and lowers the IR signature as well as provides more options and surface area to attach certain accessories.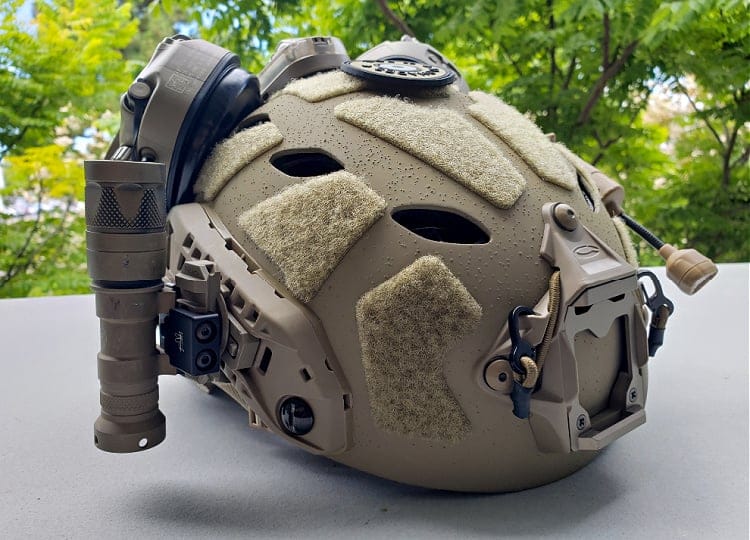 Ops-Core is part of Gentex Corp and has been on the leading edge of helmet technology and has produced a ton of accessories for its Fast line-up. The Fast SF Carbon is compatible with all of the Fast accessories that include a variety of face shields, goggles, and mandible guards.
For hearing protection, I use the Ops-Core AMP headset with the NFMI earplugs. Together, they offer 33-34db NRR protection, which is unheard of. I am currently working on a separate review of that system, so stay tuned for that. The AMPs are unique in design and can be worn as a headset underneath a helmet or with a rail-attached kit that can be attached to the rear section of the ARC rails.
The ear cups attach to the arms with a gimbal, allowing full articulation and keeping the best seal possible. Transferring from headset to the rail kit takes a few minutes tops and requires no tools, which is a feat in engineering and design. The sound quality gives you excellent situational awareness with 3D hear-through, meaning you can tell exactly where the source of each sound is coming from. I prefer to have the AMPs attached to the helmet.
For most applications, I will have the Fast SF Carbon with the AMPs attached and either my prescription glasses or Mk1 for eye pro. At the minimum, I'll have the Helstar 6 on the top rear of the helmet for IFF or visibility on the range. Lights can be attached on a case by case basis.
Bump Helmet Accessories
Helmet Covers
You may want a helmet cover to add for storage and velcro if your helmet doesn't have enough to attach markers etc. Covers will protect your helmet from scratches and dings. You will cover the air vents and restrict some of the cooling features. Every helmet manufacturer usually has its own covers available. Agilite Tactical makes high-quality covers for ballistic and bump helmets. Make sure you get the correct cover specific to the bump version as they are thinner than their ballistic counterparts or go with the bridge, which will adapt to whatever helmet you're running.
Illumination
Having a hands-free light is not a bad idea. You can mount most flashlights to the rails of your helmet. Princeton Tec makes specific lights that'll go directly on your rails or attach to the NVG shroud.
The Princeton Tec Charge Pro comes ready to attach to the ARC rail and includes numerous mount adapters to work with other helmets. It takes a CR123 battery and has a 55-lumen white floodlight when you hold down the activation button. You can choose the max bright color LEDs. I got the red and they turn on with a push of the button. There are two brightness settings and you can toggle them by pressing the button. The red light will save your night vision and the light head is attached to a flexi-neck that can be articulated to the position you need it to illuminate.
The old-school Surefire HL1 Helmet light can be mounted to an ARC rail with an adapter. It gives you visible and IR lights as well as an IFF marker. You can also mount your Surefire Scout or X300 using Picatinny ARC mounts adapters.
The Thyrm Variarc is a low-profile ARC rail adapter with some Picatinny slots. It can be rotated in eight different positions where other mounts are limited so a certain degree of manipulation. I have my Surefire M300V attached to it with the Impact Weapons Components Thorntail Picatinny mount.
Markers
Depending on your specific application, having a visual marker (a technical term for light) could be helpful to allow your friends to find you using either visible or IR signals. CORE Survival Helstar 5 and 6 are multifunctional markers that were made specifically for helmets.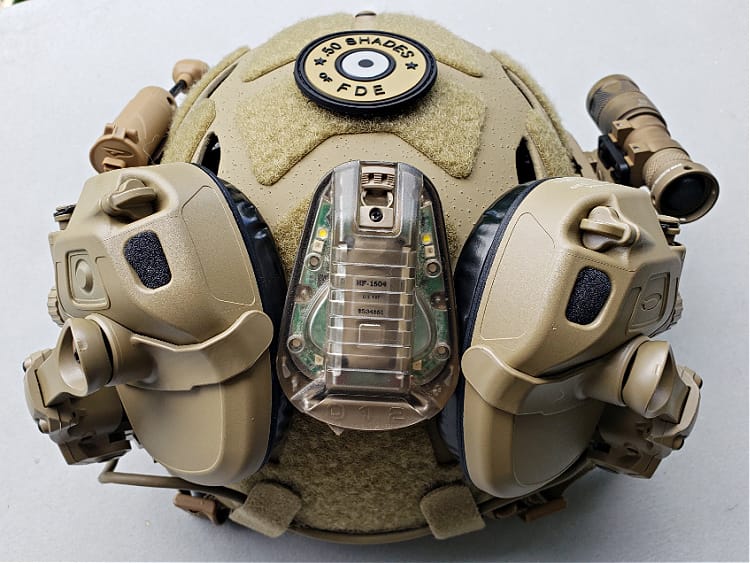 Hearing Protection
Having electronic ear protection is never a bad idea. Especially if you plan on taking it to the range. Since it's mostly uncomfortable wearing them underneath, attaching them to the rails is not a bad way to go. You can mount Peltors pretty easily with adapters like the Unity Tactical Mark Kit, if you run MSA Sordins, then you'll need the SARA adapters and some assembly is required.
The downside of having them attached to the helmet is that they'll most likely be a permanent fixture since moving them back and forth to the headband is a pain in the ass, to say the least, with most headsets out there. That is unless you have the Ops-Core AMP headsets, all you need is the arm attachment kit and you can place the headset over in about a minute's time.
Eye Protection
Protecting your ability to see is important, the simplest solution is to wear some ANSI rated glasses. However, having eye pro attached to your helmet guarantees that you'll always have them with your helmet — kind of like having headsets attached. There are several available and are usually specific to the manufacturer of the helmet. Most times they are not compatible with other makes.
I run the Ops-Core Mk1 performance eye protection. They are ANSI Z87.1 rated and were designed to work in conjunction with helmet systems. The Mk1 is metal framed and has a flat profile that makes them less likely to snag on comms cables or straps.
Oakley Ballistic M-Frames are another great option for eye protection. I have had many throughout the years and they work well under helmets.
Camera
If you're doing some action sports, you may want to record some cool footage for later. You can mount a GoPro using adapters that will fit the NVG Shroud. I currently don't run a camera but I may do so in the future.
Take note that a helmet is only so big and the total surface area is limited even if you have a huge noggin. You are also limited by rail space. Everything, no matter how light it is, adds weight and in some cases becomes a snag hazard. Many of these accessories are not compatible in conjunction with others. You'll have to make the determination on what you actually need to have on it, just like setting up a Carbine, plate carrier, or any of your gear. It is very mission dependent and only you should know what you need and what you don't.
Practical Uses for the Bump Helmet
Natural Disasters
Natural Disasters can happen at any time. No matter where you live in the states, there's a possibility of being affected by a natural disaster. Whether it's a wildfire, earthquake, tornado, hurricane, or landslide, you would benefit a lot by having a bump helmet or two.
The first responders that conduct search and rescue operations are certainly wearing some kind of helmet. It may take them some time to come and rescue you and everyone else around you when disaster strikes. If you have a family and people dependent on you for their safety, you are no good to any of them if you are down. I am definitely not a doctor but I am confident that blunt force trauma to the head, in any case, is a bad thing and can incapacitate you therefore not allowing you to help your loved ones.
During these events, you may have to go through uneven terrain and obstacles, which increases the probability of you banging your head simply trying to get to someone or getting out of a bad spot. In other events like a hurricane or tornado, the chances of getting hit with flying debris increase drastically and a helmet can absorb a lot from an impact.
If you're setting up your bump helmet for these situations, from some of the accessories that I have listed above, I recommend having a flashlight and a visible marker. You want to be able to have a hands free light to have full use of your hands in order to see where you're going and be able to climb, crawl, or move things out of your way. This is also important if you need to render medical aid. The bump helmet increases your survivability and effectiveness in these conditions.
Civil Unrest and/or Riots
If you're a first responder and aren't issued a riot helmet with a face shield, maybe it's a good idea to invest in your own safety PPE or personal protection equipment, as long as you wouldn't get in trouble doing so. I would hope that if your employer wouldn't care if you do and they're not providing it for you. The usual-issue riot helmets in most cases absolutely suck. They're either repurposed equestrian helmets or military surplus PASGT or ACH (if you're lucky) with a face shield attached. They are heavy, dirty, and probably not personally issued to you so they're passed on to whoever's up on the line and most likely not sanitized. If you're an officer on the front line, you probably don't have the option to use your own. If you're an EMT or firefighter, you might have more leeway and a bump helmet would definitely help protect you from x, y, and z thrown at you while you're trying to do your job.
A face shield is something that would be useful in protecting your eyes and face from whatever is thrown at you. Having a marker and light would be the other optional accessories that can help with visibility with your partners and having hands free illumination to tend to patients.
Range Use
If you're fortunate enough to have access to a range in the nighttime hours, which I do sometimes, whether you are running night vision devices or not, having a bump helmet with a marker is a must-have piece of kit. It keeps you and everyone safe by allowing everyone to know where everyone is. Chem lights tied to your hat or shirt work too, but why not have a helmet that can increase your capabilities with having ear pro and lights attached? When you're doing admin duties or changing targets downrange, having a hands free light source is very helpful.
Everything Else
As you can see, a bump helmet is very versatile and modular to fill many hats, pun totally intended there. It has many more practical uses than a ballistic helmet and outside of the uses I already mentioned above, you can use it for sports to include mountain biking, hiking, water crafting, off-roading, and many more. Hell, I've worn one while doing tree trimming around my house and that has saved me from a concussion or two. I can really go on and on with this topic, as there are so many options and accessories available today. I will most likely do a follow up on those in the future.
Doesn't matter which one you go with, you get the features and capabilities that you pay for. Either way, they can be a very practical part of your kit that you will most likely get your money's worth out of.
Be safe during these times of uncertainty and being prepared goes without saying.
Addendum
In the wake of the massive explosion in Beirut, Lebanon, it is yet another reminder as to the importance of having PPE ready to go. A similar incident happened in the city of West, Texas where a fertilizer plant blew up. Many of these types of facilities are in close proximity to residential communities and all it takes is some negligence for a horrible accident to come about.
A bump helmet would be crucial for any first responder and everyone in the vicinity of a blast zone where encountering broken glass and compromised infrastructure is an inevitable result from the blast and shockwave. Simply trying to exfil from the area can present problems an be a challenge to navigate.
If you're responsible for others, ie your family or coworkers, you will be going back into hazardous areas to get them. Power might be taken out so you can expect to be in the dark. Having a light on your helmet would assist you with the lack of light. Eye protection, preferably wrap around style like the Oakley Standard Issue M-Frames will protect your eyes from debris and secondary explosions if that were to happen.
Also having multiple helmets for other members of your family will prevent them from getting injuries during your egress from the area. Helmet markers will make you visible to rescue workers and help you get extracted if you get trapped or stuck. Although it's not the focus of this article, I cannot stress enough with knowing basic first aid or TCCC and having a med kit with you everywhere you go.

Fifty Shades of FDE is a full-time LEO in California with about a decade's service in a very large metropolitan agency. He's a husband, father, and firearms enthusiast. He is a supporter of the Second Amendment and a proponent of law-abiding citizens' right to defend themselves with concealed carry permits. He runs his @fiftyshadesofFDE page on Instagram and writes gun/gear reviews on www.fiftyshadesoffde.com – when he's not writing for The Mag Life, of course.