For Auto Emergencies: HEDR Vehicle Trauma Kit
The HEDR vehicle trauma kit from Dark Angel Medical has been around a while now, but they've apparently upgraded. They wanted it more secure for off-road driving, back-country travel, and assorted Mad Maxian adventures. This is what we know about the HEDR 2.0 vehicle IFAK. 
HEDR Vehicle Trauma Kit
Dark Angel Medical is happy to announce they've upgraded the original HEDR  (Headrest Emergency Deployment Rig) Trauma Kit. The updated HEDR 2.0 trauma kits are now better designed to withstand the shock of offroading and backroad travel.
"Mountains are not fair or unfair, they are just dangerous."

–Reinhold Messner
The NHTSA and CDC advise 2 million + people are injured every year in a vehicle accident. Thousands more are killed (34,000 in 2017 and 36,000 in 2019 for instance).
This makes traffic-related fatalities the third most common non-related cause of death in the United States.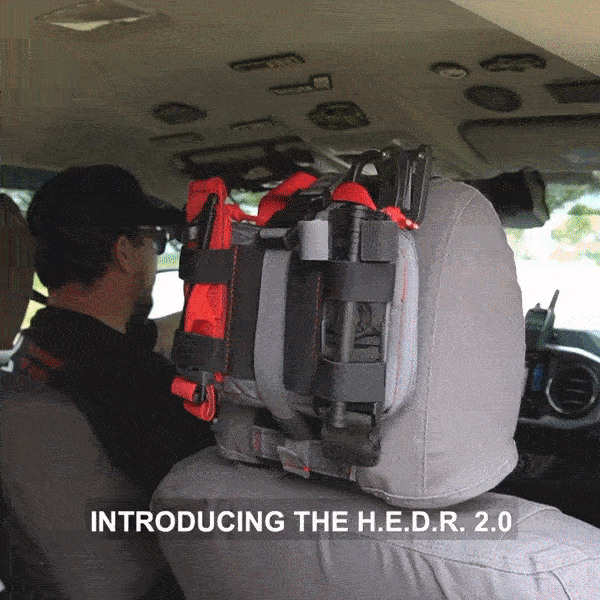 Knowing the numbers, why wouldn't you have something in your vehicle to deal with a medical emergency? Why avoid life's adventures just because they're riskier than staying home?
We road-tested the HEDR in the mountains of our Colorado HQ and decided it was time for an upgrade. There's a new retention strap to keep it securely mounted to the headrest. Additional straps inside the kit to keep individual contents firmly in place and accessible if an emergency interrupts your day  – saving you precious seconds if you need to access them.
The HEDR is available in Black, Coyote Tan, or Wolf Grey.
Here's what the full HEDR 2.0 kit contains:
  1 x Hemostatic Gauze (QuikClot Bleeding Control Dressing or ChitoGauze)
  1 x Pair Nitrile Gloves
  1 x Mini Compression Bandage
  1 x HALO Seals
  1 x Compressed Gauze
  1 x Eye Shield, Polycarbonate
  1 x Mylar Blanket
  1 x NPA
  1 x CAT or SOFTT-W TQ with room for 2 more tourniquets
  1 x Full Size Shears 
Note: Can be upgraded to ARS, HALO Vent or a combo of both
Complete Kit Weight: 3 lb
Complete Kit Dimensions: 6.5" Tall x 11.5" Wide x 1.5" Thick
HEDR Panel Weight: 1 lb
HEDR Panel Dimensions: 6.5" Tall x 11.5" Wide x 0.75" Thick
The HEDR deployment rig (pouch only) can be purchased separately, as can individual tourniquet holders.
Simplicity under stress.
About Dark Angel in their own words. 
Dark Angel Medical is a veteran-owned small business founded with the intention to deliver lifesaving training, provide innovative personal trauma kits, and enable anyone to deal with a life-threatening injury under time-is-life constraints.