Savage Impulse — An American Made Straight-Pull
Savage Arms makes solid guns. Their reputation for innovation is well deserved, especially when it comes to bolt actions. If there had been a SHOT Show in 2021, one of the big stories would have been the Savage Impulse — an American-made straight-pull that stands as a classic example of how Savage keeps shaking things up…and makes us wonder what, if anything, they'll have to display at SHOT Show 2022. 
What is Impulse?
There are a couple of elements that set this gun apart from the rest of Savage's bolt-action rifles. The most noticeable is the straight-pull action. The bolt throw on Impulse moves straight back to eject a round and straight forward to return to battery.
This stands in direct contrast to a typical bolt action that has four distinct motions: up, back, forward, and down to lock. Two motions are faster than four motions.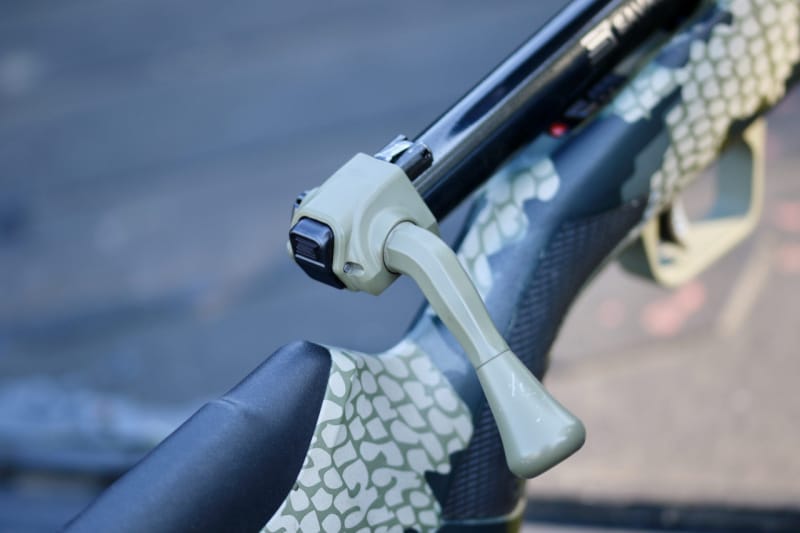 Inside the action, the bolt locks into place with Hexlock, a system of ball bearings that expand out from the bolt head when the bolt is seated in battery. There's a plunger inside the bolt body that forces each of these bearings out, locking them in a channel that is milled inside the action. This is harder to explain in words than it is to see on an example.
A pull of the trigger releases the plunger, allowing the bolt to travel backward. There's also a button on the back end of the bolt that, when pushed, allows for the bolt to be extracted without pulling the trigger. This is how live rounds can be pulled safely.
These six ball bearings keep the pressure from blowing the bolt rearward during live fire. As the pressure increases in the chamber, the bearings are forced into the grooves. As that pressure subsides (when the bullet leaves the barrel), the bearings are free to move again, and the bolt can be yanked to the rear with no difficulty.
The important thing to know is that when the Hexlock is locked, it isn't going to move. When it is unlocked, the gun won't fire. This creates an inherently safe design that differentiates Impulse from other straight-pull designs.
What else?
Inside the action is a barrel sleeve that is similar to that on an AR. The barrel connects to the extension with four bolts. While Savage isn't selling the barrels independently, it could be an option and would open up options for barrel swaps or caliber swaps. All that would be needed would be the new barrel and a new bolt-face (assuming you were staying in either the short or long-action lengths).
What is familiar already?
If you know the Savage technologies, many of which have the prefix "Accu" affixed, Impulse will feel familiar. This is a bolt-action rifle, and Savage does this very well.
The AccuStock is an aluminum bedding that secures the action in the stock. The milled block provides a solid platform for the action, which is partly responsible for the repeat accuracy of these guns.
The AccuFit system is equally important. AccuFit allows for extensions to length-of-pull and comb height. This allows for the stock modifications needed to fit almost all shooters.
AccuTrigger, likewise, allows users to make adjustments. Dial it down to 1.5 pounds for reliable bench shooting, or dial it up if you are going to be walking through dense woods.
The bonus?
For me, I'm thrilled to have the milled rail integral to the design. These are 20 MOA rails for those who want to take Impulse out to extreme distances.
And barrels on these guns come threaded from the factory: 5/8-24". This is a great option for those of us who prefer to hunt with cans.
The magazines
Savage's flush-fit mags are steel and reliably solid. There's some flexibility to the feed lips that allows rounds to snap through (as in you put the round on top and pop it in, rather than using the case to force down the follower before sliding the round under).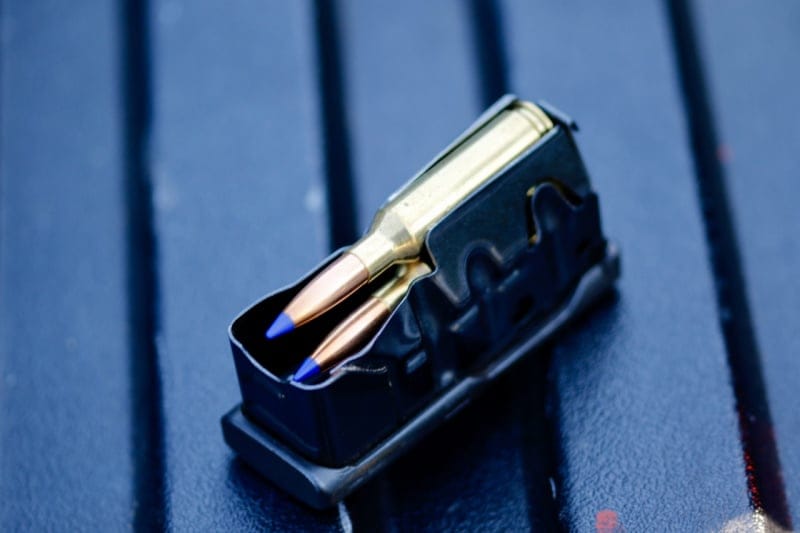 Depending on the caliber, you can get 4 rounds in a mag for most of the .30 calibers.
Shooting Impulse
I've been working out two Savage Impulse rifles—one a .308 Hog Hunter that I took hog hunting last spring, and a 6.5 Creedmoor Big Game (which is the one in Kuiu Verde camo). I've shot it on several ranges, and at a Practical Rifle course that was run by Rainier Arms.
Both guns have performed as advertised. The Hog Hunter was the first of the guns that I'd had the chance to shoot and it is shorter, but on par—size wise—with other bolt-action .308s.
I was able to shoot a hog with the Hog Hunter. You won't see the gratuitous dead pig picture here, though. Long story.
It was early afternoon, in the Everglades, and hotter than hell. The top of the elevated stand was in direct sunlight, so I climbed to the top, positioned the rifle and my gear, and then climbed about halfway down the ladder (to where the shade started). I had a while, I thought, before I would see a pig, so I was dinking around with a camera.
I was there, leaning on the lower rungs, when a tiny hog—barely big enough to make a football—went screaming under the oaks ahead of me.
I was watching that frenetic little pig when I picked up the sound of something under me through my hearing protection. There, coming up behind the stand was a fat hog. I've been known to exaggerate, but not this time. This was a really big pig—I'd estimate it weighed in excess of 600 pounds—I've killed several over the 300-pound mark, and this one was easily twice the size of any of those, maybe more.
I could have easily jumped from my ladder and landed on its back—something I've foolishly done with insane Florida hog hunting guides once before, back when I didn't value my life so highly. But sane people rarely leg big hogs twice.
Instead, I ran up the ladder, got behind the gun, threw a cartridge in the chamber, and put a round directly down between the hog's shoulders. By this point, it was running full-tilt. I ripped back the action, slammed it home again, but lost the pig beneath the outstretched arms of the oaks that cut off the path the pig took to get away.
There was a minuscule blood trail—only really at the point of impact—and the pig shat itself, but that was all of the sign I could find. the pig had bolted and vanished. After all of the hunters had come in that evening, I went back out with lights but couldn't find any more signs. We watched the skies for buzzards over the next two days but saw none.
The .308 Hog Hunter had done its part. This hog hunter, though—me—I could have taken a better shot. This was not one I'd ever prepared for—shooting down onto a hog from above. I was confident when I pulled the trigger, but that damn thing was huge and my one chance wasn't enough to drop it immediately.
On the range with Impulse
I've had far better luck on steel targets. I've had a couple of opportunities to take the 6.5 Creedmoor out to 1000 yards, and the rifle has performed well. Shooting from a bipod from the bench is easy and I can put rounds on a 12-inch plate at 1000 once I walk it in (I'm not a gifted mathematician, but I can work with a spotter).
At closer ranges, Impulse is shooting lights out.
And it may seem strange for me to talk about taking ethical shots at 300 yards after admitting that I failed to pull off a kill shot at what couldn't have been more than 100 feet, but here it is. Impulse is far more capable than I am, obviously.
Practical Rifle?
The Savage Impulse is designed to be fast. As hard as my adrenaline was pumping with the hog, I should have been able to get a second shot off. The action is fast enough. But I didn't.
After my hunting debacle, I took an Impulse to a Practical Rifle class taught by Rainier Arms. This was an all-day class that pushed bolt-actions and lever-actions through a course of fire that ranged from close-range targets to much longer ranges.
The Big Game runs well at speed. I fired from the shoulder (with and without sling bracing), from prone, close, at mid ranges, and at 200-300. In each case, Impulse did what I needed it to do.
In one high-round-count day, I had no malfunctions. The only issue I had was an occasional live cartridge that would hang up in the chamber if I tried to extract it without firing it. In each case of this, though, I could run the bolt back into battery and pull it again, with more gusto, and strip the cartridge free.
This isn't a light gun, though: 8.8 pounds. I added to the weight, of course, with an optic, a sling, and a bipod. And then, for good measure, I added a Banish 30. With the suppressor and everything else, the Big Game had some mass.
The weight helps stabilize offhand shots. But by the end of the day, I was having trouble getting the muzzle end up. I'm not exaggerating. Holding it steady after running and gunning for more than 8 hours was taxing.
But the Savage Impulse is fast. In this class, there were some lever-actions that were faster. That said, there were numerous bolt-actions, including a couple of Savage 110s, that couldn't hold a candle to the speed of Impulse.
Getting your mind around Impulse
This is the section where I'm supposed to tell you just what Impulse is good for. That, from my perspective, is easy enough. Most American hunters, with the way we hunt, only take one shot. And Impulse, like a Savage 110 or AXIS II, delivers.
But what if you need or want a second shot? Hog hunters, coyote hunters, varminters of all sorts — the Impulse is much faster than a traditional bolt-action.
At close range, you may still benefit from the additional speed of a lever-action. While it is conjecture, I think I may have had a better chance on my hog if I'd been running any gun without an optic (as I had a hard time getting back on the pig before he was under cover with a scope).
But know this, too. There's not a lever-action made that will compete with Impulse for long-range accuracy. While many of my classmates were beating me to the punch at distances of 50 yards or so with their lever-guns, those of us running bolt-actions were smoking them at distance.
Impulse works. The action's lock-up provides the confidence needed to get down on the stock behind a straight-pull action, and Savage's integrated technologies set up the platform to provide reliable, repeat accuracy.
And the price-tag on an Impulse? Good luck finding one. Stock is beginning to pick up. MSRP on the Hog Hunter is $1,379.00. With the Big Game, it increases to $1,449.00.