Seatback MOLLE Panel: a RMP Kit from Grey Man Tactical
This is the new (as of this writing) Vehicle Seatback MOLLE Panel Kit from Grey Man Tactical. The "Vehicle Seatback RMP Kit" has a wide array of attachment options and provides an extremely modular way to organize and mount gear. 
Each GreyManTac seatback MOLLE panel comes with their 15.25 x 25 Rigid MOLLE Panel (RMP) and headrest and seat bottom straps. The kit is fully compatible with accessory choices from GMT's most popular attachment categories: gear, medical, and utility. 
There are many ways to exploit GMT's seatback MOLLE panels. 
For hunting, ranch inspections, range visits, and of course on-duty use you can throw rifles, mags, and other gear on there. 
But that's hardly the limit. Camping gear, tools, you name it — it's all in how you Tetris it together. 
And if you don't want someone to see what's under there, or if you want to pull the rig out of the vehicle into a base camp, you can always cover it up.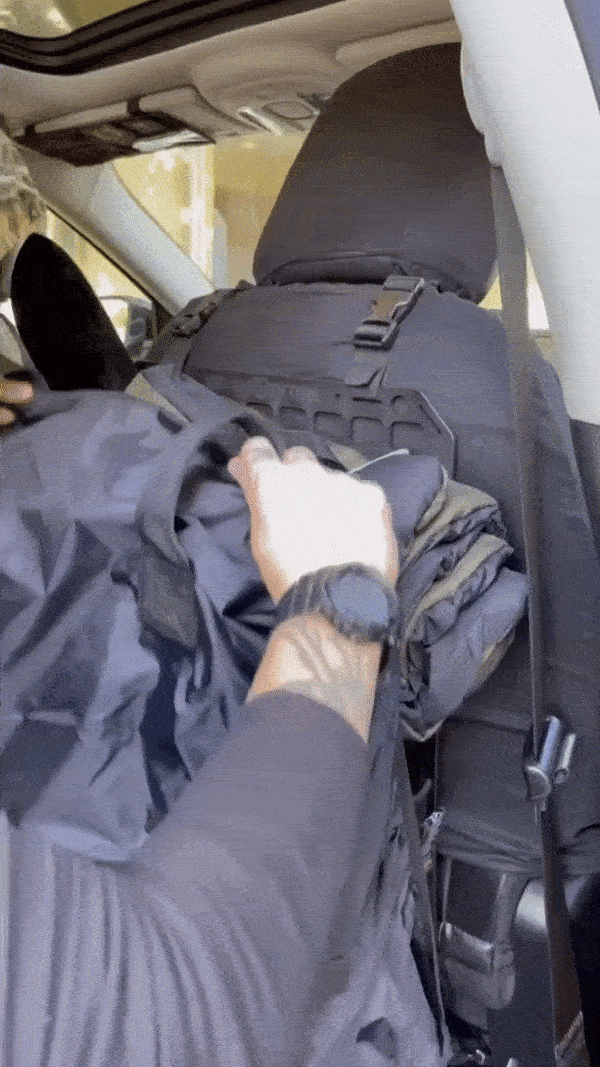 Each kit allows the user to customize from the following, choosing one option from each of the three categories.
• GEAR: 3" QuickFist Clamp with hardware OR Dual QuickFist Original Clamp with hardware.
• MEDICAL: Tear Away Medical Pouch OR Tear Away Medical Pouch with BaseMED First Aid Kit.
• UTILITY: Large Utility Pouch OR Shockloop Bundle (x2)
The 15.25in x 25in RMP is a universal fit for driver or passenger seatbacks and passenger seat fronts on:
• Compact to full-size cars
• Compact to full-size SUVs
• Compact to full-size SUVs
• Compact to full-size trucks
• Most helicopters and boats
You can learn more about the vehicle seatback kits online at the GreyManTac website. 
Grey Man Tactical advises that their various RMP Series have since been utilized by federal, state, and local law enforcement agencies – specifically the DOS, DOJ, DHS, FBI, USMS, USBP, NYPD, and LAPD to US Armed Forces, including the US Army, USAF, USN, USMC, USCG, and USSOCOM – with implementation in missions assigned across Afghanistan, Iraq, Syria and surrounding areas of operation. As a result, the RMP Series™ has yielded over 1,000 Five Star Reviews in our efforts to make critical gear rapidly accessible.

Brock Trautman is the senior news anchor for The Mag Life, the official publication of GunMag Warehouse. He's also a cartoon, so…don't get butt-hurt about anything he says. He's not making subjective judgments on things, or reviewing anything – he's just passing along the news.