CZ P10C — The Best Compact Pistol
There used to be a time when we said CZ USA was an underrated company. However, in the last ten years or so, it has climbed into the mainstream. It might not have the glory or police adoption Sig and Glock have, but the civilian market has embraced the CZ series of handguns. CZ USA used to be a company betrothed by the hammer-fired design, especially DA/SA firearms. The CZ P10C broke that mold with a striker-fired design, which grew into a family of striker-fired pistols.
CZ could have done the coasting thing. They could have just released a simple, striker-fired compact pistol without much fanciness. Just toss it into the ether and let it go. That's not what CZ did, though. They went hard and released a remarkable pistol. Let's look at what makes the CZ P10C so special in the crowded world of compact pistols.
The Compact Pistol Genre
There is some debate over what makes a pistol compact. You ask me, and I'd say compact means easy to conceal. The firearm industry believes that compact is a smaller version of their full-sized guns. The P10C falls into that camp. As we all know, this genre of firearm is dominated by the Glock 19, and everyone else plays catch up.
Sig produced the P320C, FN makes the 509 Compact, and I could go on and on. The CZ P10C still stands out in this crowded market.  
Before we dive in too deep, let's look at the raw specifications of the pistol.
Barrel Length: 4.02 in
Overall Length: 7.3 in
Weight: 26 oz
Chambering: 9mm Luger
Magazine Capacity: 15+1
MSRP: $499
What the CZ P10C Does Different
First, unlike something like the Glock 19, they don't sell the pistol with crappy plastic sights. They went with proper metal so it won't break the first time you drop it. Night sights are an option, and as you can see, the P10C also comes with the option for suppressor height sights. Of course, optic-ready models are also available for the modern shooter.
Sights might be the first thing you replace with a Glock 19, but the second thing is typically the trigger. Well, no worries here with the CZ P10C. CZ USA installs a flat trigger in the P10C that's superior to most stock Glock triggers on the market. The flat trigger has a slight take-up that's smooth and superior to most. After the take-up, you meet a wall, and it breaks evenly and cleanly. The reset is also super short and consistently clean.
CZ has always been a company that designs handguns with superior ergonomics, and the P10C is no different. The gun features a great trigger guard undercut and a high beavertail-like design. This gives you the ability to get a nice high grip on the gun and exercise better control over it. The grip texture is super aggressive and clings to your hand, and the well-placed controls are easy to access on the fly.
Blasting Away With the CZ P10C
The cold hammer-forged barrel helps with accuracy, as do the awesome sights and superior trigger. When it comes time to start blasting away, you'll be surprised at how accurate the little gun can be. It's easy to print tight groups at 25 yards, and with slow, accurate fire, you'll keep groups within 2.5 inches. For a handgun, that's fairly impressive. Decisive headshots at 25 yards are plenty easy.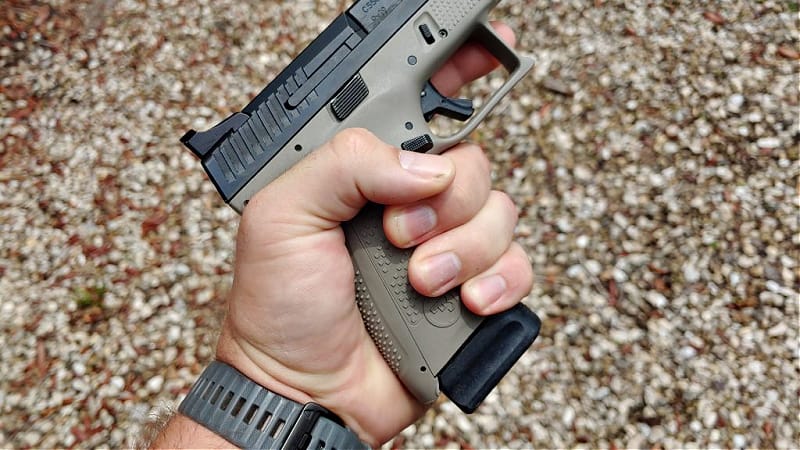 Back out to 50 yards, I could ring a 10-inch gong quite consistently. I won't say it was close to 100%, but seven out of ten was fairly average. On big man-sized IPSC steel targets, I could go ten for ten at 50 yards. Not bad, at least not for me.
When things get a little more practical with speed shooting, we find that the CZ P10C performs exceptionally well. Shooting the 10-10-10 drill in 8 seconds with all the shots in the black was possible after a few warm-up rounds. I shot the failure drill in under two seconds and landed my headshot right between the guy's eyes. The gun shoots better than I do by all accounts.
Controlling the Czech
That enhanced ergonomics and aggressive grip texture give the CZ P10C an easy controlling design. 9mm doesn't offer much recoil in the first place, and the high, hand-filling grip doesn't make it tough to keep the gun under control. It's not a challenge to keep the gun on target.
It's easy to drive the gun between multiple targets, as well as transitioning from shooting fast to shooting to maximize accuracy. Drills like the failure drill exemplify the need for speed combined with precision accuracy, and the P10C excels in both regards. Even with modern defensive ammo of the +P variety, the P10C doesn't present much muzzle rise or recoil.
The thinner grip makes the gun very accommodating for smaller hands and makes it fairly simple for shooters of all types to control the weapon. It's well suited for both new and experienced shooters. Getting on target and staying on target doesn't present much of a challenge.
When you need the gun to go bang, it does. It's plenty reliable and chews through aluminum cases, steel cased, and brass cased ammo without difficulty. Feed it, and it'll eat. You won't deal with it being picky.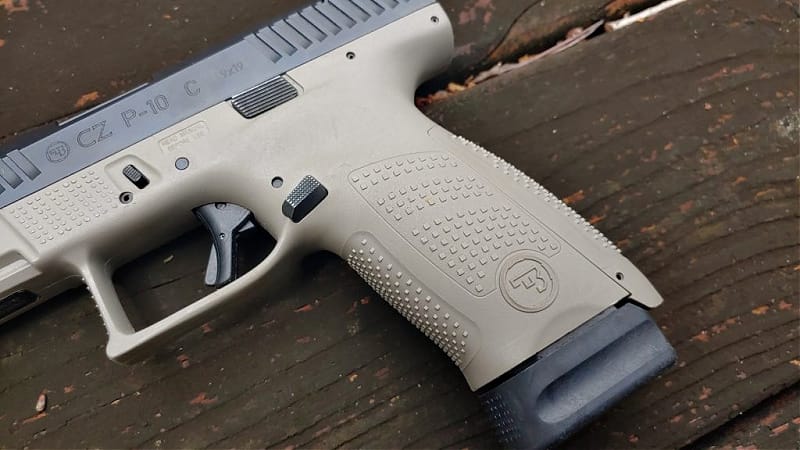 CZ Superiority
I think CZ went a long way in producing and steering compact firearms to a new level of quality and the CZ P10C presents shooters with a superior compact firearm. It provides a fantastic firearm fit, superior quality, and excellent ergonomics stacked on a great trigger and cold hammer-forged barrel. Hell, at $499, it's a damn bargain. Oh, and did I mention the P10C fits in a number of Glock 19 holsters? Cause it does.
What do you think of the CZ P10C?