New for 2023: Taurus T.O.R.O. Optics-Ready Revolvers
Red dot sights are now preferred by numerous shooters; gone are the days when red dots were rarely seen on the firing line, let alone on defensive handguns. Of course, adding a red dot to a handgun often means finding the correct mounting plate or having the slide of the gun milled. And while manufacturers have worked to create an increasing number of optics-ready semi-autos, revolvers have fallen by the wayside. No more, though, thanks to Taurus. The latest innovation in revolvers comes from Taurus in the form of the T.O.R.O. line of optics-ready revolvers. Yes, you read that right.
According to Taurus, these revolvers came about as the result of a customer survey back in October 2022. Today the company is pleased to announce the first-optics ready small frame revolvers to hit the market, the Taurus 856 T.O.R.O. and 605 T.O.R.O. Both guns are milled at the factory to be compatible with the optics plate meant for this specific use. The plate works with red dots with a Holosun K footprint.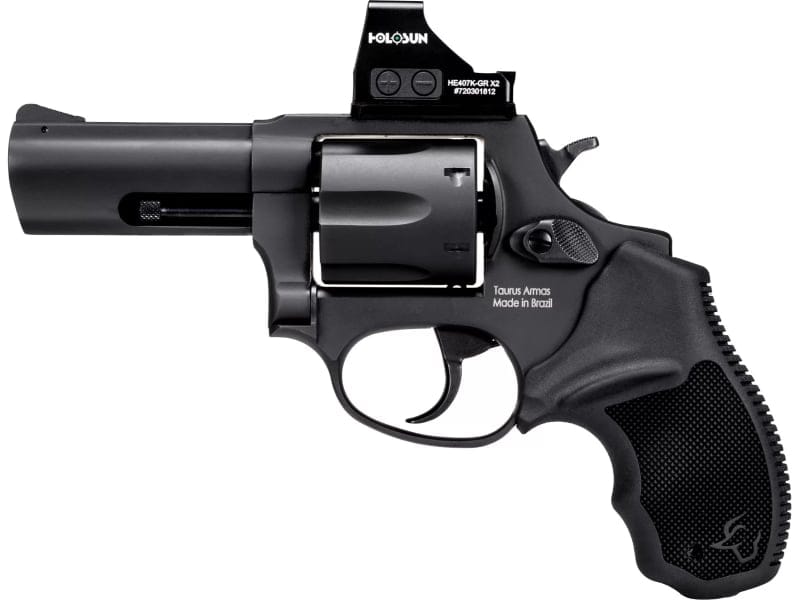 The ability to run a small-frame revolver with a red dot on it is a fantastic step for those focused on self-defense. Many shooters prefer red dots due to how they're designed to draw the eye and facilitate rapid target acquisition. Also, red dots can be zeroed for precision when using specific ammunition. This means your optics-ready revolver could function at a significantly greater level than it did with fixed iron sights.
Both the 856 and 605 T.O.R.O. are based on the company's Defender line. Revolvers in this line have rugged, steel construction, three-inch barrels, and replaceable front sights. Their smaller size allows them to be more readily concealed while their steel frames lend themselves to better balance and somewhat mitigate felt recoil. As for the triggers used in these guns, they're the gun maker's popular double-action/single-action that's designed for a smooth pull.
Of course, using a red dot on your Taurus T.O.R.O. will require a holster, and Taurus has you covered. The company has already partnered with respected holster manufacturers to bring compatible holsters to market.
Features of the Taurus Defender 856 T.O.R.O.:
Small frame optics-ready revolver.
Five-shot capacity.
Chambered in 38 Special, +P rated.
Optics plate compatible with the compact Holosun K footprint.
Compact grips are meant to create a more comfortable shooting experience and enhance concealability.
Stainless steel cylinder for maximum durability and longevity.
3.0-inch barrel for concealment purposes.
Target-style trigger made with a smooth pull.
Matte black or stainless steel finish.
The Taurus Defender 605 T.O.R.O. has features and specifications similar to that of the 856 T.O.R.O. but is chambered in 357 Magnum. Please note the optic itself is not included.
What do you think, will this convince you to run a revolver for defensive purposes? Share your thoughts in the comments section.
MSRP for the Taurus Defender 856 and 605 T.O.R.O. varies by specific model but starts at $445.99.