Strike Industries: New Glock 19 Extended Magazine Plate
The Glock 19. It's basically a smaller sized G17 known for it's concealability and reliability. Some proponents say it's the epitome of the modern combat pistol. Others point out that it's the preferred duty weapon for law enforcement around the country. In fact, it's also used by the military and Intelligence communities as well as an abiding favorite in the defensive shooting crowd. The gun's capacity is impressive, with standard factory double-stack mags that hold 15 rounds, and even that can be more-than doubled with the 33-round magazines. But what if you want to add just a few more rounds…steering clear of the long-ish 33-round model? Well, now Strike Industries has a new offering that gets you that moderately higher capacity with their new Glock 19 Extended Magazine Plate.
They're offered in three different colors, as you can see in the photos. Likely, if you're looking to maintain concealment, you probably won't want to go with red. But then, if you're working toward a patriotic aesthetic, then maybe the red would be perfect?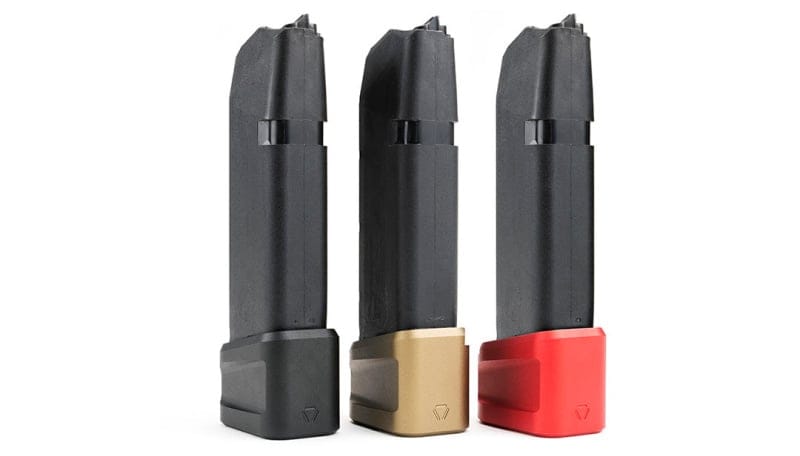 Here's how Strike Industries describes these new extensions, in their own words:
The Strike Industries Aluminum Extended Magazine Plate for GLOCK G19 (9mm) was designed to provide smoother magazine reloading through a slow drag / no snag design while maintaining maximum magazine capacity. Machined from 6061-T6 aluminum, this Extended Magazine Plate (EMP) adds plus 5 9mm rounds to OEM double stack GLOCK G19 magazines. Following the success of our EMP systems for pistols, the form factor and unique geometric design gives a unified and aggressive aesthetic look to your GLOCK G19. Included is an aluminum plate which adds extra locking security. Give your GLOCK pistol the extra rounds it deserves with the Strike Industries Aluminum Extended Magazine Plate (EMP) for GLOCK G19 (9mm).
Glock 19 Extended Magazine Plate Features
Machined from 6061-T6 aluminum
Plus 5 round capacity for 9mm
Includes aluminum locking plate
Low drag / no snag design
Fits USPSA 140mm race division limit
Available in anodized SI Black, Red or FDE colors
Product Specifications:
Length: 48.35mm (1.90″)
Width: 28.51mm (1.12″)
Height: 34.86mm (1.37″)
Weight: 1.9 oz
Weight w/pkg: 2.4 oz
Compatible with: 
Glock factory OEM G19 (9mm) double stack magazines
Strike Industries EMP Pocket Clip
ETS Magazines that are over 10 rounds. Please note we cannot control or even be aware if ETS ever changes their design and the SI EMP no longer is compatible
Magwell: tested to work with Strike Industries magwells
Not compatible with:
G23 (.40 Cal)
10-round magazines
Package Contents
Aluminum Extended Magazine Plate for GLOCK G19
Extended length spring
Aluminum locking plate
Aluminum locking plate set screw (M3x8mm)
Hex tool
Warning card
Stephanie Kimmell is the firstborn daughter of Missouri's Pecan King, worthy scion of a Vietnam veteran sailor turned mad engineer-orchardist-inventor-genius. With a BA in technical writing, she freelances as a writer and editor. A Zymurgist greatly interested in the decoction of fermented barley and hops, she is in many ways a modern amalgam of Esther Hobart Morris, Rebecca Boone, and Nellie Bly. She hunts, fishes, butchers, and cooks most anything. When not editing or writing, she makes soaps and salves, spins wool, and occasionally makes cheese from cows she milked herself. Kimmell is a driven epistemophilic who loves live music and all sorts of beer.