The Heat Vest From Forgotten Weapons
I bet you're wondering how I got here, wearing a goofy hockey mask and a comically oversized Heat vest.
Well, to really tell the story, I have to go back, way back, to like — the end of April. Forgotten Weapons released a video called "Forgotten Weapons Will Rock and Roll at the Drop of a Hat."
It's a sweet video. In it, Ian of Forgotten Weapons, Matt Haught of Symtac Consulting, and friends reenacted the Heat Bank robbery as best as they safely could. They wore suits, masks, used old-school ARs and wore Heat replica vests. The video is sweet and it served as both a cool video and an announcement of sorts for the Heat vest pre-order at the Forgotten Weapons website.
I was …Uhm, sold. I've wanted one of these vests since I saw the film Heat. If you've never seen the movie, fix that. Go see it. Near the end, a bank robbery occurs, and the robbers wear vests adorned with magazines under their coats. It's a simple setup unique to the film and honestly always appealed to me. I instantly got in on the pre-order and eagerly awaited the arrival of my sweet Heat vest.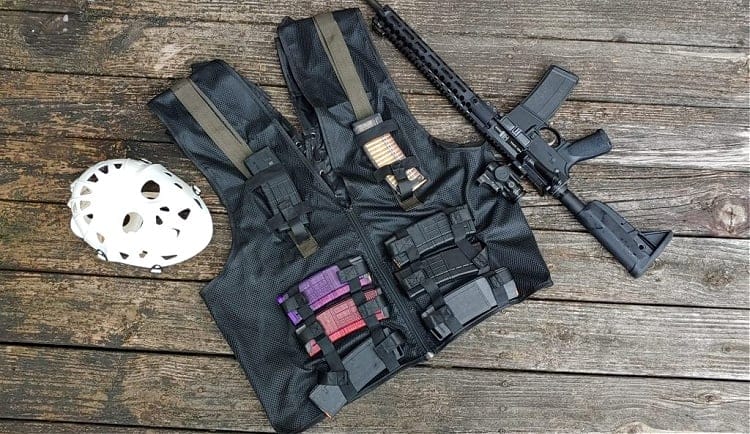 I planned to dress up in my suit and do a bit of my own rundown of the Heat shootout, armed with the vest and a duffel bag full of sand. I ordered a copy of the Hockey mask seen at the beginning of the film and couldn't wait.
The Youtuber Conundrum
I have a rule. Don't order crap from Youtubers. Not just in the gun world, but it seems like anytime a Youtuber has a product to sell, it's crap. The thing is, Ian has sold some sweet-ass books on historical firearms. They are incredibly well-done books, and I look forward to his book on Chinese Warlord pistols.
So with that in mind, I broke my rule, and even when faced with a warning of no refunds, I dialed in my credit card number and sent 90 bucks over the interwebs.
I'm sad to say, the Youtuber selling crap meme maintains its strength with the Heat vest.
So this is the Sizemore Heat Vest?
The Heat Vest came in two sizes, M/L and XL/XXL. I'm 6 foot, 5 inches tall, and weigh 280 pounds. I ordered the XL/XXL variant. Heck, that's my shirt size, so it makes sense I went with the 'Sizemore' option. After watching the Youtube video and seeing Ian posing with the vest, I expected the vest to fit. Honestly, I figured it might be a bit small.
Sadly, I was mistaken. The Heat vest I received was comically oversized for me. I'm pretty sure I've never actually had an issue with something too big for me, so that was a first. I tried to adjust the vest. I put it on the tightest D-ring and adjusted the rear as tight as I possibly could — and it's still massively oversized. I felt like a five-year-old playing dress-up in his dad's clothes.
I imagine it's a 4 or 5 XL at best. It droops off of me, and the shoulders will slide off of me with gentle movement. When I walk, it seems to drip off, especially when loaded down with loaded magazines. In the video by Forgotten Weapons, the vests looked perfectly sized, and they certainly didn't fall off the wearers while shooting and moving.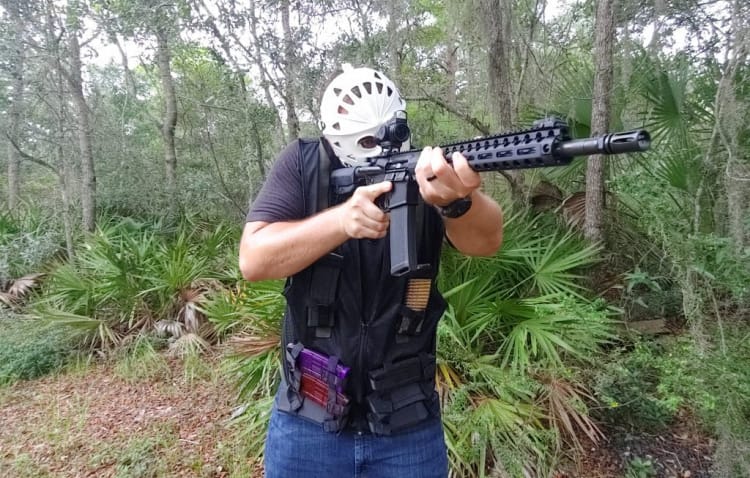 I loaded the vest down and tried it under my suit coat. It's way too big to fit under the coat, so I abandoned the idea I originally had and avoided a dry cleaning bill. I still had a 36 dollar hockey mask, so you guys are getting to see that at a minimum.
What About Using It?
As I mentioned, the Heat vest just kind of falls off of me with any real movement. Well, the magazines also tend to just fall out of it too.
These elastic bands are way too big for a standard AR-15 magazine. I walked 30 yards, and this was the result.
I lost two mags and almost lost a third. If I bend over, the magazines fall out of the shoulder are pouches. I honestly didn't expect excellent, duty grade retention, but I don't think mags should pop out when they are jostled or just when you walk. I'm betting if the vest fit tighter, the magazines would be less likely to jump ship so fast.
I never intended to use the Heat Vest for anything serious, but I would like to have some fun in it at the range. Maybe take it to the next "Retro" match at my local range and goof off a bit. Sadly I can't even do that.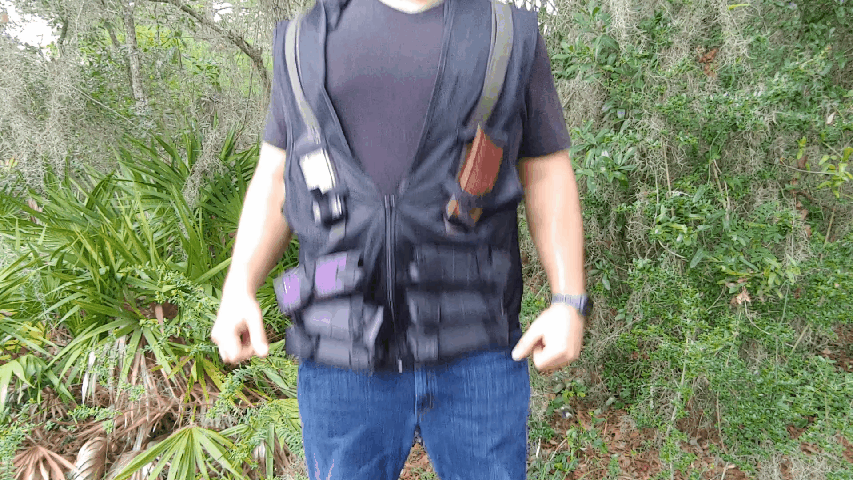 I will say the Daniel Defense 32 round magazines fit much better than the regular 30 rounders. They are a hair longer and don't flop out.
Retrieving the magazines makes me thankful for modern chest rigs. Of all the things I can complain about, I don't think mentioning the ergonomics of a 1995 chest rig made for a movie is really necessary. It's just the nature of the design and not a knock on the product's quality.
Fixing the Situation
I emailed Forgotten Weapons customer support after I received the vest. I received a quick response saying they were aware of the problem and were investigating the size issue. I waited and followed up about two weeks after asking if there was a solution. I have yet to hear back regarding the solution.
Hopefully, the Forgotten Weapons crew can fix this situation. I'm not the only one who found the Heat vest way too large. Owners of both the M/L and XL/XXL found the vest to be way too big and the retention to be terrible. If the situation's fixed, then I will most certainly give the vest another shot at the range and rewrite or update this review.
My ultimate goal for the Heat vest was to play at the range a few times, then hang it up on a mannequin and make it a conversation piece. Sadly, they don't make mannequins this size, so what can I do?
Hopefully, in a month, I'll be rewriting this and be psyched about my well-fitting Heat vest. Until then, be aware of these being sold on the secondary market.
People seem to be marking them up a bit much and not mentioning the size issue at all. If Forgotten Weapons fixes first-owner problems, you might not be covered when purchasing on the secondary market. I'm gonna go watch Heat again and get Galil fever once more.
(Going back for Waingro was a mistake btw.)